Join the Toyota Connect family by signing up for our monthly newsletter below and you could win this super-cool yellow Samsonite Ecodiver Duffle with wheels and Ecodiver Backpack, valued at over R7,000. 
About the prize
If you're a regular jetsetter, you'll know what a difference good luggage can make to your trip. It's not just about keeping your essentials safe and secure, but well-made bags and suitcases also make carting your goods around that much easier, and of course, you want to look the part… 
One of the key benefits of investing in quality luggage is that it's designed to withstand the wear and tear of travel. Durable materials provide protection against impact and scratches, while water-resistant and easy-to-clean inners and outers are essential for adventure travellers.  
Being organised while travelling, whether locally or across borders and oceans, is non-negotiable and features like multiple compartments, pockets and dividers making packing and accessing your belongings a breeze.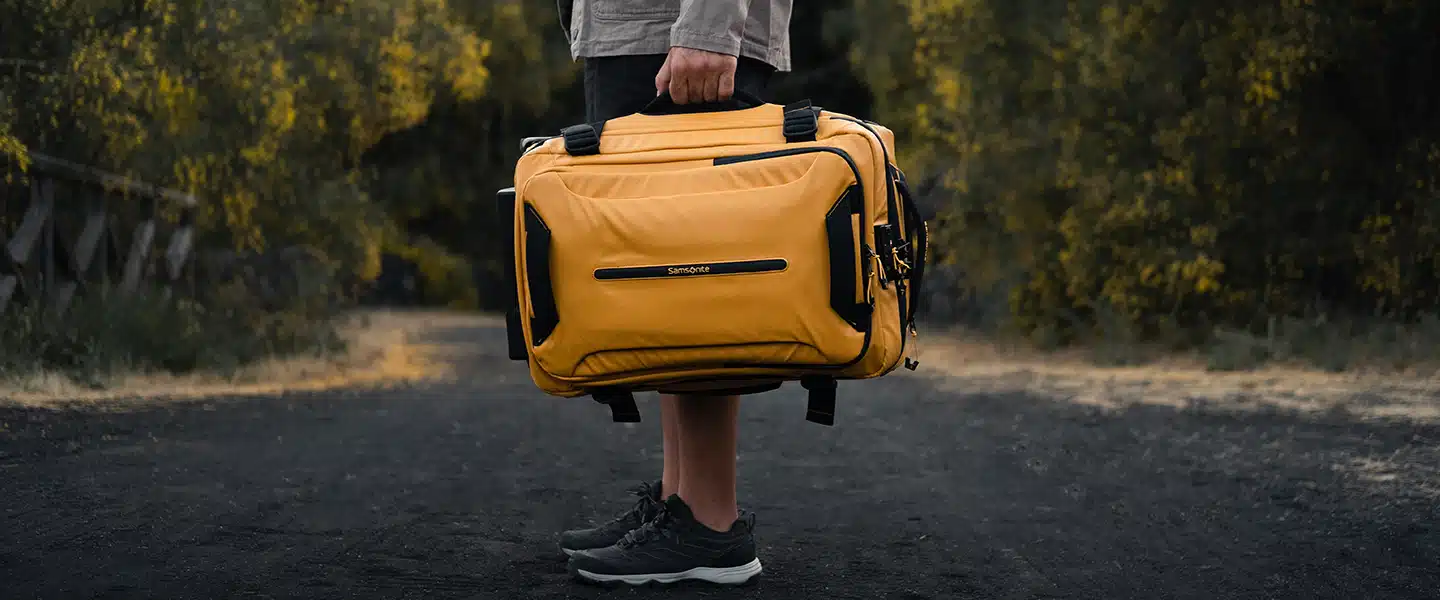 Adventure Awaits
Samsonite has set a new standard with Ecodiver, a collection that combines practicality with a stylish design and was developed with special attention to security and comfort. Using recycled materials, Ecodiver perfectly matches Samsonite's 'Responsible Journey' strategy. The water-resistant coating makes this range the perfect choice for all your outdoor adventures and endless strolling in the city. 
The Ecodiver 55cm Wheeled Duffle is the perfect cabin size and weighs 2.3kg. It's made from 100% recycled PET and comes with all the necessary features: an integrated two-wheel system, combi lock with TSA, integrated ID tag and easy access C-shape front compartment. 
The 16l Ecodiver Backpack weighs a mere 0.7kg. It has an ergonomic shoulder strap and all the compartments you need for easy travel, including an exterior front pocket and side pocket, as well as an interior main and front compartment and a special space for a 14" laptop. Samsonite has worldwide commercial warranty services and also offers free returns.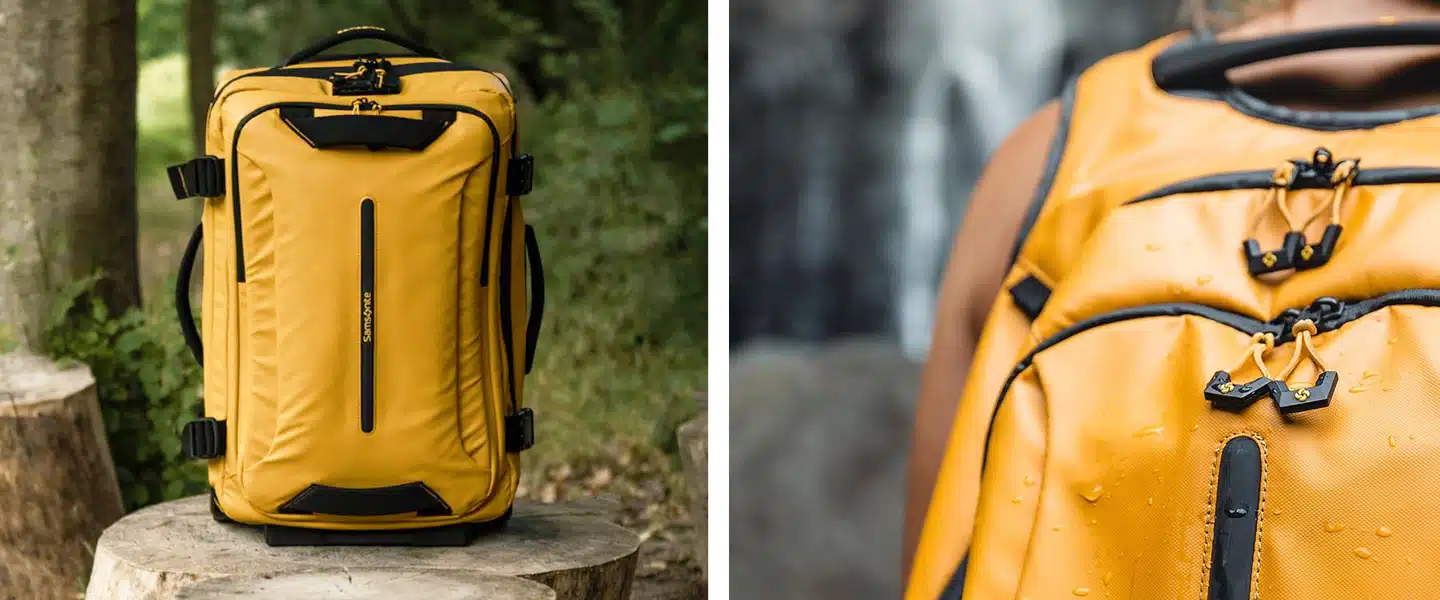 Samsonite tips on caring for your luggage 
1) Clean your luggage after every trip. For hard luggage made of polypropylene, polycarbonate or ABS materials, use warm water, detergent and a cloth to get rid of scuffs and marks. For soft cases made of polyester or ballistic nylon, apply warm water and a mild detergent or cleaning aid to the marks and dry off using a cool hairdryer or dry towel. 
2) Avoid scratches and keep your luggage looking newer for longer by wrapping it in plastic, which is available at many airports, or invest in luggage covers. At home, store in bin bags or luggage covers. 
3) Remove airline sticker residue with a damp cloth and olive oil.  
4) Always check your wheels before, during and after travel for anything that might block their spin, such as small stones, sand and gravel. The wheels can be cleaned with a small brush for optimal spin. 
TERMS AND CONDITIONS  
To enter, simply  sign up to receive newsletters

from Toyota Connect using the form above. Existing subscribers are automatically entered.

 

This competition is open to permanent residents and citizens of South Africa only.

 

The prize is non-transferable and may not be redeemed or exchanged for cash.

 

Toyota SA's decision is final, and no correspondence will be entered into. 

 

Toyota reserves the right to change the Terms and Conditions without prior notice. An entrant shall be deemed to have notice of any such amendments or interpretations upon publication of the same on the website page and shall be deemed to have accepted such amendments or interpretations by virtue of his/her continued participation in the promotion.

 

Employees of Toyota and Lexus, Dentsu Creative, John Brown Media or its agencies are not eligible to enter the competition.

 

No liability shall attach to Toyota or the Promoter in relation to any claims, losses or liabilities for any loss of profit or any other direct and/or indirect, special or consequential loss arising out of any of the Prizes.

 

The competition closes at noon on 14 July 2023.

 

The winner will be chosen using a random number generator on 14 July. Any subscribers who sign up after this date will not be eligible for the prize.

 

The winner will be contacted by email on 17 July. Should the winner not respond and accept the prize within 5 working days, they will forfeit the prize and another winner will be randomly selected.

 

The winner will be announced on social media.