VICTORY AT LE MANS
High tension and drama in the closing stages of this year's race saw Sébastien Buemi, Kazuki Nakajima and Fernando Alonso in their #8 TS050 HYBRID not only defend their Le Mans crown, but also secure the drivers' World Championship, winning by 16.972 seconds.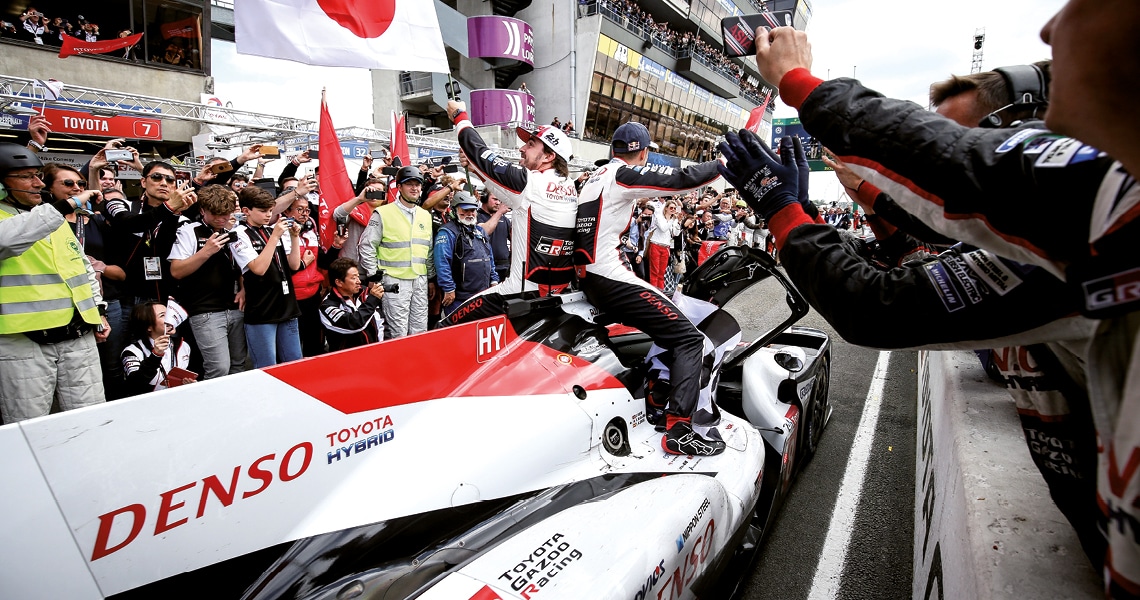 What was looking like certain victory for team-mates Mike Conway, Kamui Kobayashi and José María López in the #7 car had a sudden twist when, on the 367th lap, with a lead of more than two minutes, data on the #7 car indicated a puncture, and José pitted to replace the tyre. A sensor issue resulted in the wrong tyre being identified, meaning José left the pits with a tyre that was still deflating. This necessitated a slow lap back to the pits and a change of all four tyres, handing an unassailable lead to Kazuki in the #8 car.
The #7 crew had controlled much of the contest, having set the fastest-ever Le Mans race lap of 3:17.297. Other motorsport records were rewritten too: Kazuki became the first circuit-racing World Champion from Japan, and Fernando became the second driver to win four-wheel world titles in two different disciplines, having previously been crowned Formula 1 champion.
The #7 car had started the race from pole position following Kamui's fastest qualifying lap, with the #8 car starting just behind. That set the scene for an exciting and close battle for overall victory between the two 1  000PS TS050 HYBRIDs, with momentum swinging one way and then the other.
After 12 hours, the two Toyotas were separated by only 8.6 seconds and, during the night stint, #7 seized a decisive advantage after its sister car suffered bodywork damage caused by the rigours of a tough, flat-out contest. The #8 car was thus battling an aerodynamic imbalance, but the team still had enough pace to always remain on the same lap.
As the final hours approached, the gap remained relatively stable (at around two minutes) and the focus switched to bringing the cars home safely. All appeared to be going to plan – until the #7 car experienced its dramas and Kazuki took the lead with less than an hour to go.
"It's amazing to win Le Mans for the second time, but it came really unexpectedly," said Fernando after the race. "We did not have the pace to win the race against car #7 on the track. Today, luck was a big factor; this is part of motorsport. I feel for my team-mates – who are actually more than team-mates, they are friends. They would have deserved the victory, but the race chose us to win it. Our main goal was to win the World Championship, and we are very proud to have achieved that."
24 HOURS OF LE MANS RESULTS
#8 Toyota Gazoo Racing
385 laps
#7 Toyota Gazoo Racing
+16.972 seconds
#11 SMP (Petrov / Aleshin / Vandoorne)
+6 laps
#1 Rebellion (Jani / Lotterer / Senna)
+9 laps
#3 Rebellion (Laurent / Berthon / Menezes)
+15 laps
#36 Signatech Alpine (Lapierre / Negrão / Thiriet) +17 laps