The local automotive retail may currently be going through a challenging period, but that has not deterred Toyota South Africa Motors (TSAM) from celebrating some of its star performers from 2020.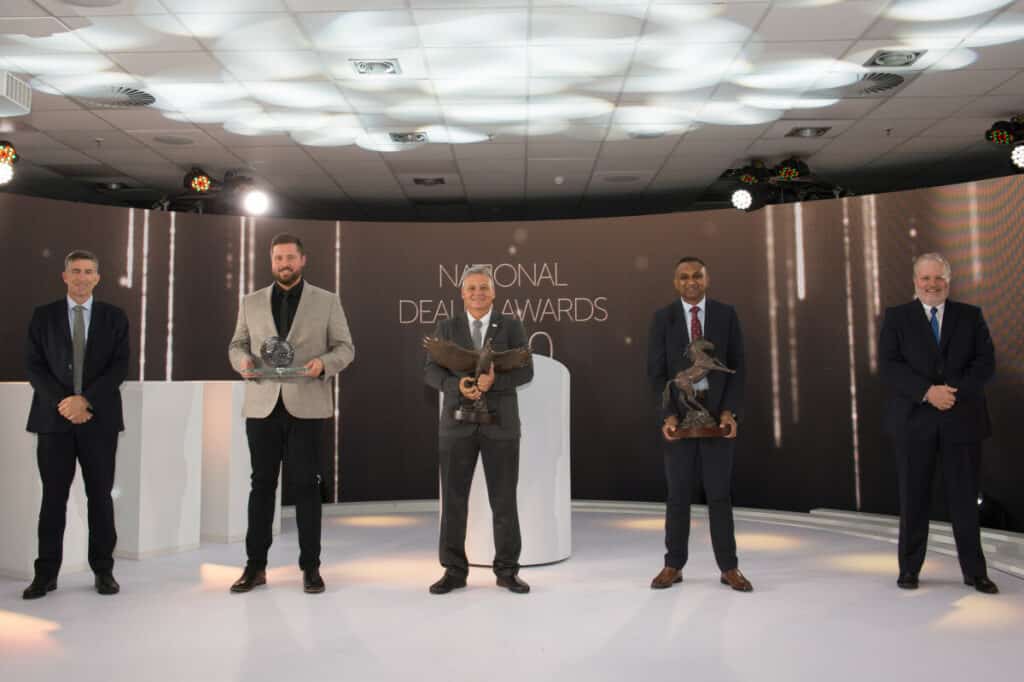 The local automotive retail may currently be going through a challenging period, but that has not deterred Toyota South Africa Motors (TSAM) from celebrating some of its star performers from 2020. Last year, the local automotive industry posted its lowest sales in 18 years, registering a cumulative total of 380 449 – some 156 163 (29.1%) units below the 536 612 aggregate registered in 2019. The massive drop in sales is directly attributed to a host of COVID-19-related restrictions implemented last year.
With the country on Alert Level 1 of lockdown – which basically prohibits the gathering of more than 100 people at indoor venues – TSAM had to contrive creative ways of celebrating the outstanding achievements of its Toyota, Lexus and Hino dealers from 2020. Awarded annually, the Toyota Dealer Awards are based on a comprehensive set of metrics on which each Toyota/Lexus/Hino dealer is measured throughout the preceding year. These measurements include adherence to franchise standards, development initiatives, customer service, environmental protection and sales.
Out of the 90 129 vehicles sold by Toyota last year, 40 970 were passenger models (16.6%), 46 526 LCV (41.9%), 1 635 (24.3%) were Medium Commercial Vehicles (MCV) while a further 998 (6.2%) were Heavy Commercial Vehicles (HCV). According to Senior Vice President of Sales and Marketing Leon Theron: "We are grateful to the entire Toyota family for having worked diligently, in a very tough market, to help TSAM end the year with a laudable aggregate market share of 23.7%.
"We also call upon the Toyota family to join us celebrate the 2020 Dealer of the Year winners… Their success is our success and I hope that we will all be inspired to work together in making Toyota, Hino and Lexus, the automotive brands of choice in our market."
Broadcast on YouTube and webinarjam on Friday, it was the second consecutive year that Dealer of the Year was hosted on a virtual platform. Conferring the Toyota Dealer of the Year to Dealer Principal (DP), Sumen Naidoo, of Halfway Toyota Scottburgh, Theron said: "The DP has used his wealth of knowledge to grow and develop his staff to their true potential. This dealership also upholds the Toyota values and is an example of the service excellence that can be achieved in difficult times through teamwork and a common goal. When you win in good times you are good. When you also win in bad times, you are superb."
It was Lexus Fourways, under the stewardship of Chris Jones that walked away with the 2020 Lexus Dealer of the Year. "This achievement requires dedicated efforts and a balanced approach that are aligned to the core philosophy of the Lexus brand, namely: 'Experience Amazing'. This year's winner refused to follow the negative trends and even succeeded in creating positive trends of their own. Not only were their sales rate of decline less than that of the premium market, but they also managed to improve their exclusive pre-owned sales volumes by 63%," said Theron.
Bestowing the Hino Dealer of the Year to DP Piet van Romburgh of Hino Pinetown, Theron said: "Although this dealership had a slow start to the year they quickly put action plans in place to pick up the pace to ensure that the dealership survived during this extraordinarily difficult year. They achieved an overall pyramid of excellence score in excess of 95%. Their Customer Experience scores for Sales and Parts exceeded 99% while their score for Service came in at 98%."
Earlier in the evening, Theron – on behalf of the TSAM executive team – paid respects to all those who have lost their lives to COVID-19 and commended Toyota, Lexus and Hino dealers in the exemplary way in which they navigated this global crisis.
There were also President's Awards presented to various categories (based on dealer size), including Small (DP Andries de Villiers of Rola Toyota Bredasdorp); Medium (DP Thomas Orchard of Malmesbury Toyota); Large (DP Sumen Naidoo of Halfway Toyota Scottburgh) and Mega Dealers (DP Dirk van Rooyen of Halfway Toyota Honeydew).
Also recognised at the event were recipients of the President's Award for Group MD (Divisional) which went to Charles Rieckhoff of Thekwini Toyota Group, as well as the President's Group MD Award which went to Anton Labuschagne of NTT Toyota Group.
The coveted Chairman's Achievement Award, presented by President and CEO of TSAM Andrew Kirby was awarded to Divisional Executive for Toyota, Lexus and Hino at CFAO Motors, Carel Volschenk. "An absolute gentleman with a wicked sense of humour, this humble Toyota legend has given unselfishly to the continued advancement of the Brand and his colleagues. He has the respect of his staff which is shown by the low attrition within his group, and the great respect with which his DP's hold him. They will be amongst the first to congratulate him on this well-deserved award.
"He is a good communicator who always gets his message across, even if a small amount of coercion is required. As a Group MD, he has always been an extremely diligent council member and is held with great respect and trust by his peers, who often consult him when faced with problems. What stands out in his Group, and is testament to his strong support of the Toyota Brand, is the attention to detail that goes into every property his group builds," said Kirby.