When buying a car for a newly licensed driver, price, fuel consumption, safety, maintenance plan and service plan are important considerations. And of course, anyone getting behind the wheel of their own car for the first time, undoubtedly wants a vehicle that suits their style and personality. Nowadays all these requirements come standard from Toyota, which offers a wide range of fun, but safe rides for new drivers.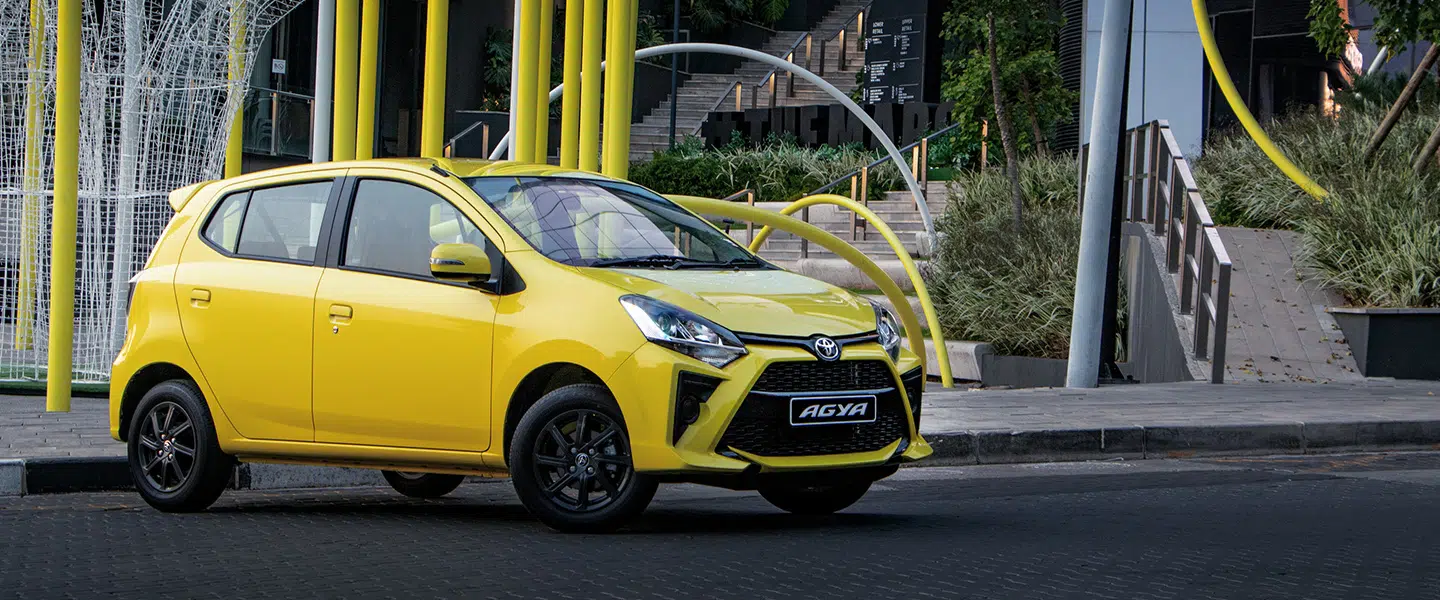 The Agya truly stands out from the crowd, thanks to a choice of six punchy exterior colours, and charcoal wheels on some models. Nothing beats the confident little Agya when it comes to full-package value for money.
With a small economical 1.0-litre engine (49 kW, 89 Nm) that returns average fuel consumption of only 4.8 litres per 100 km, it's great for the pocket. Two airbags, an immobiliser alarm and wireless door lock ensure necessary safety, while the Agya's size gives it serious agility in traffic and smaller spaces. The starting price of R196,400 is a dream for anyone looking to get into motoring quickly and easily.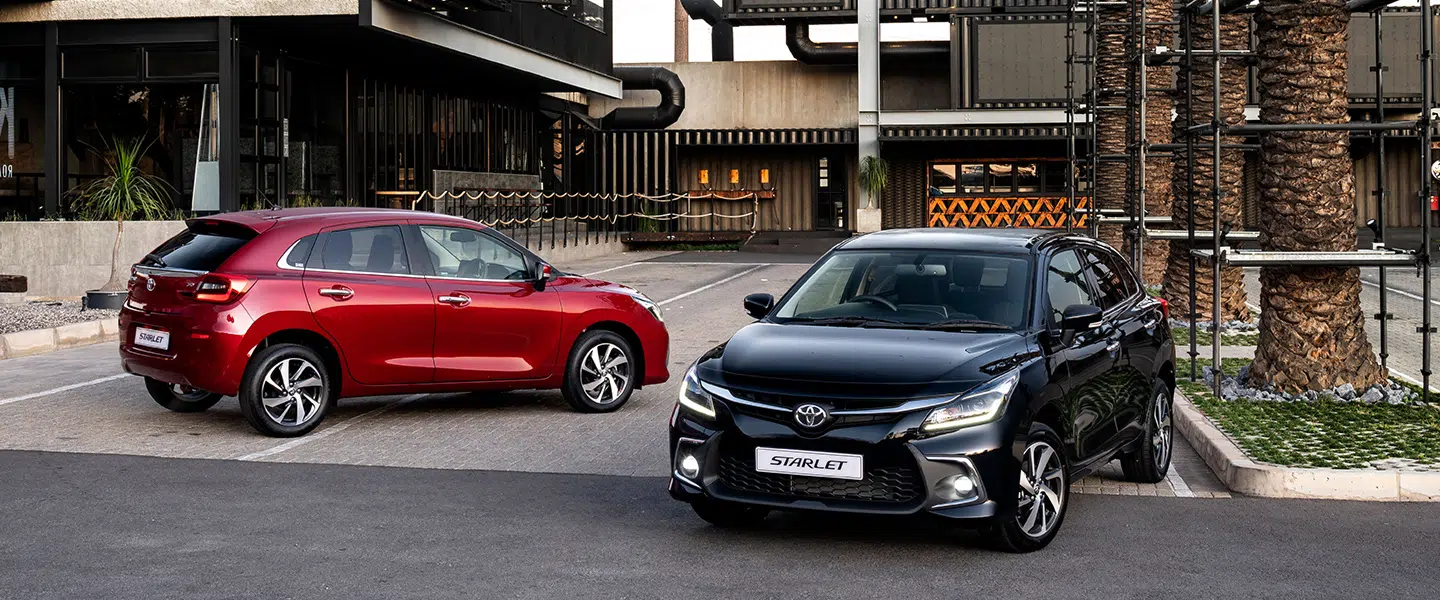 Updated recently to keep impressing its target customers, the Starlet is certainly a little star in the Toyota line-up. Selling over 1,000 units per month means popularity is no issue here, and there are plenty of reasons why.
Firstly, the car is larger than it appears and is therefore very spacious, particularly that deep 314-litre boot. Secondly there was no skimping on features, which include a touch screen infotainment system, Park Distance Control, two airbags and a reversing camera on higher models. Equally impressive is how the car performs, thanks to its upgraded 1.5-litre engine (77 kW, 138 Nm) that averages 5.4 litres per 100 km.
Comfort levels have improved too, with the Starlet able to absorb road imperfections better than before. It moves quickly through the gear and speed range and handles respectably around corners. Prices start at R226,200.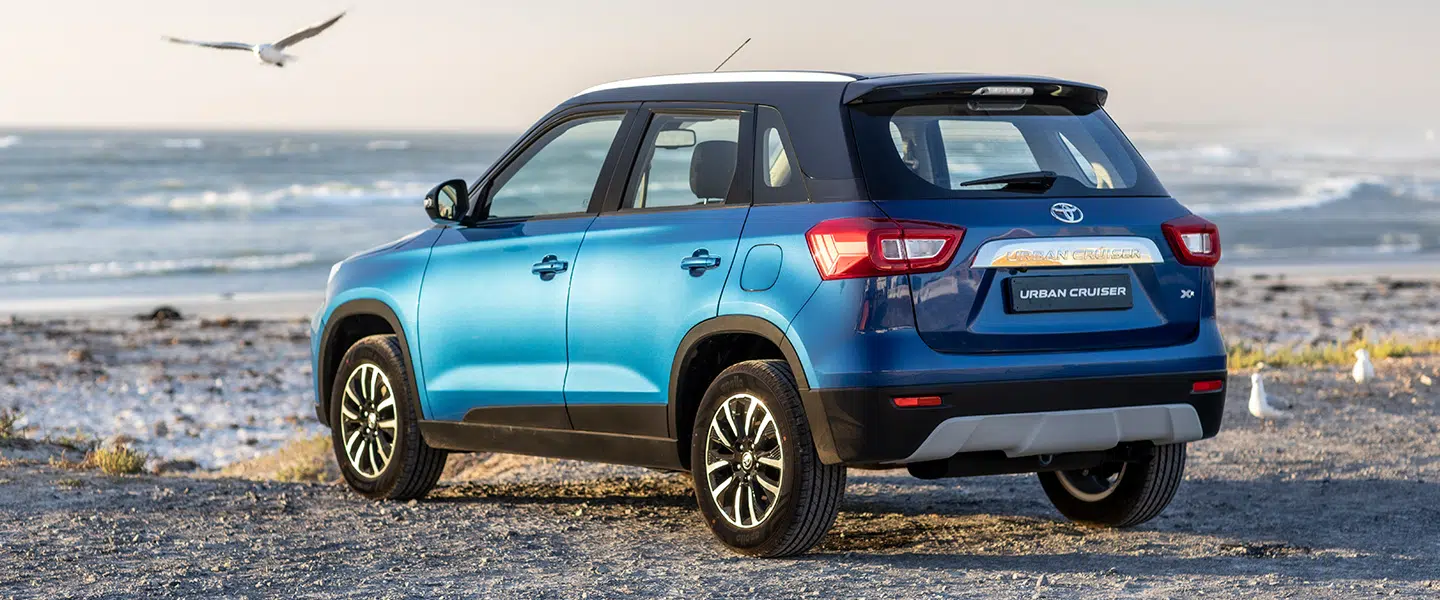 Buyers can't get enough of the Urban Cruiser, which starts from R274,900. It is now one of the most popular passenger cars in the country, regularly registering a monthly tally of over 1,000 units. This makes absolute sense, because the Urban Cruiser ticks so many boxes in the entry segment. Some of them include the higher ride height for a better traffic view, good legroom for rear passengers, high-tech infotainment system with touchscreen with Apple Carplay and Android Auto among others.
Thanks to the powerful engine (77 kW, 138 Nm), willing transmissions and low weight, the car can return 6.2 litres per 100 km of driving. Two airbags are standard, so is Rear Park Distance Control, ABS with EBD and wireless door lock.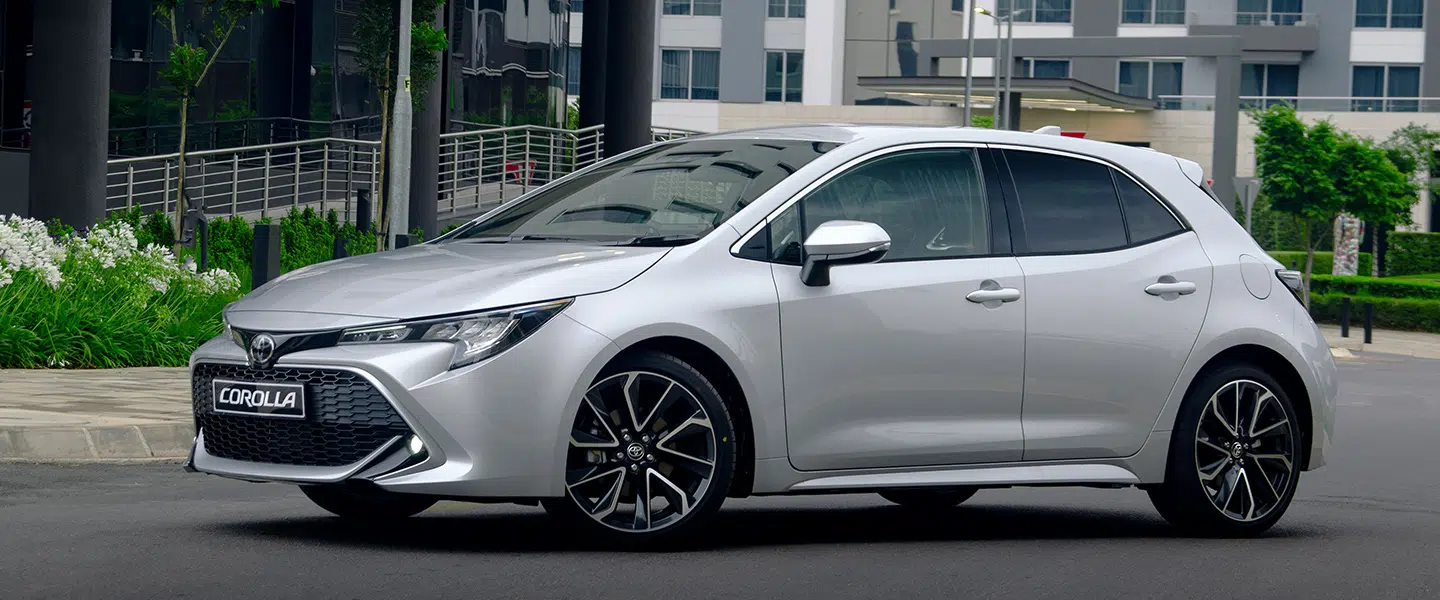 The Corolla hatch — with a basic price tag of R413,600 — forms part of the legendary Corolla brand, representing the trendiest target market. The car itself is stylish in design, and modern in execution. For example, power is sourced from a compact 1.2-litre turbo motor (85 kW, 185 Nm) that offers about 800 km from a full tank. At the same time, the car delivers brisk acceleration and has a top speed of 200 km.
This mild hatch gives a glimpse of serious performance without compromising on safety — five airbags, ABS with EBD, and Vehicle Stability Control. Other top features include Cruise Control, dual-zone automatic air conditioning, a reversing camera, and a touch screen infotainment system with six speakers.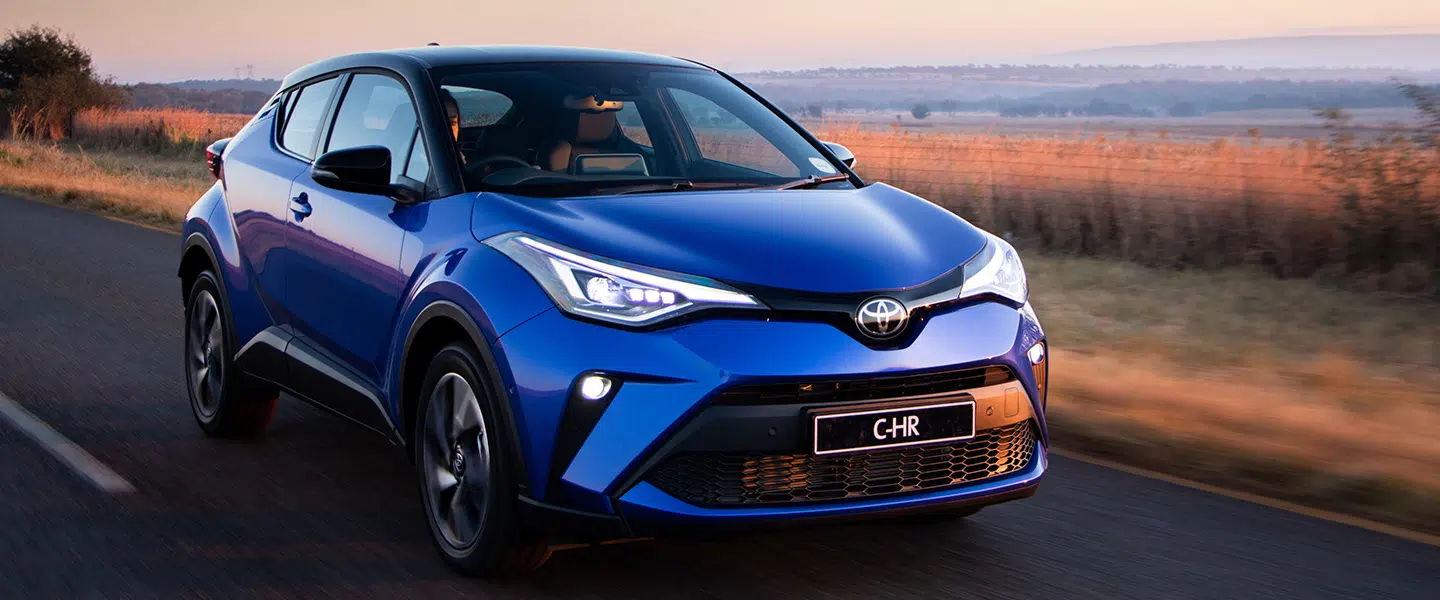 The C-HR could be regarded as Toyota's entry point into the premium SUV market. Striking looks, a compact package, features envied by rivals and a price bracket (starting from R429,000) that defies the total offering, the C-HR is a progressive SUV of our times.
Sharing the same 1.2-litre turbo engine as the Corolla Hatch, this car gives the driver an average of 6.3 litres per 100 km. Despite its coupé looks, interior seating and luggage capacities are ample. Speaking of ample, Toyota plastered the C-HR with a long list of standard safety features, among them Hill Assist Control, Vehicle Stability Control, five airbags and keyless entry.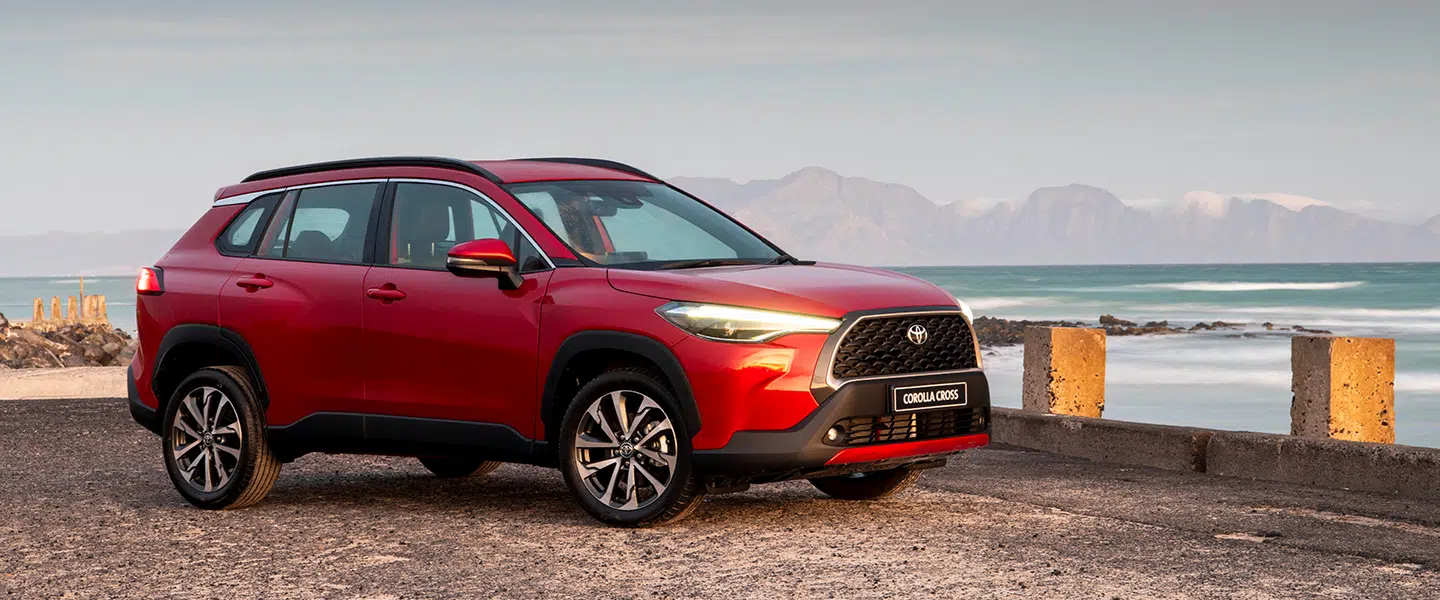 One of the most advanced cars in the Toyota stable is the Corolla Cross Hybrid, priced from R461,700. The best news is that it's manufactured right here in SA at Plant Prospecton near Durban.
An already proven sales success story, averaging around 1,500 units a month, the range has resonated with the buying public. The Hybrid model combines strong performance with high frugality thanks to the 1.8-litre petrol engine and electric motor (90 kW) and CVT transmission. As a result, a range of 750 km is entirely possible. The car's high-tech interior is neat and clean, boasting that touchscreen with Apple Carplay and Android Auto, dual-zone air conditioning and more.
All the above cars come standard with Toyota Connect, three years/100,000 km warranty and at least two services/20,000 km.