Toyota South Africa Motors (TSAM) and the South Africa Sports Association for the Physically Disabled (SASAPD) hosted yet another tournament of their annual National Championships. The games took place in Gqeberha (Port Elizabeth), Eastern Cape from 23-27 April 2021.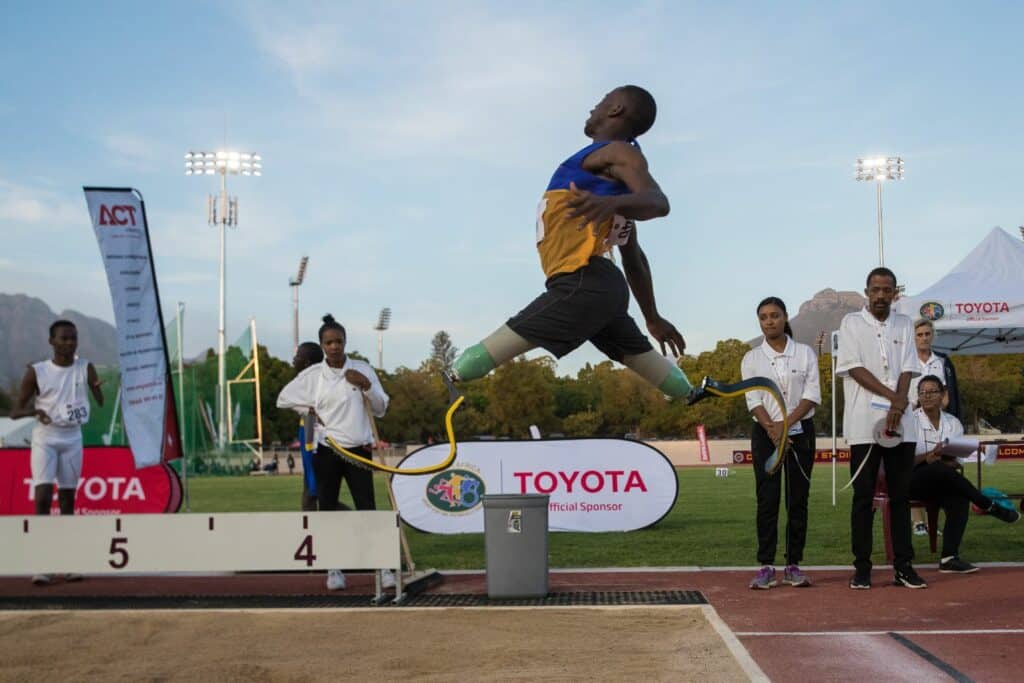 The games are considered to be a good platform for nurturing promising and ambitious athletes with physical disabilities and visual impairment. Furthermore, the games have historically provided the country's top athletes with disabilities, a birthplace for their dreams and, in this Paralympic year, serve as a centre of excellence.
At the games, participating para-athletes compete in sports such as field and track athletics, boccia, goalball, judo as well as power-lifting.
The track and field meet is internationally sanctioned and is the largest event of its caliber in Southern Africa this year, providing track and field athletes from the region with the opportunity to secure a spot to compete at this year's Tokyo games.
Toyota's very-own Tyrone Pillay, who won Bronze at the 2016 Rio de Janiero Paralympics for shot put, competed. He's one of the company's Global Team Toyota Athletes and looks forward to being part of the Tokyo 2021 Games.
TSAM's ambassador Ntando Mahlangu – an inspiring young role model and incredible athlete – also featured. Ntando is deemed "the one to watch" at the Tokyo Paralympics. Ntando won silver in the 200m athletics race at the previous Games.
Start your Impossible
Toyota's "Start Your Impossible" was the brand's first global campaign, conceptualised in 2018 to reflect the Olympic and Paralympic spirit of encouragement, challenge and progress. Created in honour of Toyota 's shift to a mobility company and to honour its long global partnership with the International Olympic and Paralympic Committees, it is an impassioned call to action which is designed to create a more inclusive and sustainable society in which every individual is encouraged to reach for and achieve his or her personal best.
About SASAPD
SASAPD is a federation that promotes sport for athletes with disabilities and visual
impairments from grass-roots to Paralympic level. It currently caters for a number of regions throughout the country and for five disability groups, including spinal cord injuries, amputees, cerebral palsied, visually impaired and blind, and les autres (a category for Paralympic competitors whose disability does not fit into the other five categories).
Moekie Grobbelaar, SASAPD president, says: "The National Championships are probably the most important for any athlete with a disability who participates in the eight sporting codes we offer. It is the last opportunity for these athletes to showcase their athletic ability. It offers them the opportunity to break South African or international records, which are then recognised."
This will be the first year that the Toyota SASAPD National Championships will be closed to spectators due to strict COVID-19 protocols that need to be adhered to in order to host the event. Fans will be able to follow the event and learn more by following SASAPD's social media pages: Facebook, Twitter and Instagram.
As adaptive sports become more competitive, it is more difficult for athletes with disabilities to be selected to represent their country at these events.
"We need to send as many athletes as we can so that we can get more slots at the Paralympic Games. Toyota's sponsorship of the National Championship is key in achieving this goal," she adds. While Grobbelaar is excited and grateful to have high-performance athletes like Ntando Mahlangu and Tyrone Pillay at the National Championships, she is equally excited about the upcoming athletes.
"The core function for the SASAPD is to develop the sport codes and build athletes from grass roots. That is why we have schools and clubs. I'm interested in the newcomers or wild-card athletes, as it shows me whether there is development in the sport," she explains.
People with disabilities are monitored by SASCOC as soon as they become high-performance athletes. SASAPD thus takes more interest in the talent that still needs to be developed.
Athletes
While there are high stakes for the Paralympians competing at the Nationals, for many other athletes it provides an opportunity to measure their performance against the best in South Africa or their personal best.
Mpumelelo Mhlongo (Long Jump 100m & 200m (T&F44) is one of those athletes – named Ntando Mahlangu as his hero and idol in 2017. He currently holds three World records himself in his class and currently busy with his PhD in chemical engineering.
Another young champion to watch is Simoné Kruger. At just 16 years old, she already has a glittering array of successes and medals to her name, having taken part in her first SASAPD Championships in 2016 aged just 11.
The following year, Simoné won four golds and shattered the U/16 National records for discus, shotput and javelin, while in 2018, she won gold medals for both discus and shot put at the senior SASAPD Nationals and the International Wheelchair and Amputee Sports (IWAS) Junior World Games in Ireland. Competing in F-38 shot put and discus, Simoné has continued her upward trajectory, becoming a double world record holder in 2019.
The Partnership
Toyota entered into a partnership with the SASAPD to promote the sporting codes offered at Paralympic level for athletes with disabilities. "At Toyota, we believe that movement and mobility in all its definitions is all around us. Sport has the power to connect people. This is where we learn the true power of sport – it can challenge us, inspire us and, most importantly, unify us," says Glenn Crompton, Vice President: Marketing at Toyota South Africa Motors.
"As the Worldwide Official Mobility Partner of the International Olympic Committee and the International Paralympic Committee, Toyota shares the vision to inspire people to push onward – past their finish line, past their impossible. We have seen so many examples of people achieving the impossible at the SASAPD National Championships.
"Toyota believes that you can achieve great things when you move. This is why we are a proud partner of the SASAPD National Championships. We are wholeheartedly committed to unleashing human potential through the power of movement," he explains.