Carbon neutrality is a hot topic for the automotive industry and one that Toyota takes very seriously. Toyota Motor Corporation (TMC), and by extension Toyota South Africa Motors (TSAM), wholeheartedly supports the Paris Agreement and has accepted the challenge to achieve carbon neutrality by 2050.  
FUEL CELL
Recently, a task force in France completed a drive of 1000+ kilometres on a single hydrogen refuel with the Toyota Mirai, a fuel cell electric vehicle that runs on hydrogen. For the Mirai driving challenge, Toyota collaborated with Energy Observer, a company headquartered in France that conducts research on renewable energy.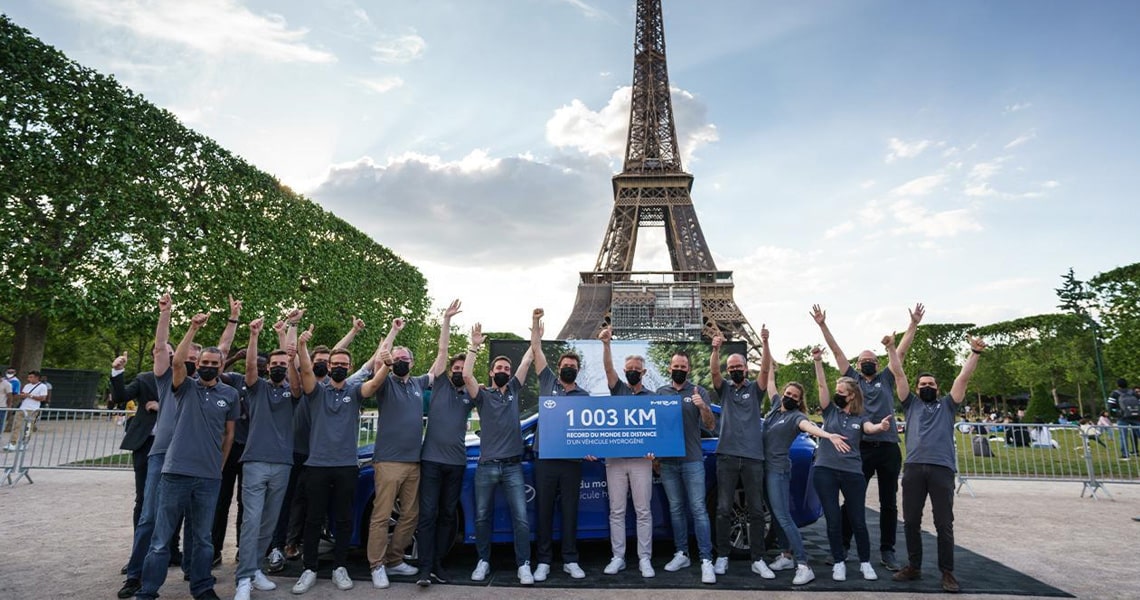 The company's ship, also named Energy Observer, is a floating laboratory that sails around the globe, with a catamaran as its base. It can sustain itself using only hydrogen, solar, wind and hydropower, and is used to conduct trials in demanding marine environments in an effort to uncover more renewable energy possibilities. The onboard powertrain system for the Energy Observer vessel was developed based on Toyota's fuel cell technology. 
COLLABORATIVE EFFORT
The collaboration between Toyota and Energy Observer for the Mirai driving challenge was sparked by a conversation between Cedric Borremans from Toyota Motor Europe (TME), who was the project lead on the Mirai challenge, and Victorien Erussard, chairman, founder and captain of Energy Observer. "The idea was born in 2019," explains Borremans. "I had a chance to visit Energy Observer and we talked about various things related to hydrogen."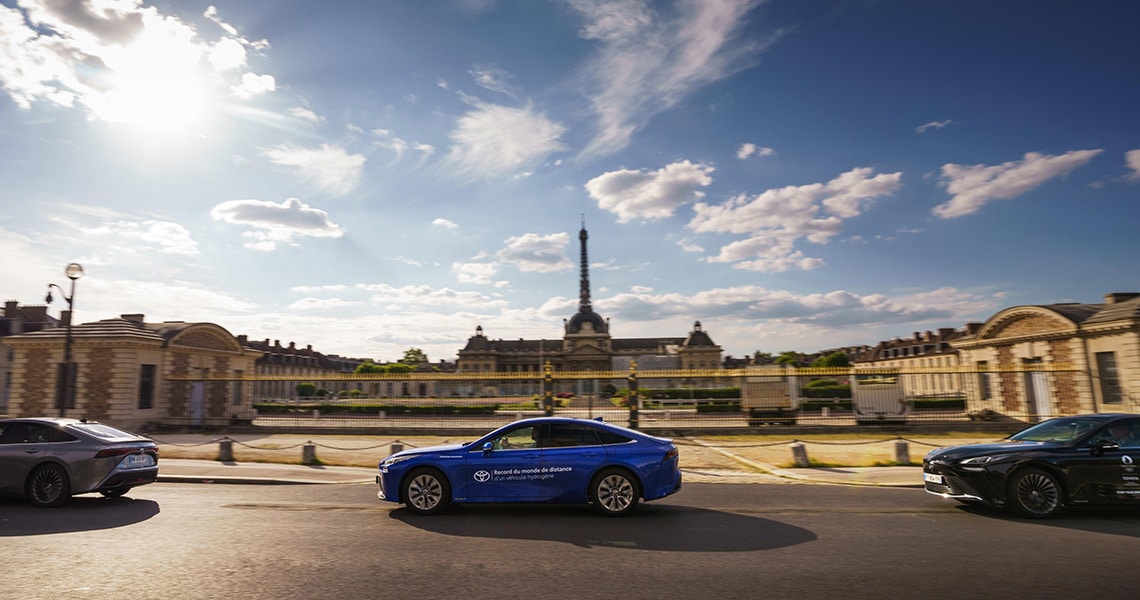 The Mirai challenge topic came up and, despite their different backgrounds, the two companies came together through a shared desire to achieve carbon neutrality.  
"I worked as an officer on large cruise ships and other vessels," explains Erussard. "I also crossed the Atlantic racing as a skipper and saw first-hand how ships pollute the marine environment. The message I hoped to convey was that by effectively using renewable energy, we can act with greater respect for people and the planet. Because hydrogen plays a vital role as a fuel while sailing, I wanted to show that hydrogen is a model of zero-emissions energy that doesn't pollute the environment."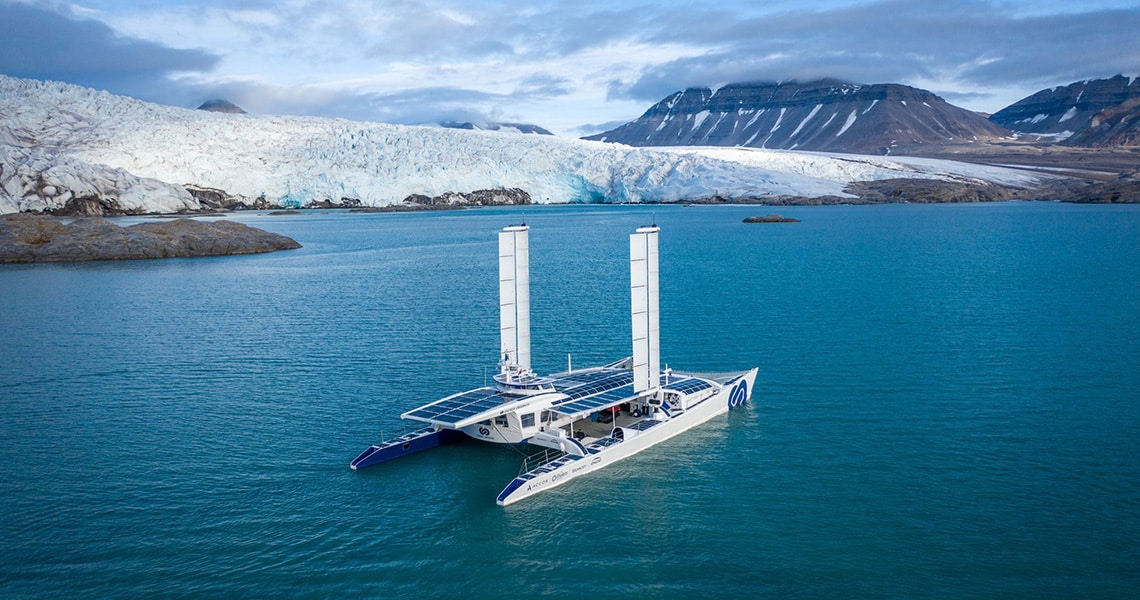 EIFFEL TOWER ILLUMINATION
From the Toyota perspective, they were working with engineers to make the necessary preparations while searching for the right opportunity. "I heard from Victorien that he had a plan to illuminate the Eiffel Tower in Paris with electricity supplied by a stationary hydrogen generator that uses the Mirai's fuel cell technology and green hydrogen," says Borremans. "As both events would draw public attention to hydrogen, we decided to take on the driving challenge about a year-and-a-half after the idea was born, in tandem with the Eiffel Tower illumination event."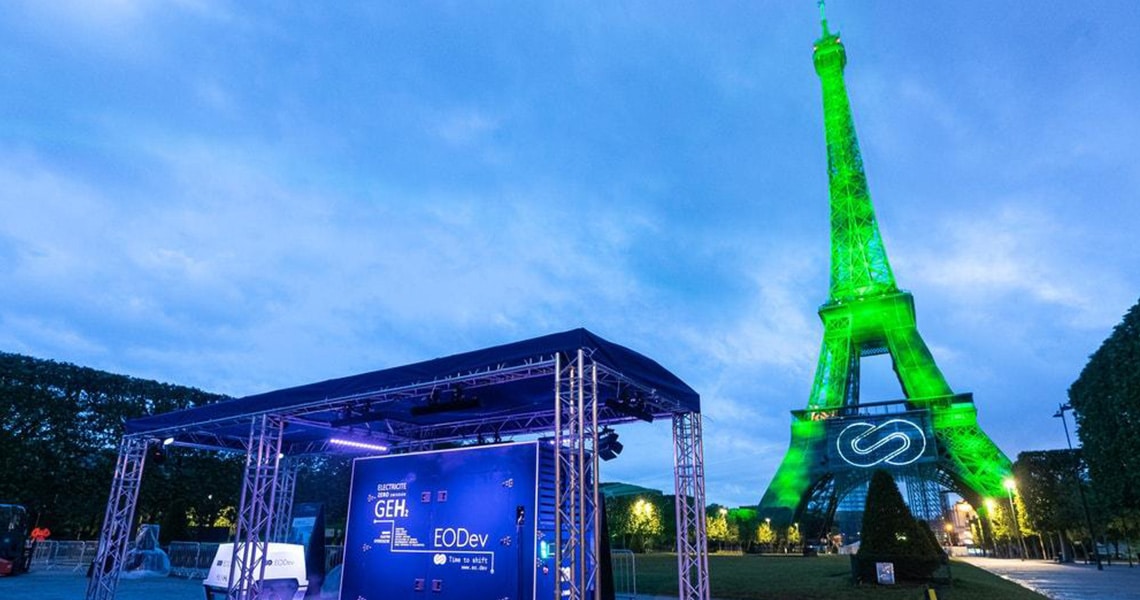 The Mirai project yielded major insights for the future, says Borremans. "What this project taught us is that a large company like Toyota has much to learn from start-ups. Energy Observer provided a great deal of support that helped us to push the envelope." 
2024 OLYMPICS
Paris is scheduled to host the 2024 Olympic and Paralympic Games, and Borremans says there are several ideas under consideration for utilising hydrogen boats powered by Toyota Fuel Cell on the River Seine, which TME and Energy Observer hope to execute in the leadup to Paris 2024.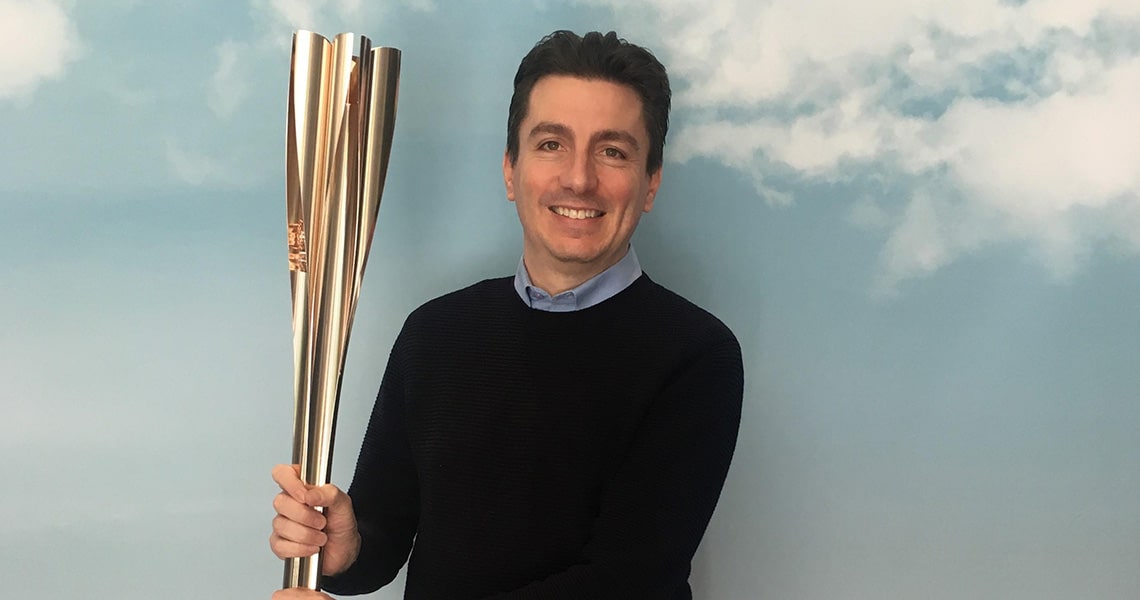 Achieving a carbon-neutral world is an extremely long and challenging journey, but it's not impossible if collaborations like these take place. And as Toyota President Akio Toyoda reminds us: "In pursuing carbon neutrality, carbon is our enemy, not the internal combustion engine."