Prehistoric Stone Age sites. Gonometa moths and dancing white ladies. Just about zero bars on your cellphone. Roaring dunes on which you can sandboard. These are just a few of many reasons to visit Witsand Kalahari Nature Reserve and surrounds.
Even in the Noord-Kaap, the champion of moer-and-gone destinations, Postmasburg is pretty much as moer-and-gone as you can get. In search of Witsand, we're cruising south in the Fortuner from Kathu, once a quaint village but now a sprawling mining town with possibly the most exquisite golf course I've ever seen.
It seems a lost cause: everywhere you look, you see ochre dunes rucking up amid Kalahari scrub. But it
is a beautiful drive, with karroid thornveld unfolding all around and with an affable OFM non-shock jock holding forth on the radio. All things considered, this beats urban traffic hands down.
We eventually dust-trail onto a corrugated gravel strip between Groblershoop and Griekwastad, with a forgotten road sign confirming that we're headed for Witsand. I visited this 3  500-hectare arid reserve – set around a geological basin filled with white, windswept sand – a few years back, and have always vowed to return.
Sure, it may be one of South Africa's lesser-known conservation areas, but I easily rate it as one of the Northern Cape's top family adventure destinations. Earthy stone chalets (with bedrooms, ablutions and a separate living area opening onto an expansive stoep) languish within a copse of ancient thorn trees. And the good news is there is a swimming pool not too far away.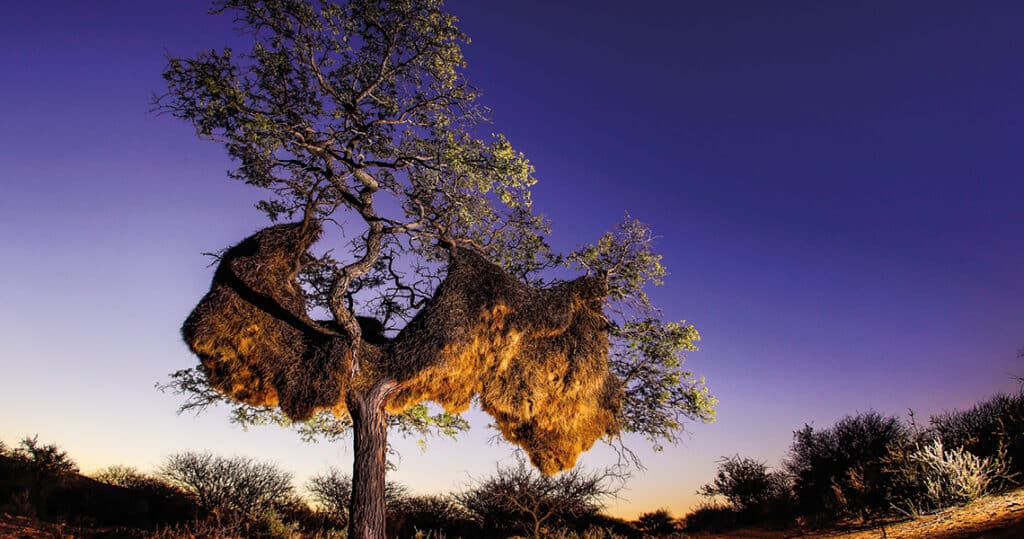 Genets and duikers wander on the periphery of the braai fire's light at night, and at dawn you will wake up to a cacophony of birds. Ashy tits, black-chested prinia, purple starlings, crested barbets, dozens of raptor species… This is a true twitchers' paradise.
Slender mongooses (or mongeese or mongii, if you prefer) skulk from their colonies to sneak a drink from stone birdbaths. Steenbok sun themselves amid the clumps of acacia that dot the desert, and ground squirrels scurry about while morning coffees are doing the rounds.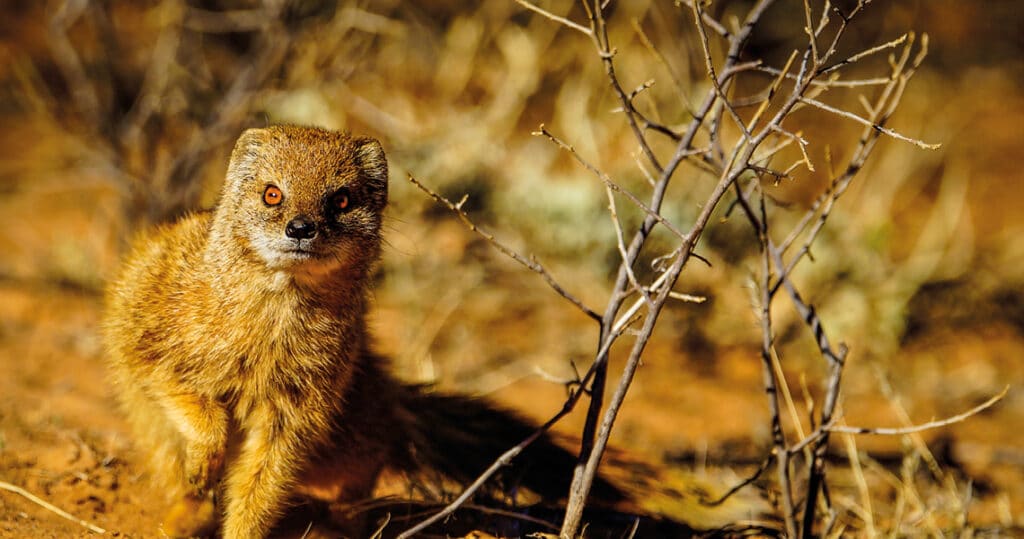 And once that caffeine fix has been taken care of, a day filled with endless outdoor fun awaits within Witsand. Crank at speed towards the serrated rock horizons on your MTB, revelling in the freedom of exploring a wilderness area on your bike rather than in a car. Hike onto the interpretive trail, or trail-run into the spiky surrounds of this amazing place.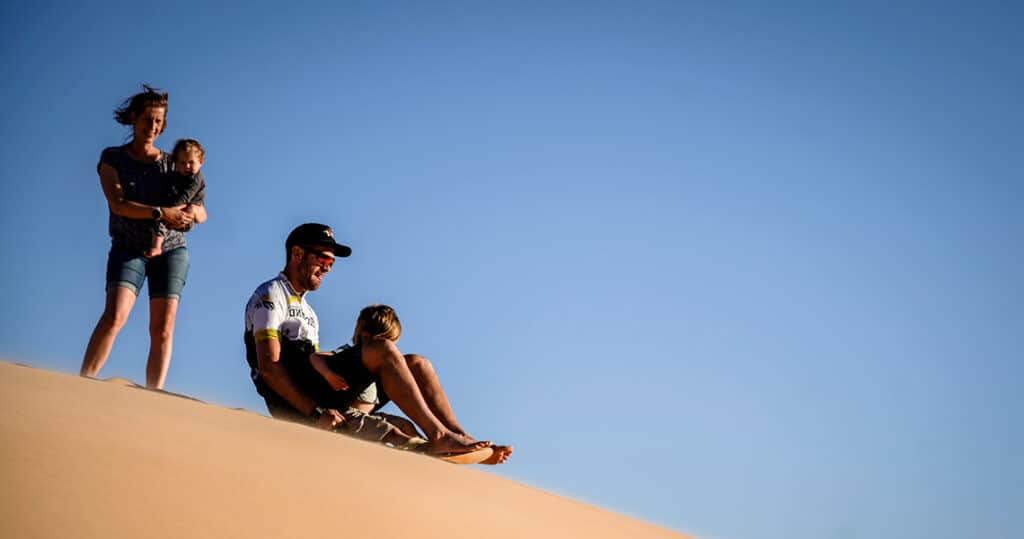 The time has come to take up your sandboard – the proper stand-up variety – and head to the undulating dune fields for which Witsand was named. Don't expect tiny mounds, bru: these are some of the bigger dunes you'll find in South Africa. Their sugary consistency makes for high-speed runs, especially when you apply Cobra wax polish liberally to the board.
While I survey the potential lines (as is an Oom's wont), the kids have already sprinted to the top of "The Dune of Certain Death", and with wild whoops carved down the steepening face. Their suicidal runs end in tumbleweed wipeouts, immediately followed by slogs back to the apex – all while hollering "AAAAAWESOME!" into the wide bowl of the sky.
These are the so-called "brulsand" (or roaring sand) dunes; when you walk here, especially during the dry season, the friction between the silica particles creates an unearthly tremor that may sound like a volcano about to erupt within the belly of the earth.
Sundowner beers at the viewpoint, with Van Gogh views across the undulating dunescape, are a must – and if you're into astronomy, wait for nightfall proper to get a true billion-star experience in this faraway and magical place. Before you know it, the days will have flitted by – way before you get around to even half the Witsand boxes you wanted to tick.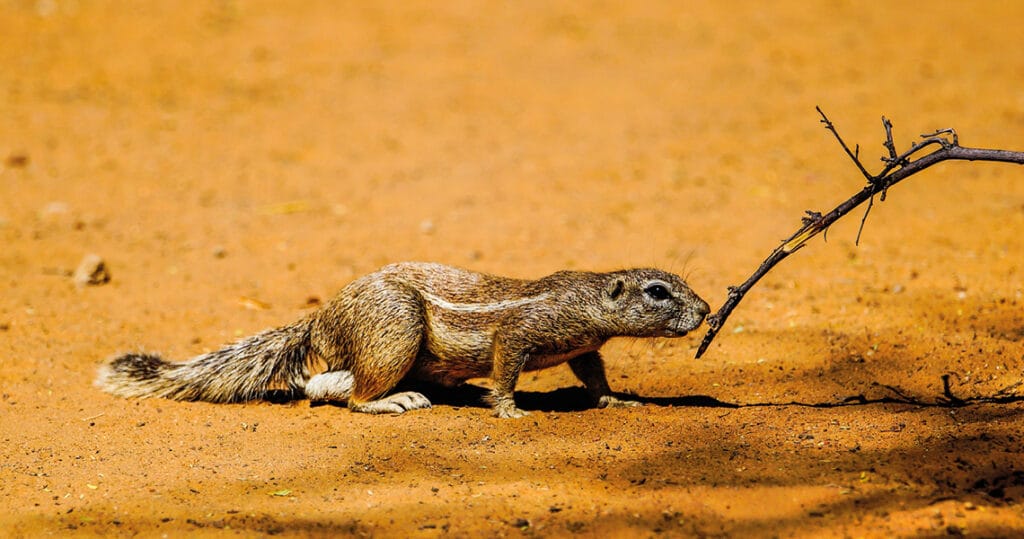 When we eventually leave, I realise yet again that I needed more time here. The bird hide requires more than a cursory visit; I want to traverse the whole of that vast dune field under a full moon; there are so many more star-trail photo options; I definitely have to do a night hike or ride to scout for wind spiders and scorpions with an ultraviolet torch…
This freedom of movement is what makes Witsand special. There are no fences or walls to prevent you from fully immersing yourself in nature, at any hour of the night or day. And because it feels as if time stands still, your visit fizzles by in a flash.
Which is exactly why we have a great excuse to come back again.
DO THIS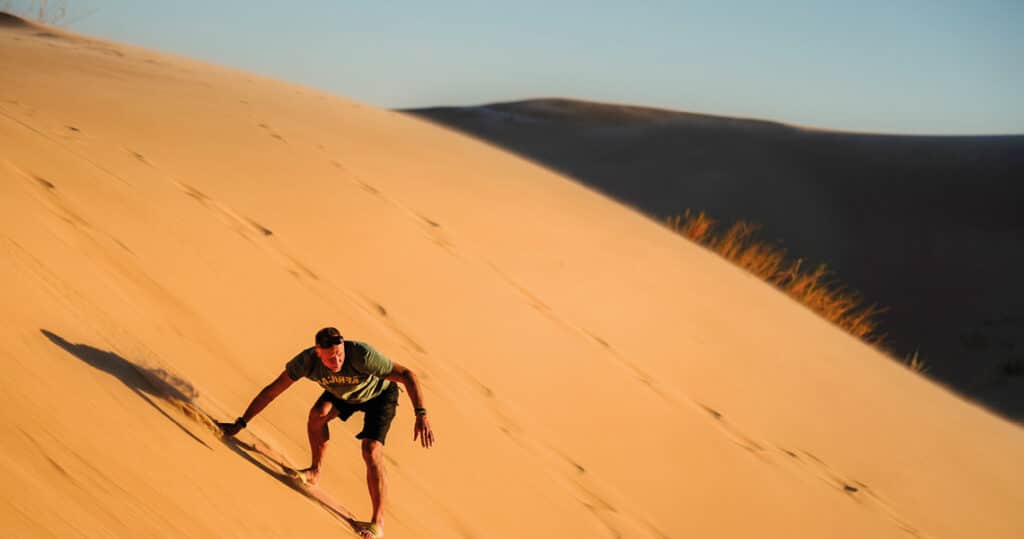 Sandboarding
Rent a proper stand-up sandboard from reception and head onto those roaring dunes (some up to 60m high) while you roar at the sky. Apply suntan lotion liberally to protect you from the shimmering rays of the Northern Cape sun – and apply polish just as liberally to the bottom of your board after every couple of runs to keep it zippy.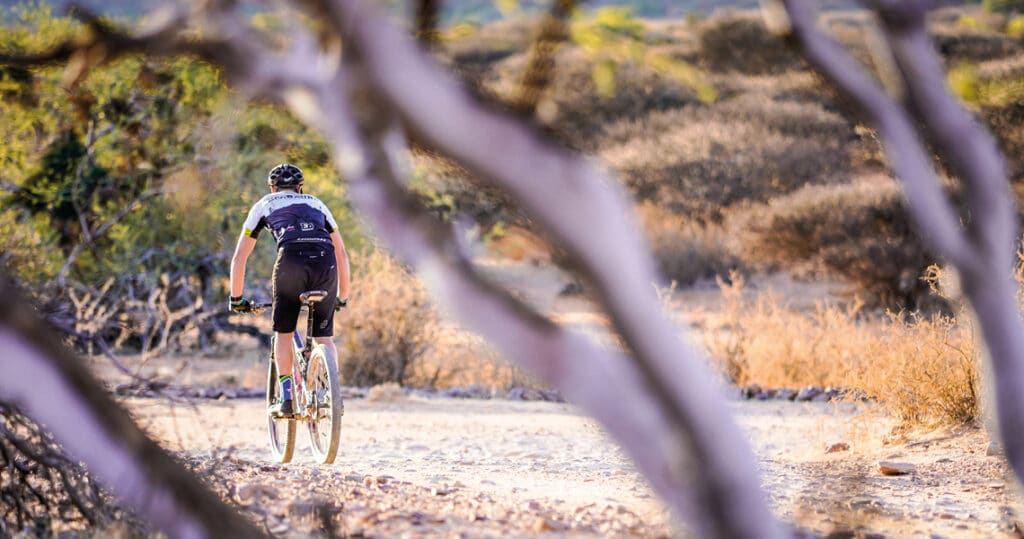 Mountain biking
Saddle up your mountain bike to ride amid gnarled acacias along the network of long, winding reserve management roads at the foot of the Langberg ranges. These tracks may be sandy in places, but the riding is pretty good for at least 30 or 40km within the reserve borders. Expect to spend about two to three hours in the saddle.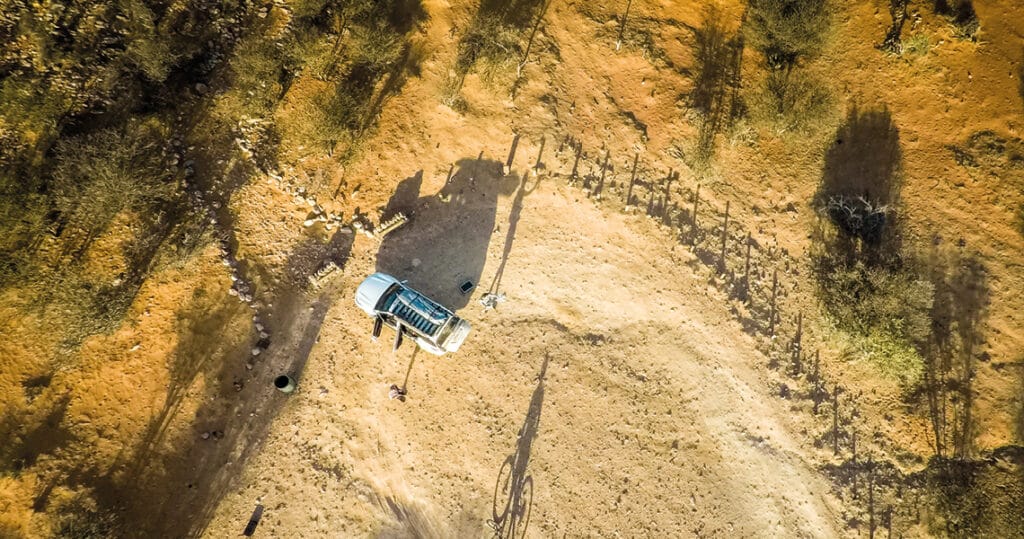 Off-road driving
The Kalahari Mountain View Dune Trail is located on a private farm, but visitors to Witsand are permitted to make use of the 27km sand and mountain trail. It consists of two parts: a 23km sand-dune trail and a 4km mountain trail. The grading is 3, and low-range, high-clearance vehicles are a requirement. The trail
is open all year round, but the best time to visit is in August and September.
083 656 2117 | 053 313 1061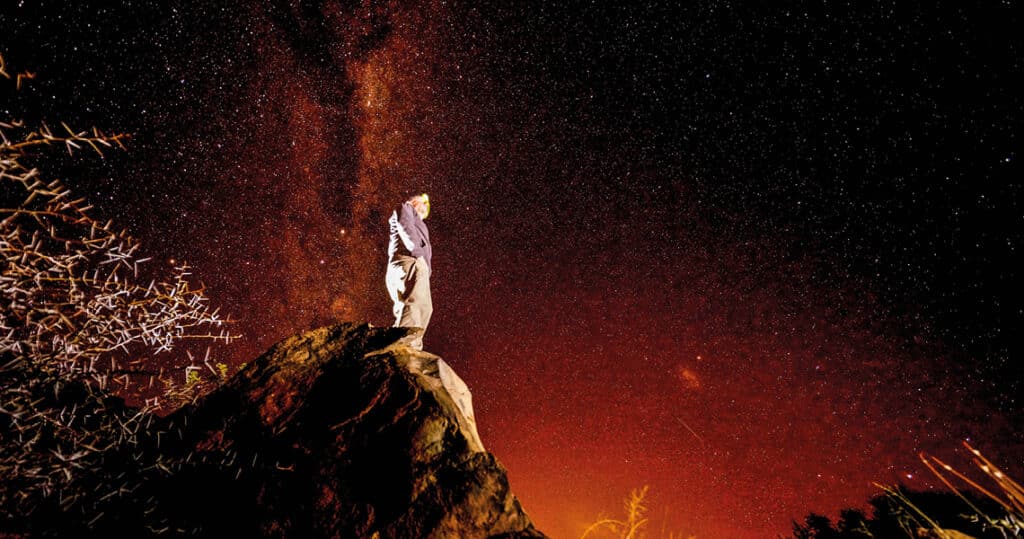 Stargazing
Witsand rates as one of the top stargazing destinations in the Northern Cape. Vast and unpolluted skies – and a lack of any artificial light from nearby towns or settlements – mean there are billions of stars lighting up the firmament. If you get the chance, arrange to go on a guided dune stargazing tour.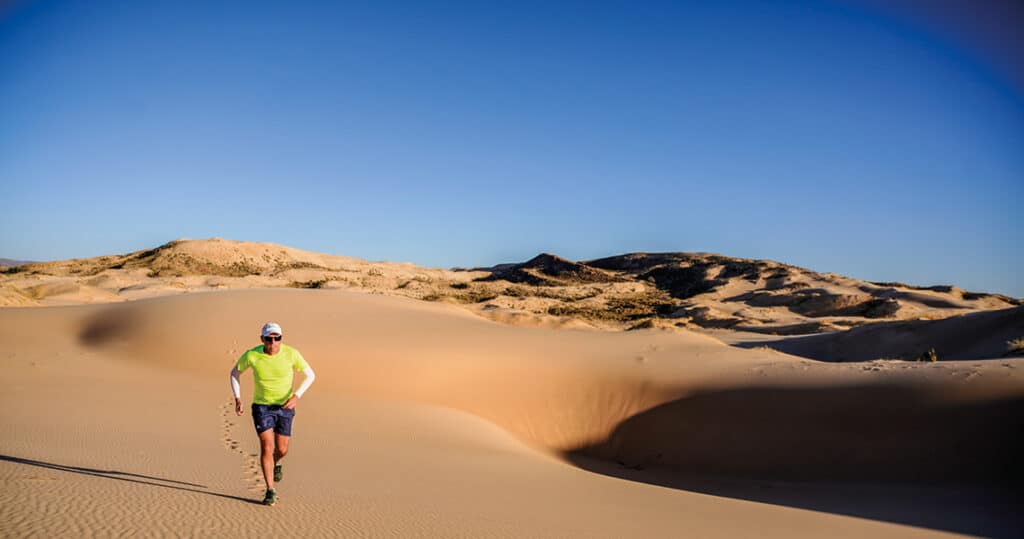 Hiking
A 3km nature trail (featuring 43 marked plant species) meanders from the reception area, and guests are free to hike anywhere else. An extended dune hike is one of the best ways to get a grip on this unique ecosystem – but go early (or even better, at night), especially during the searing summer months.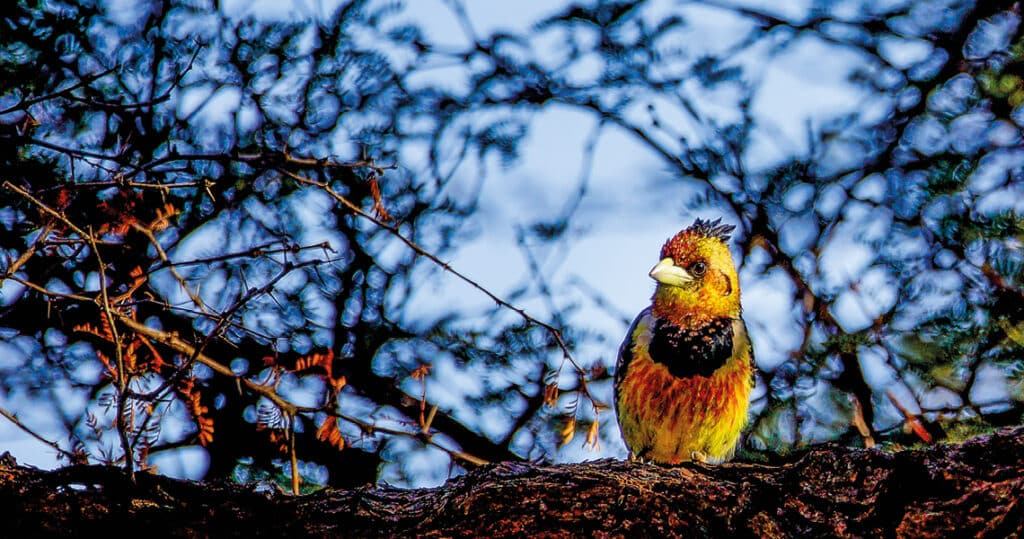 Bird-watching
Take time out to stand under one of the giant sociable weaver nests as dawn unfolds. Close your eyes and listen to the faint scuttling sounds of birds waking up before they missile into the orange sky. This is "Twitter" as it should be, with real-time tweets echoing into the stillness of the semi-desert savanna.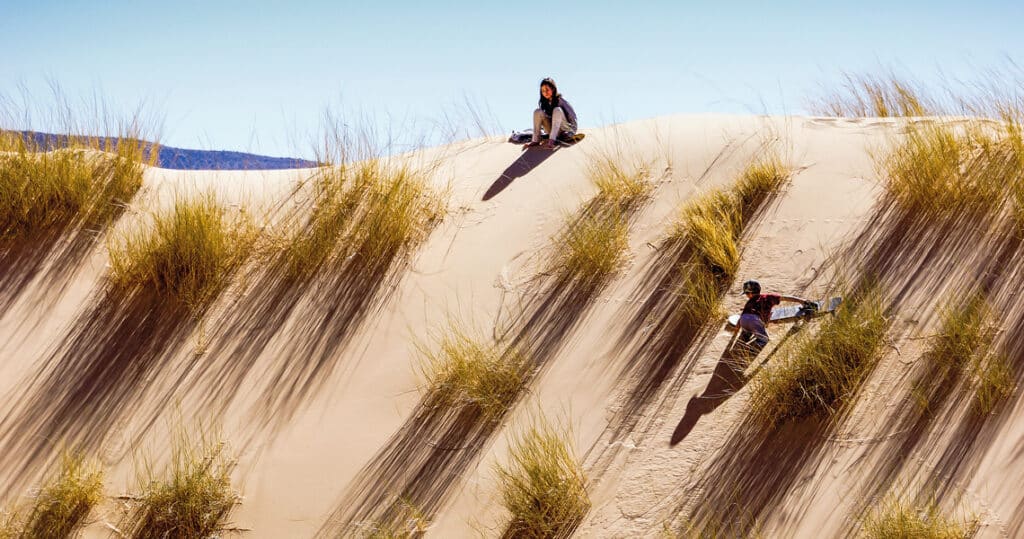 KEY INFO
Find your way Follow the N10 from Upington to Groblershoop. Turn left towards Griekwastad before entering Groblershoop, and travel 59km on the N8. Turn left at the second Witsand turn-off (R383) and continue for 45km
on gravel. You can't go wrong if you follow the signs.
Access Sedans are okay, but you'll be more relaxed on the sandy bits in a 4×2 or 4×4
Cell reception Yes (MTN only).
GPS coordinates S28°33'48.55" / E22°29'22.04"
witsandkalahari.co.za | 083 234 7573