The arid U-shaped Baviaanskloof Mega Reserve lies about 120 kilometres west of Port Elizabeth. It's named after the baboons that roam the area – a mix of the Dutch word "baviaan" for baboon and the Afrikaans word "kloof" for ravine.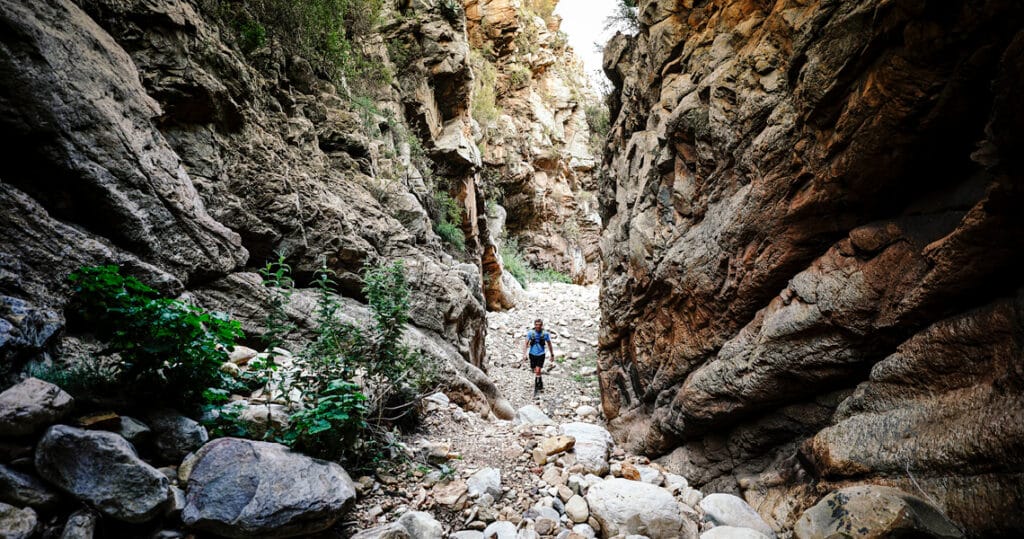 If ever there were an Old Testament landscape, this is it. Shale-shocked ridges implode along haphazard, smash-mouth peaks, with granite slabs tumbling chaotically – like smacked-out teeth – into the chockstoned kloofs and rugged ravines crisscrossing "the Kloof".
Baviaanskloof in the Karoo boasts a number of legendary outdoor events. These include the infamous Trans Baviaans 24-hour mountain bike marathon, and the ultra-challenging Leopard Run for trail runners.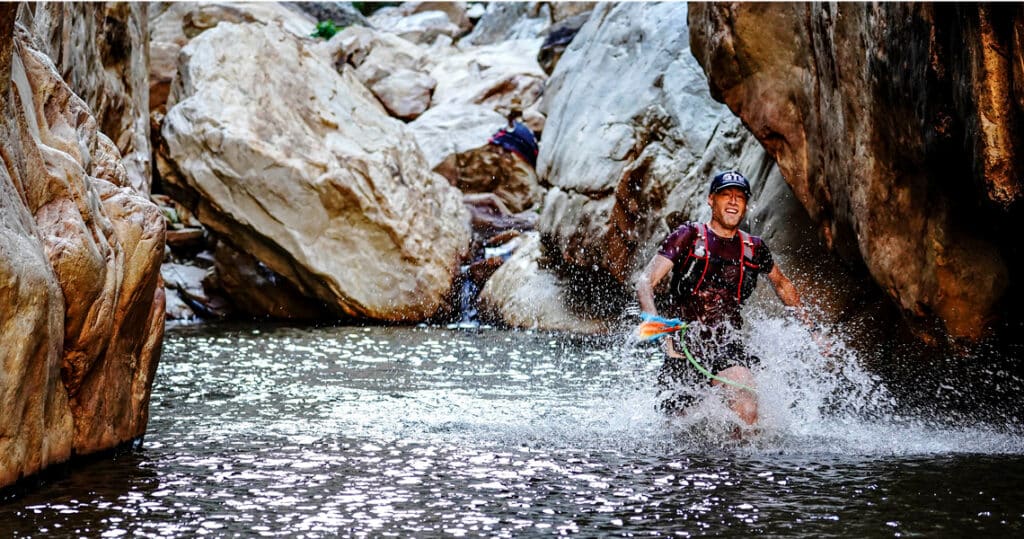 And it's no ordinary trail run. With the thermometer already nudging into the mid-30s before 11am, you can bargain on a tough day at the office. This is partly why runners from all over South Africa are in awe of this exhilarating mountain event. Once you ascend an exposed saddle, high above the dry-as-dust Riet River, you are only 20km into the 34km second stage of the annual Leopard Run.
It may be a case of cruel running, but the harshness and technical terrain force you to slow down. You have no choice but to be in the moment and take it step by step – otherwise "The Leopard" will go straight for your jugular. And when you do slow down, the doors of perception will swing wide open, revealing one of the most dramatic and untouched wilderness World Heritage Sites.
Gnarled cedars cling to high cliffs, with ancient wild olives and shepherd's trees dotting the deep-set kloofs. Buffalo and black rhino roam nearby, while an estimated 35 spotted cats patrol the 350  000-hectare mega-reserve. In fact, Cedar Falls Farm – the base camp for the four-day Leopard Hiking Trail – often captures these felines on their camera traps.
The area boasts way more than just hiking and trail running, though. There's a mountain biking trail and flow track for riders, as well as exceptional birding. Verreaux's eagles nest in the high cliffs, and at night, fiery-necked nightjars and giant eagle owls glide against a sky hung heavy with glittering stars.
Hidden canyons are another attraction. Navigate your way beyond the arid savanna plains to where flooding streams have carved into the sedimentary bedrock, shaping a network of interconnected ravines and gorges, and you will lose yourself within a magical Middle Earth world.
Cold-water swims through a succession of glacial pools eventually lead via the Cedar Falls Amphitheatre to where a waterfall cascades into a splendidly clear swimming hole. Gabriel's Pools are no less dramatic – but again, you need to put in a solid walk and rock scramble in order to reap the rewards.
These are but a few of the tasters on offer on the Baviaanskloof's extensive adventure menu. All you need to do is dust-tail onto the gravel road that traverses this untamed kloof, meandering between Willowmore and Patensie.
Put foot, boet. You won't be sorry.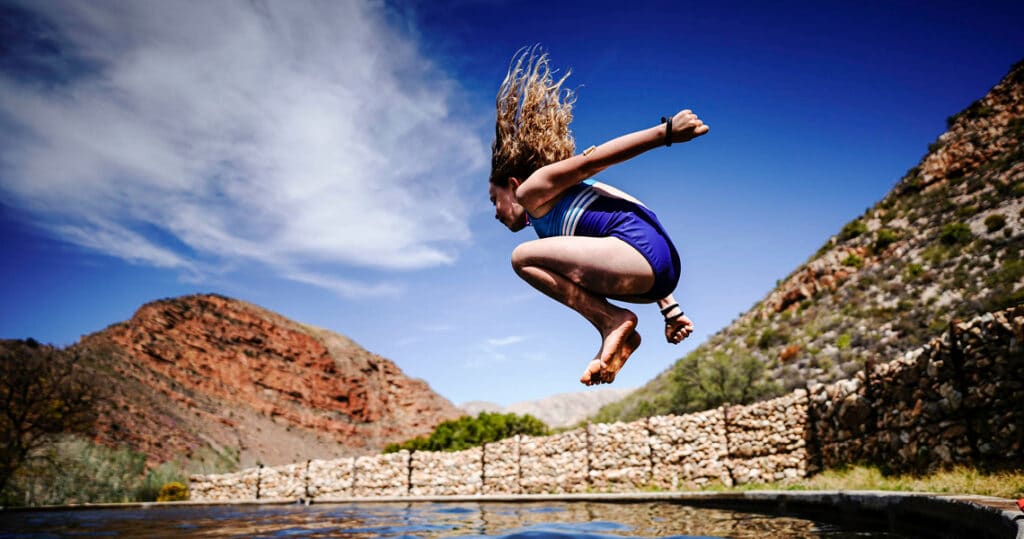 Do This
The attractions of Baviaanskloof are best experienced along a multi-day road trip, with overnight stops at the numerous self-catering farm cottages or campsites en route. Cedar Falls is tops – but explore campsites such as Rooihoek, Geelhoutbos and Makkedaat Cave as well.
Hike
Go feral for four days along the truly breathtaking Leopard Trail slack-packing hike, or experience the dramatic beauty of the Cedar Falls day hike. The trail traces the clear watercourse of the Riet River into astounding canyons and gorges. The trailhead is at
the Cedar Falls Base Camp, and you should expect
to be out on foot for anything from four to six hours (including lunch and swim stops). A couple of deep pools mean that you will have to swim and wade through the narrow kloofs (and winter temperatures can be rather extreme).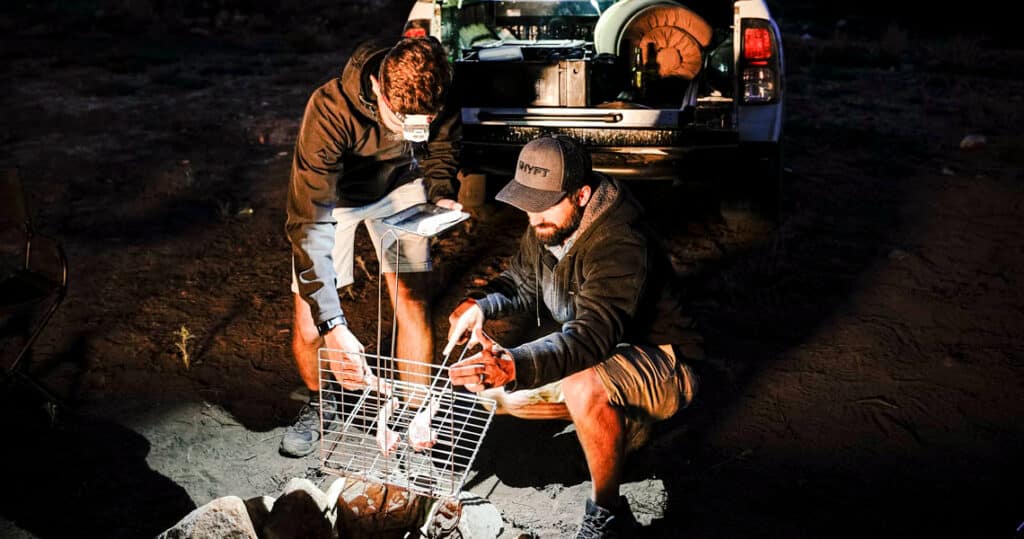 See San paintings
An informative, guided San Rock Art Walk is available to guests who stay overnight at Cedar Falls Base Camp. The two-hour trip (45 minutes each way, with
half an hour at the caves) takes you through the Leopard Kloof valley to a Stone Age San shelter, where the unusual "Running Man" painting can be viewed. This 30cm image of a medicine man, wearing a mask and carrying hunting sticks, dominates the gallery.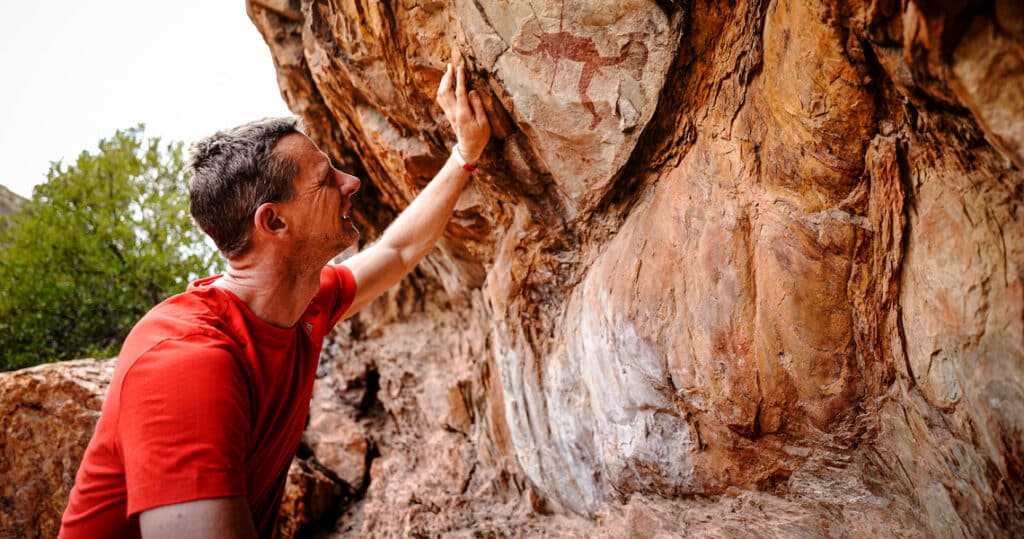 Run wild
The Leopard Trail Run constitutes a circular, three-day route that follows selected sections of the four-day slack-packing hike. Runners must complete the 12km Canyon Prologue, a very demanding 34km mountain stage, and a 22km meander through fynbos meadows on the final day. The trail generally navigates single-track footpaths and is mostly runnable, but care must be taken because of the steep ascents, high exposure, extreme temperatures and unforgiving terrain.
Mountain Bike
Bring your bicycle and get onto the new "Gabriel's Loop" for a couple of hours of true wilderness riding. Take time out to commune with the wild horses, and to stop and hike into the canyons to see the famous pools for which the trail has been named. There is also a flow trail with superb berms and single track, if you're keen on an exhilarating quickie crank.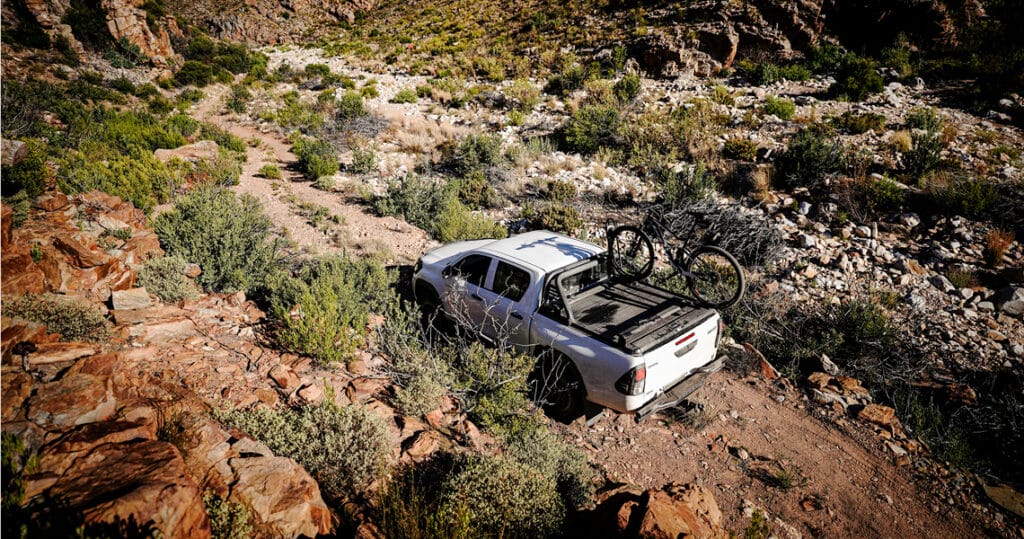 GETTING THERE
From Willowmore, take the N9 towards Uniondale, then turn left 3km from town at a sign to Baviaanskloof. Continue on this road for 31km to Nuwekloof Pass; 7.4km after the pass, a road to the right indicates the turnoff to Cedar Falls. Drive for 7km to Cedar Falls Base Camp.
BEST TIME TO VISIT
The protected microclimate makes for agreeable weather for most of the year, but expect the mid-summer heat to peak in the high 30s. Autumn and spring herald moderate weather, while winter can go hand in hand with severe cold fronts and sub-zero temperatures.
Access Gritty gravel, but a sedan will make it.
Cedar Falls Base Camp coordinates
S 33 34'31.28" E 23 42'57.33"
Cell reception No – but there is Wi-Fi.
MORE INFO
gobaviaans.co.za | leopardrun.co.za