Take our four hearty soup recipes inspired by MEXICAN, PORTUGUESE AND ASIAN FLAVOURS, add something substantial on the side – think prawn toast or garlicky potatoes – and your winter soup stash will be anything but stock standard.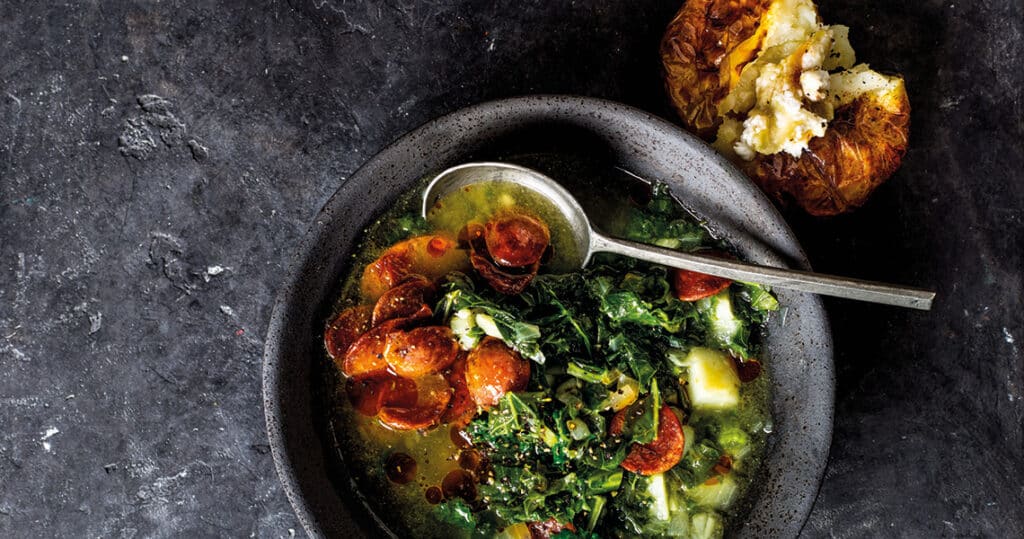 CALDO VERDE WITH RICOTTA AND GARLIC BAKED POTATOES
Serves: 4
Preparation: 30 minutes
Cooking: 45 minutes
olive oil 5 T
large onion 1, diced
garlic 2 cloves, crushed
Woolworths organic chicken
or vegetable stock 1 litre
potatoes 500 g, peeled and diced
kale 180 g, shredded
cannellini beans 1 x 400 g can, rinsed
and drained
sea salt and freshly ground black pepper, to taste chorizo 150 g, sliced
For the garlic baked potatoes:
garlic 1⁄2 head
large potatoes 4
butter 2 T
Maldon salt, to taste
Woolworths smooth ricotta 1 x 250 g tub
lemon 1, zested
paprika a large pinch
Instructions
Heat 2 T oil in a large saucepan over a low heat. Add the onion and garlic and sauté for 5–8 minutes, or until soft and sweet.Add the stock and bring to a boil.
Add the potatoes and cook until just soft. Add the kale and beans cook for a further 5 minutes, then season to taste.
In a separate pan, heat the remaining olive oil and sauté the chorizo until crispy
Divide the soup between 4 bowls, top with the crispy chorizo and oil and serve with a baked potato on the side.
To make the baked potatoes, preheat the oven to 200°C. Wrap the garlic in foil. Rub the potatoes with butter and salt and wrap in foil. Place the garlic and potatoes in a baking dish and roast for 40 minutes, or until the potatoes are soft.
Squeeze out the garlic and mix with the ricotta, lemon zest and paprika. Squash or cut the potatoes and serve dolloped with the ricotta.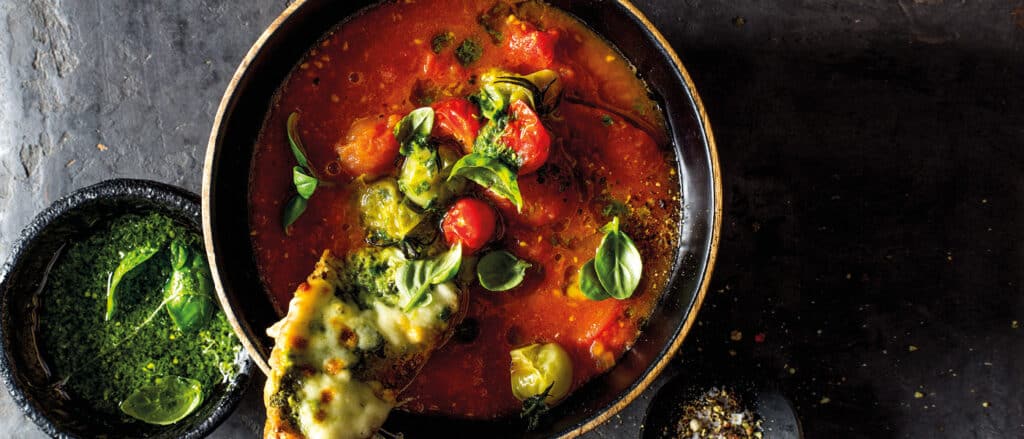 ROAST TOMATO SOUP WITH CAPRESE TOAST
Serves: 4
Preparation: 10 minutes
Cooking: 50 minutes
shallot 1, sliced
assorted very ripe tomatoes 2 kg
olive oil 2 T
sea salt and freshly ground black pepper, to taste sugar 1⁄2 t
garlic 1 head, wrapped in foil
good-quality chicken or vegetable stock 2 cups
warmed red wine or sherry vinegar 1 t
For the Caprese toast:
olive ciabatta 4–8 slices basil pesto 125 g
fior di latte mozzarella 150 g
Instructions
1. Preheat the oven to 180°C. Place the shallot and tomatoes in a roasting pan and drizzle with olive oil. Season lightly and add the sugar.
2. Tuck in the garlic and roast for 30–40 minutes. Allow the tomatoes to cool slightly, then peel.
3. Tip the tomatoes, onion and all the juices into a large saucepan. Unwrap the garlic and squeeze into the pan. Add the hot stock and vinegar and simmer for 10 minutes.
4. Blend using a stick blender and serve with the Caprese toast.
5. To make the Caprese toast, lightly toast the ciabatta. Spread with the basil pesto and top with the cheese. Grill until hot and bubbling.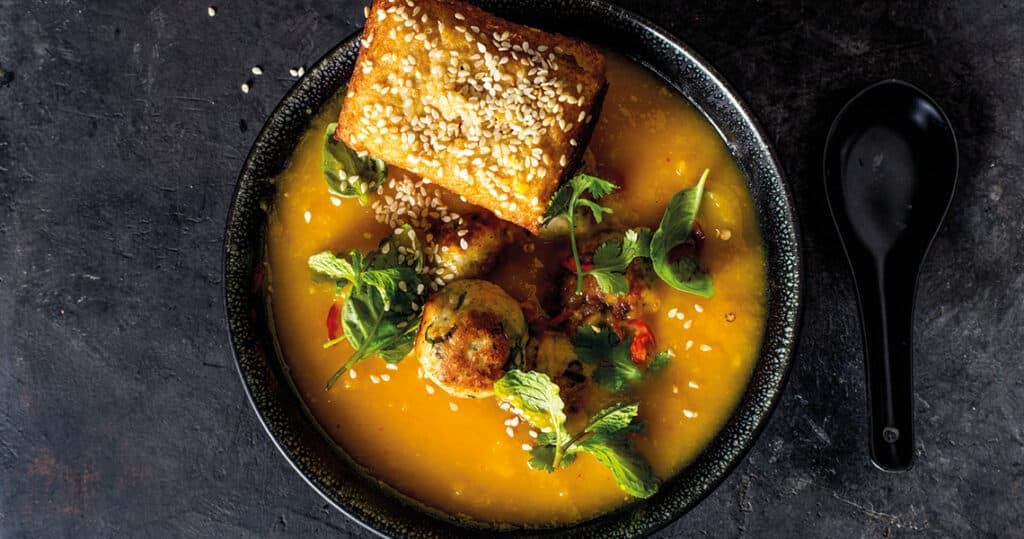 ASIAN BUTTERNUT-AND-CHICKEN SOUP WITH PRAWN TOAST
Serves: 4-6
Preparation: 1 hour
Cooking: 50 minutes
olive oil 1 T
lemongrass 1 stalk
fresh ginger 2 T grated
garlic 2 cloves, crushed
red chilli 1, finely sliced
butternut 1 kg, peeled and cubed
coconut milk 1 x 400 g can
Woolworths organic chicken stock 2 cups
limes 2, juiced
Woolworths chicken frikkadels 1 x 600 g punnet
spring onions 4, finely chopped
soya sauce 2 t
canola oil, for frying
basil, for serving
coriander, for serving
mint, for serving
For the prawn toast:
prawn meat 200 g
garlic 1 clove, crushed
fresh ginger 1 T grated
free-range egg white 1
soya sauce 1 t
white bread 3 slices, crusts removed and cut into quarters
free-range egg 1, lightly beaten
sesame seeds 50 g
Instructions
1. Heat the oil in a large saucepan over a medium heat. Bruise the lemongrass with the back of a knife.
Add the lemongrass, 1 T ginger, garlic and chilli to the pan. Cook for 2–4 minutes, or until fragrant.
Brush the mackerel with olive oil and grill skin sidedown over hot coals or on a gas braai for 1 to 2 minutes, until slightly crispy and browned. Turn over to cook the other side.
Add the butternut, coconut milk and stock and simmer for 25–30 minutes or until the butternut is soft. Season with lime juice and blend using a stick blender.
Divide the hot soup between bowls, top with the fresh herbs, chicken frikkadels and serve with the prawn toast on the side.
To make the prawn toast, blend the prawn meat, garlic, ginger, egg white and soya sauce in a food processor. Chill for 30 minutes.
Spread the prawn mixture onto one side of the bread, right to the edges. Brush all over with beaten egg and sprinkle with sesame seeds. Shallow fry until golden brown, then drain on kitchen paper.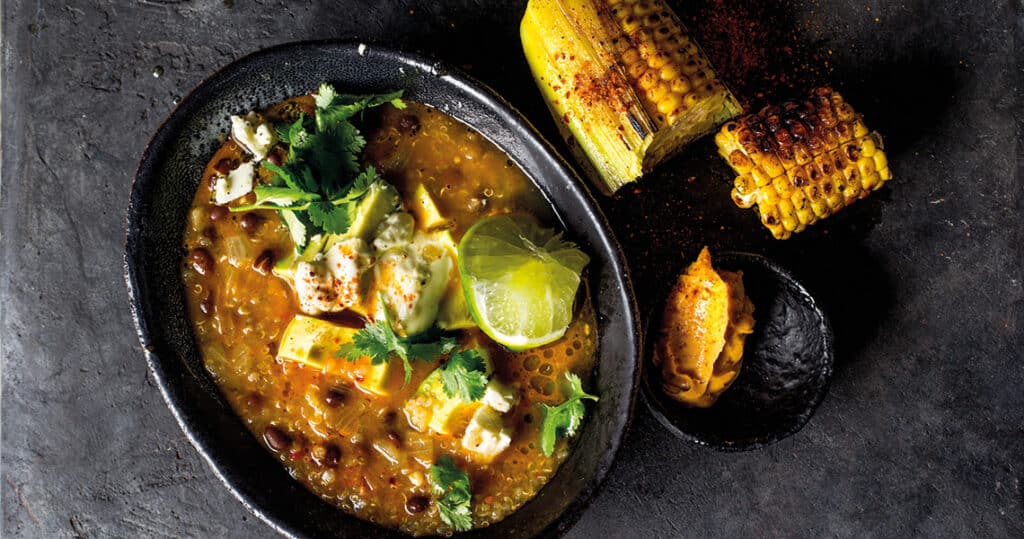 MEXICAN BLACK BEAN SOUP WITH CHIPOTLE CHARRED CORN
Serves: 4
Preparation: 10 minutes
Cooking: 30 minutes
olive oil 2 T
onion 1, diced
Woolworths chicken fajita spice mix 2 T chicken stock 1 litre
quinoa 40 g
black beans 2 x 400 g cans, rinsed
and drained
limes 2, cut into wedges
feta 100 g, cubed
avocado 1, peeled and cubed
sour cream 1⁄2 cup
fresh coriander a handful, chopped
For the chipotle charred corn:
Woolworths chipotle seasoning 1 t butter 100 g
sweetcorn 2–4 cobs
Instructions
1. Heat the oil in a large saucepan over a medium heat. Add the onion and spice mix and sauté for 8 minutes, or until the onion is soft and translucent.
2. Add the chicken stock and bring to the boil, then add the quinoa and simmer for 8–10 minutes. Add the beans and heat through.
3. Season with lime juice and ladle into bowls. Top with the feta, avocado, sour cream and fresh coriander. Serve with the charred corn.
4.To make the charred corn, mix the chipotle seasoning and butter. Grill or char the corn until cooked. Cut into thirds and slather with the butter.