Our quick, easy recipes for seared squid, coconut mussels potjie and tuna steaks will work for impromptu midweek braais and weekend family feasts alike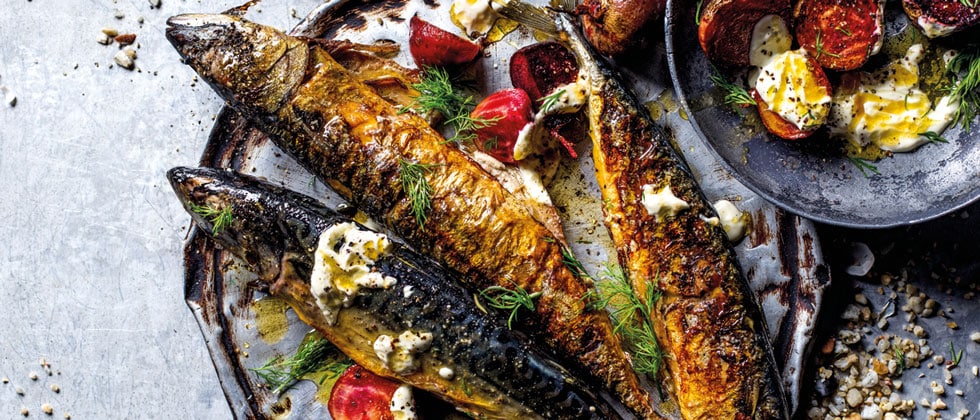 BRAAIED MACKEREL WITH HORSERADISH AND BEETROOT
"If you don't want to braai whole mackerel, use Woolies' skin-on mackerel fillets instead. Prepare them in the same way as below, but braai them for 1 to 2 minutes on the skin side, then quickly on the flesh side for 10 seconds max."
Serves 4
Preparation: 20 minutes
Cooking: 45 minutes
Ingredients
16 baby beetroot, cleaned 2T balsamic vinegar
4 cloves garlic
5g fresh thyme
sea salt and freshly ground black pepper, to taste
1-2T Woolworths horseradish
1⁄2 tub crème fraîche
lemon, for serving
4 Woolworths fresh whole mackerel, cleaned 4T olive oil
fresh dill, torn, for serving
watercress, for serving
Instructions
Make 2 separate tinfoil parcels and fill each parcel with the beetroot, some halved and others left whole. Drizzle with the balsamic vinegar, add the garlic and thyme, then season. Seal the parcels.
Place over medium coals for 40 minutes, or until tender and caramelised. Fold the horseradish into the crème fraîche, season and add a squeeze of lemon juice. Set aside for serving.
Brush the mackerel with olive oil and grill skin side down over hot coals or on a gas braai for 1 to 2 minutes, until slightly crispy and browned. Turn over to cook the other side.
Remove from the heat and drizzle with olive oil, sprinkle with the dill and season. Serve with the beetroot, horseradish crème fraîche and watercress.
Cook's note
Serve with thick slices of braai-grilled, buttered sourdough toast.

FIRESIDE MUSSELS IN FENNEL-AND-COCONUT BROTH
"I find making my own chilli paste really satisfying, especially because it only takes about five minutes from start to finish. It's fragrant and soft, and it complements the mussels beautifully."
Serves 4
Preparation: 10 minutes
Cooking: 25 minutes
Ingredients
1 large fennel bulb, chopped 3 cloves garlic
2 green chillies
30g fresh coriander
100g spring onions 3T olive oil
1t sea salt
2T olive oil
2 x 400g tins coconut milk
1.5kg fresh mussels
cleaned lime, for serving
Instructions
Roughly blend all the ingredients for the paste.
2. Transfer to a large wok or potjie over smouldering coals and add the olive oil.
3. Gently fry for 5 minutes, stirring continually, until fragrant and softened. Pour in the coconut milk and simmer for 10 minutes, then add the mussels. Cook, stirring occasionally, for 5 to 7 minutes, until all the mussels have opened. Discard any mussels that don't open after 10 minutes.
4. Serve with a squeeze of lime juice and bread, braaied sweet-potato wedges or bowls of rice. Garnish with spring onions, coriander and chilli.
Cook's note
While cleaning the mussels, keep them in a bucket of salted cold water to help them close again prior to cooking.

CHARGRILLED SQUID WITH MINT-AND-CORIANDER SALSA
"This is great as a quick little starter. Take advantage of the coals while they're hot enough to sear the squid. I sometimes toss it through a mango- or citrus- studded salad."
Serves 4
Preparation: 15 minutes
Cooking: 5 minutes
Ingredients
700g frozen squid tubes and heads, thawed
2T olive oil
3 cloves garlic, chopped
For the mint-and-coriander salsa, mix:
30g mint, finely chopped
30g coriander, finely chopped
4T olive oil
2T red wine vinegar
sea salt and freshly ground black pepper, to taste
1 lemon or lime, zested and juiced
Instructions
Rinse, drain and pat the squid dry using kitchen paper. Place in a bowl with the olive oil and garlic, and toss to coat.
Place a fine wire grid over hot coals – you need a high heat for fast cooking to ensure smoky, tender squid. If it takes too long to cook, it may become rubbery. Grill in batches for 45 seconds to 1 minute on each side until chargrilled.
Transfer to a large bowl or tray so that the squid doesn't steam after being cooked. Toss in the salsa and serve immediately.
Cook's note
Make the salsa just before serving to prevent the herbs from discolouring.

SWEET-AND-STICKY TUNA WITH CHARGRILLED BROAD BEANS
"Woolworths' new yellowfin tuna steaks in sweet- and-sticky marinade are delicious. I love them with Woolies' sweet-potato wedges, dressed in a fresh herb oil."
Serves 4
Preparation: 5 minutes
Cooking: 3 to 5 minutes
Ingredients
2 x 150g Woolworths sweet-and-sticky tuna steaks
2 x 300g packs Woolworths broad beans in the pod
1⁄2 lemon, juiced
1T extra virgin olive oil
sea salt and freshly ground black pepper, to taste
Instructions
Remove the tuna steaks from the fridge 10 minutes before cooking.
Place on a braai grid 10cm above moderately hot coals. Cook for 1 to 2 minutes on each side for medium-rare.
Chargrill the broad beans in the pod while you're searing the tuna, until they're slightly blackened and tender.
Pod the beans and toss in the lemon juice, olive oil and seasoning. Serve with the tuna.