The inaugural Twyg Awards, held in Cape Town in September, were created in response to "an urgent need for a deep transformation of how we live and how we do business," says Twyg founder and editor Jackie May. The awards are part of a long-term project and process of gathering resources and creating guidelines, disseminating research and guiding consumers in responsible shopping. The awards serve to celebrate and recognise the designers who are creating beautiful, sustainable work.
"Twyg straddles the space between academia, environmental activism and the fashion world, in the hope of offering fashion support and communicating best practices from around the world," explains Jackie.
"There is no other option: we need a carbon-neutral industry that employs people. As fast as possible. Time is of real essence here."
PETCO, the voluntary, industry-driven and financed plastic recycling company that offers environmental solutions for post-consumer PET plastic, was the headline sponsor. The judging panel consisted of Kelly Fung, content director at Superbalist; Fezile Mdletshe-Mkhize, fashion educator and founder of Fezile Fashion Schools Academy; Desiree Smal, author and senior fashion design lecturer at the University of Johannesburg; Cyril Naicker, qualified fashion designer, CEO of Imprint Luxury and the country co-ordinator of Fashion Revolution SA; and Aaniyah Omardien, founder of the Beach Co-Op.
"We want to create solutions for a truly sustainable and thriving green fashion industry," says Jackie.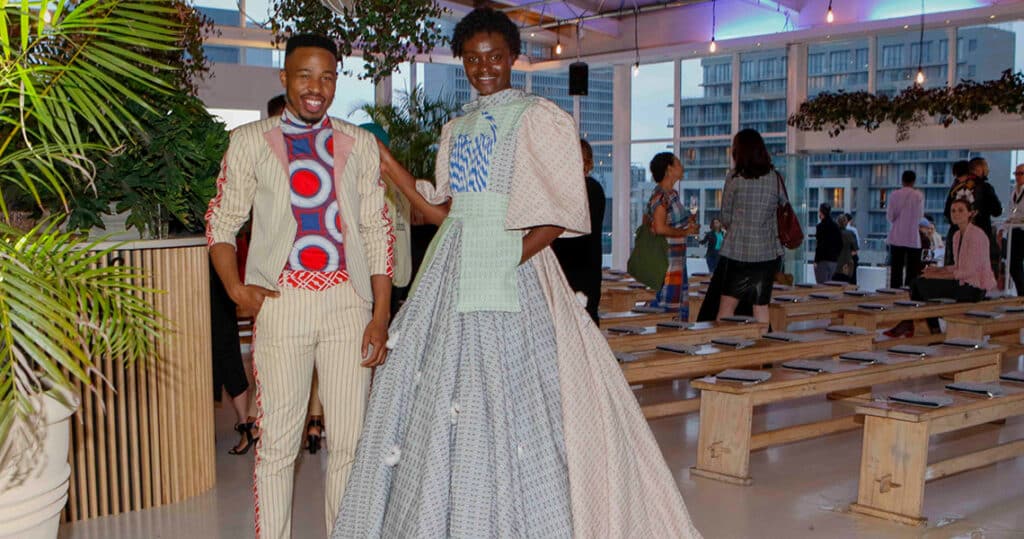 EMMA LONGDEN (The Ethical Market and Sitting Pretty): Retail Award for a retailer or a retailing initiative that enhances sustainability.
LUKHANYO MDINGI: Innovative Design and Materials Award for a designer who uses techniques that minimise textile waste.
KATEKANI MOREKU: Student Award for a student meeting the challenges of sustainability in fashion in the most innovative, beautiful and practical way.
SEALAND GEAR: Sustainable Accessory Award for a product or brand backed by ethical, environmental and sustainable practices.
SINDISO KHUMALO: Trans-seasonal Award for a collection, brand or designer who promotes trans-seasonal, versatile style and quality over trend.
CLIVE RUNDLE: Nicholas Coutts Award for a designer who uses and celebrates artisanal craft techniques.
AMANDA LAIRD CHERRY: Changemaker Award for a designer whose career has embraced and raised awareness about sustainable and circular design practices.