A white bakkie makes mincemeat of the Midlands back roads, spewing out tendrils of golden fog like a breadcrumb trail through the Dargle Valley it leads to Mavela dam at Copperleigh Trout Cottages, a favourite hangout for the Women in Waders fly-fishing team.
White wine is expertly divvied up into metal camping glasses on the open tailgate while the four fishing fanatics assemble their gear. Orvis reels and rods, colourful flies, a combination of floating and sinking line – and waders, of course.
Women in Waders comprise a close-knit crew of old friends and in-laws, including Sindi-Leigh McBain, Roxanne Stegen, Bridgitte Stegen, Alison Smith and honorary member Lyndall Blaikie. Roxanne is married to Alison's son, who is related to Bridgitte, who met Sindi through mutual fishing fanatics. Lyndall joined the fray thanks to their Facebook group.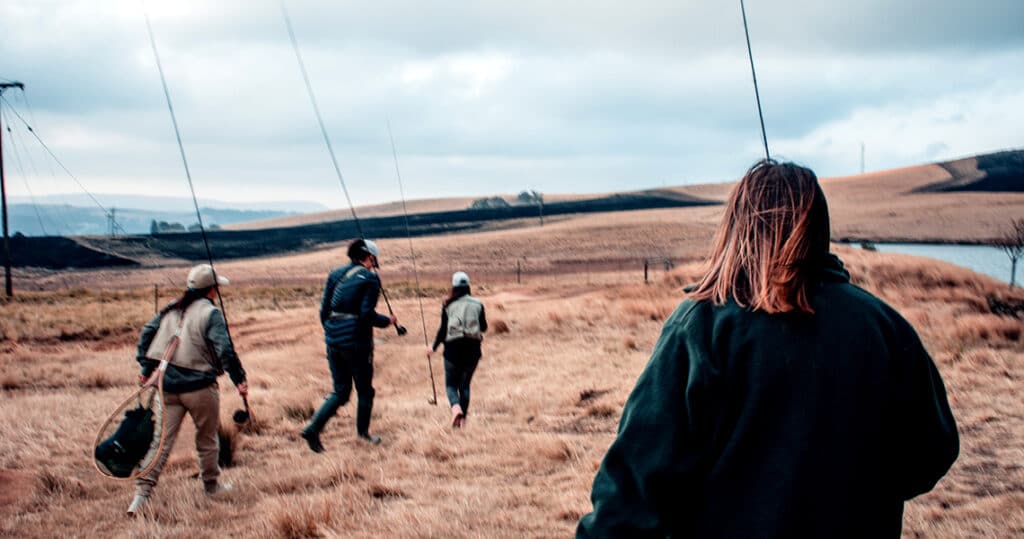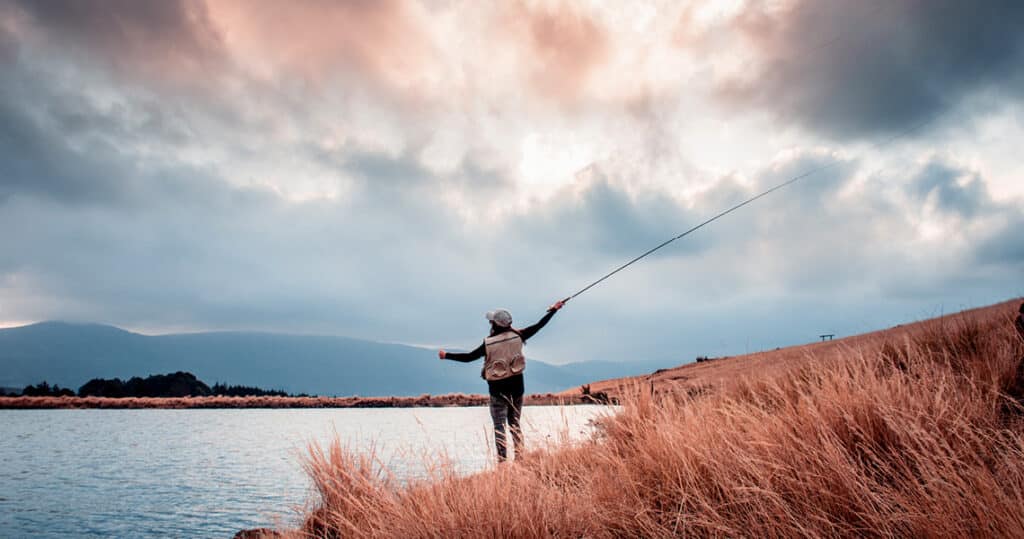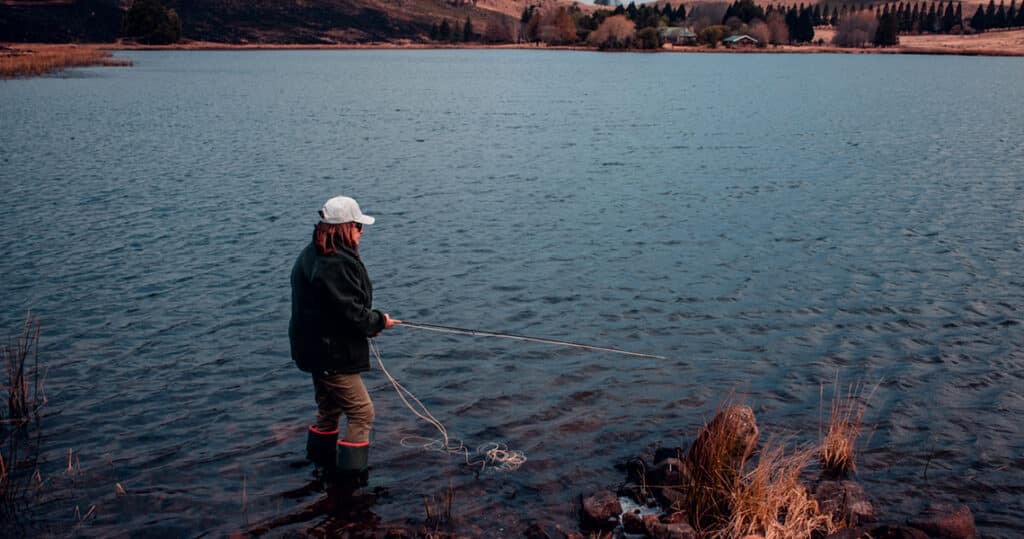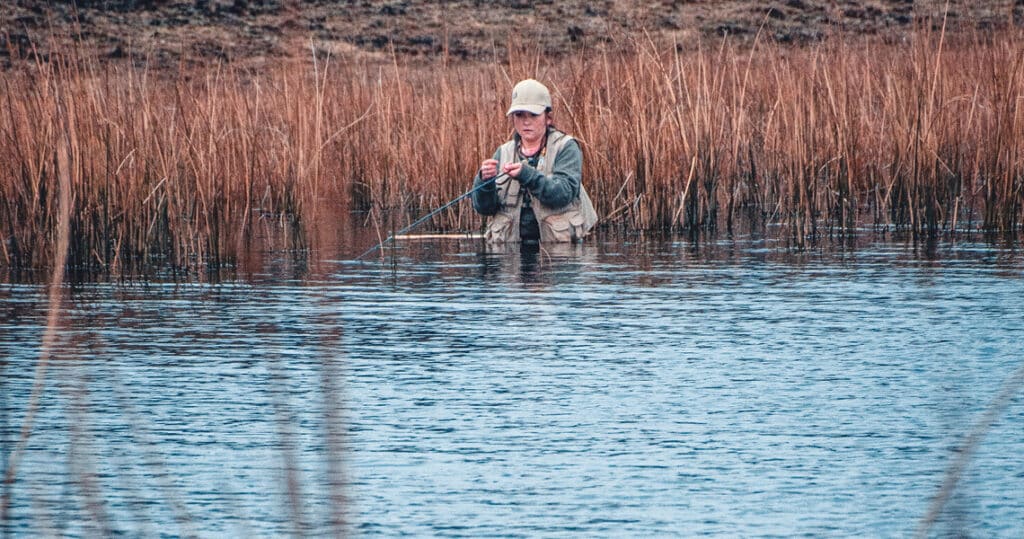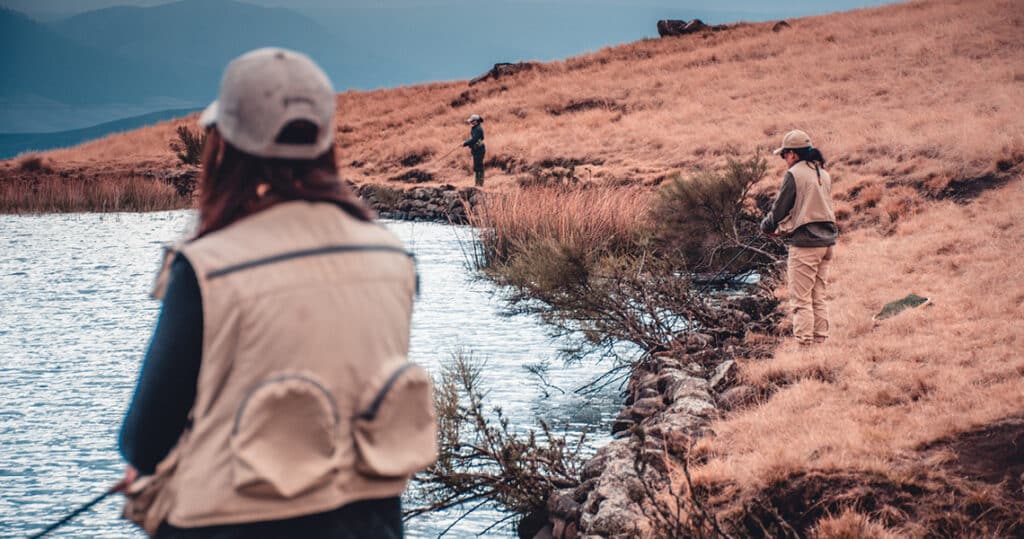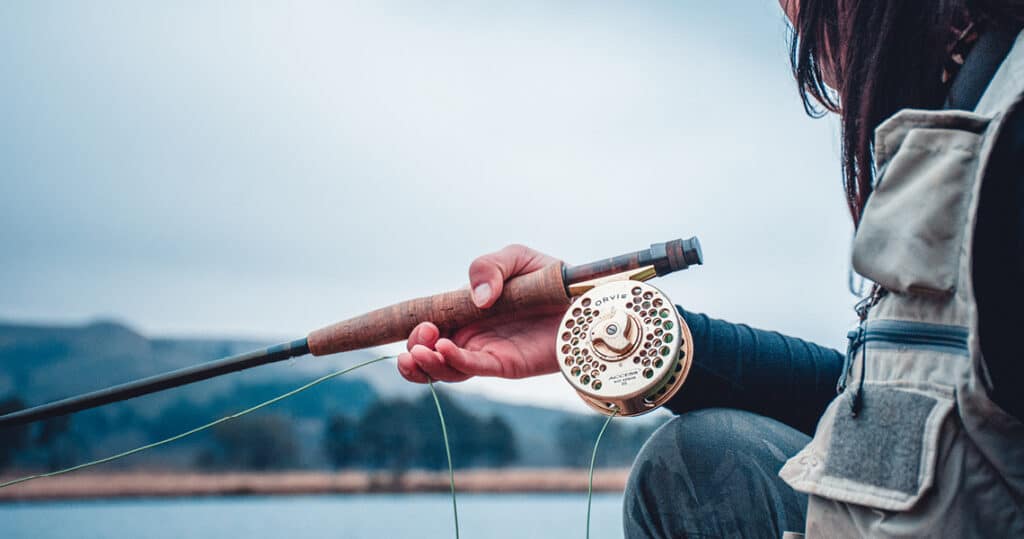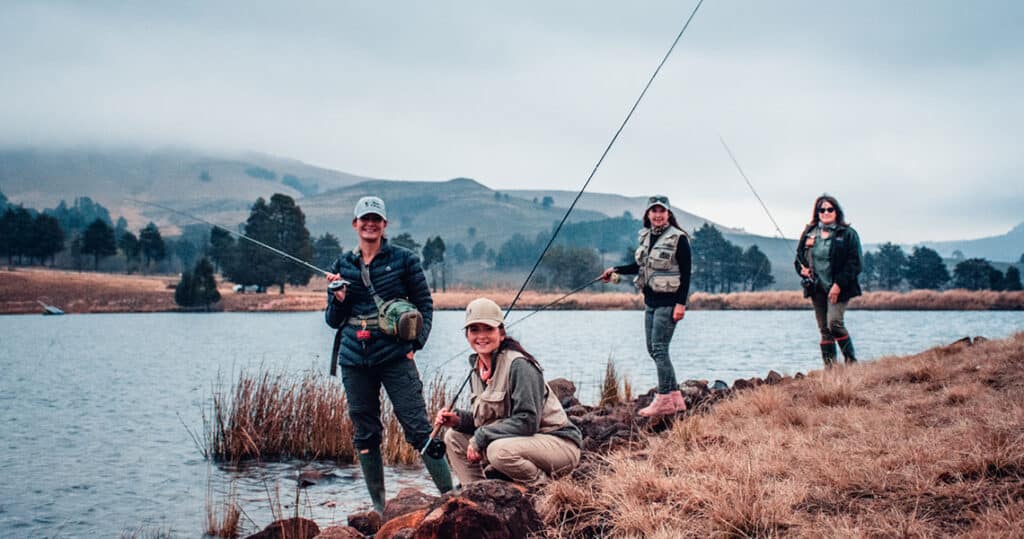 "Alison is the OG ['original gangster']," Bridgitte says, picking out a delicate fly. "She has been fishing for 32 years."
Alison explains that she's always loved fishing, and when she first met her husband, Anton, she was thrilled to learn he shared her passion. "Back in the '80s it was definitely a man's domain," she says. "It still has its funny moments. Occasionally, when you're fishing with strangers in foul conditions, and they realise there's a woman fishing in their midst, they develop this sudden urge to try to outcast or outfish you, often getting themselves into a tangle. I just reassure them that I'm one of the boys!"
Lyndall, who has been fly fishing for a decade, has a more roguish approach. "People are surprised [that a woman can fish], but I try not to let anyone's negative opinion affect me," she says. "Most guys are helpful and encouraging, but you do get the odd ones who are complete jerks. I try to outfish those ones… then smile sweetly and offer advice."
The most challenging aspect of fly fishing, however, has nothing to do with gender. "It's learning patience", Roxanne says. "This is an elegant sport, and it requires finesse, not a temper. That's what keeps me going back to the water. It's a journey of peace."
The women enjoy longer trips to test the saltwater of Kosi Bay, or further abroad to Mozambique on occasion, but they predominantly fish on freshwater, practising catch-and-release on dams and rivers. "You get bigger fish in still water like this," Roxanne says, gesturing to Mavela Dam, "but catching a small fish in a river is also rewarding."
Bridgitte walks across to the far side of the dam, where reedbeds and shallower waters harbour rainbow trout. She explains they formed Women in Waders as a means to get more women involved in the sport. As Roxanne says, "I think this group is an inspiration; we are trying to bring women in South African fly fishing to the forefront."
"THE THING I LOVE MOST ABOUT FLY FISHING IS THAT IT'S AN ART. THE MORE FORCE YOU PUT IN, THE LESS PRETTY THE ART LOOKS."
Their entry into the Tops at Spar Corporate Trophy Challenge last year secured an encouraging slot for females in South African fly-fishing history: it took 18 years to see an all-female fly-fishing outfit compete in the finals of this esteemed KwaZulu- Natal Midlands fly-fishing competition. They also broke tradition when Bridgitte was elected as a committee member at the Natal Fly Fishers Club last year. This is the first time since the club was formed almost 50 years ago that a woman has been on the committee.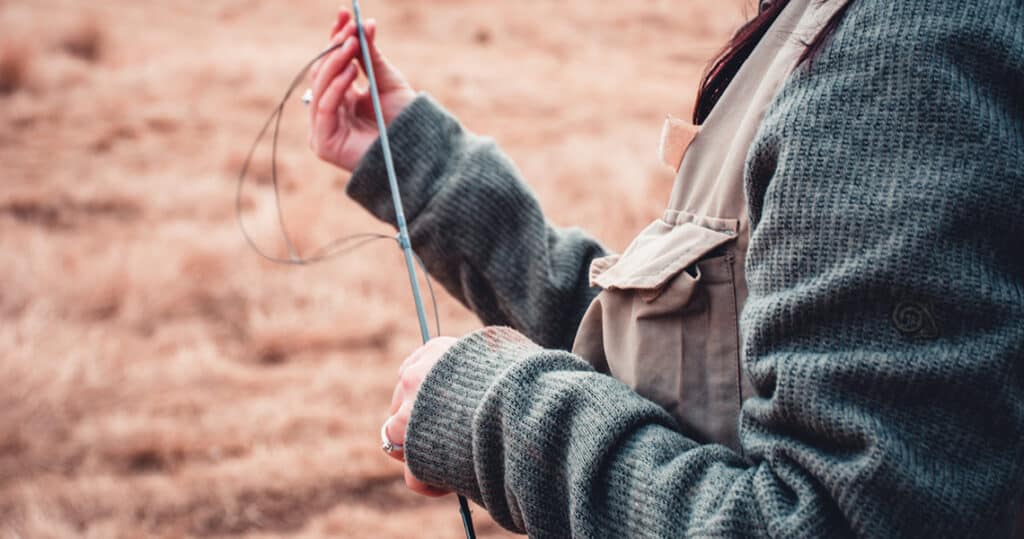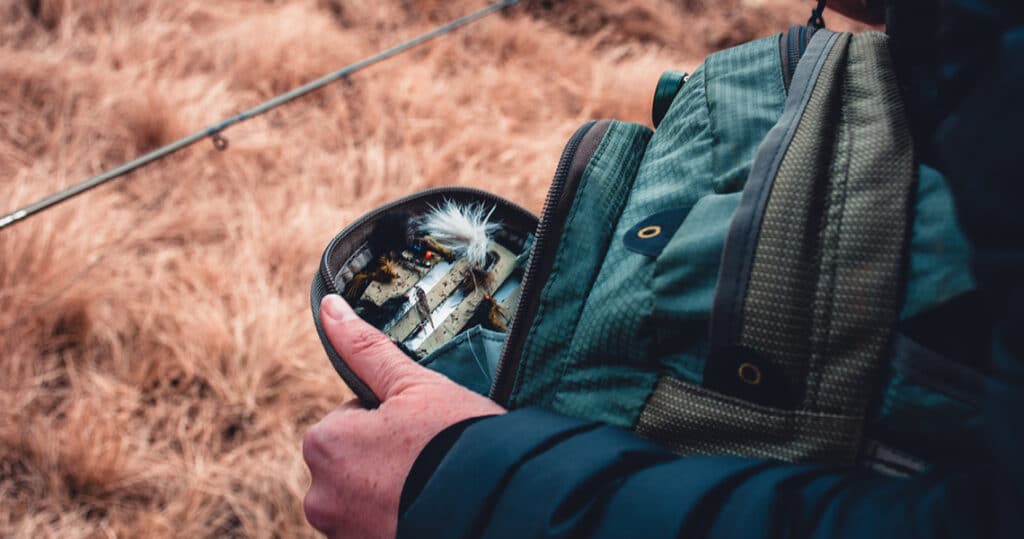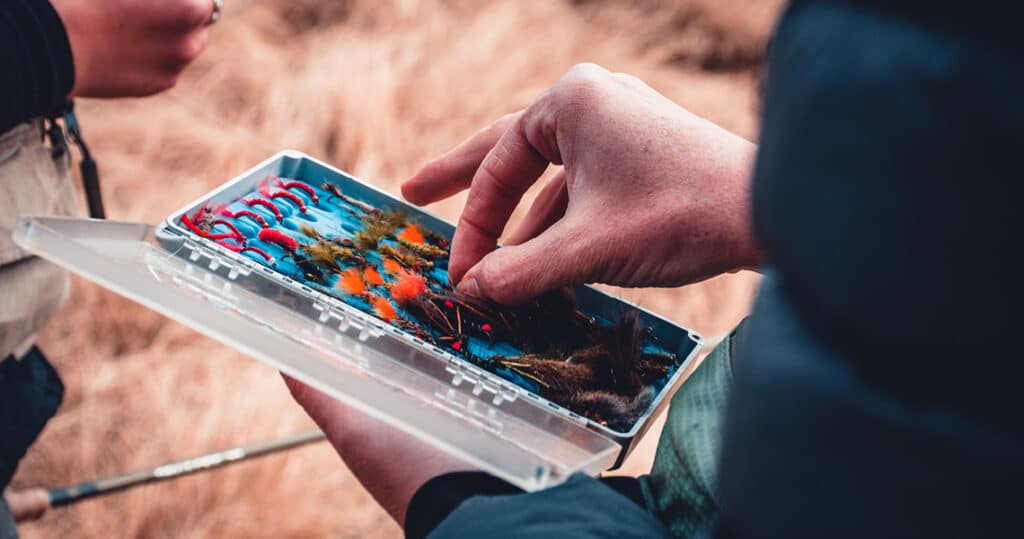 "The younger members do add a little glamour to the pub!" Alison says. "The odd male ego gets knocked down to size when he hears that you've caught more or larger fish, but generally we all have one thing in common, and that is our love for this amazing sport."
Many people (male and female) who try fly fishing for the first time tend to wind up both frustrated and tangled in their fishing line. "Just don't give up. Persevere!" Sindi-Leigh says. "I found it tough initially. I didn't want to look like an idiot the first time I tried it, but I felt so self-conscious."
Roxanne says she also struggled. "It's difficult to learn to cast – so if you're just starting out, find a friend (preferably a fellow Woman in Waders!) who will take you out to have a few laughs and hopefully guide you into a fish. Start small – and be patient."
Bridgitte agrees. "The thing I love most about fly fishing is that it's an art. The more force you put in, the less pretty the art looks."

CASTING AROUND? MEMBERS OF WOMEN IN WADERS RECOMMEND THEIR TOP FISHING SPOTS
ROXANNE STEGEN
"Kamberg and Notties still waters, the Highland Lodge in Dullstroom, and the Semonkong Lodge in Lesotho."
LYNDALL BLAIKIE
"Bushman's River in Giant's Castle Game Reserve and Lake Naverone in Underberg."
SINDI-LEIGH MCBAIN
"Highmoor and Giant's Castle Game Reserve to fish the beautiful, crystal-clear rivers."
BRIDGITTE STEGEN
"The Natal Fly Fishers Club and WildFly offer access to an array of beautiful waters, both still and river. Their booking systems are easy to use – and booking means that the water you choose is yours for the day."