Amber dunes under a dove-egg sky, the deep rumble of black-maned lions at dawn, meerkats scudding across scrubland plains, gnarled acacia thorns standing guard in a heat mirage … you're guaranteed outdoor drama along the Northern Cape's remote Red Dune Route.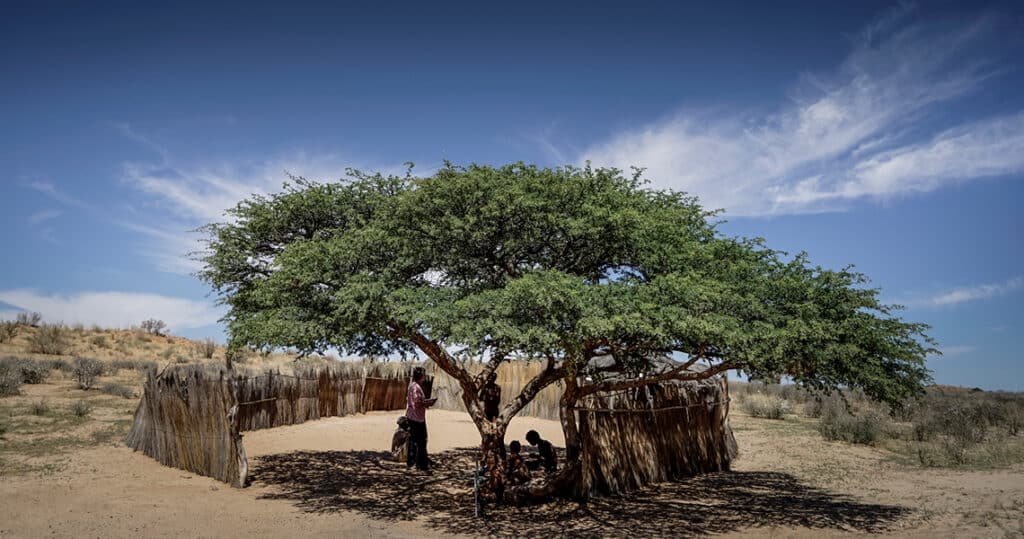 The Northern Cape is vast but you've only properly arrived once you've crossed the 'Groot Rivier' (or the Orange, if you like). This fertile watershed is colloquially referred to as the 'Green Kalahari', but your journey will navigate northwards to where the arid surrounds will eventually morph into full-blown desert.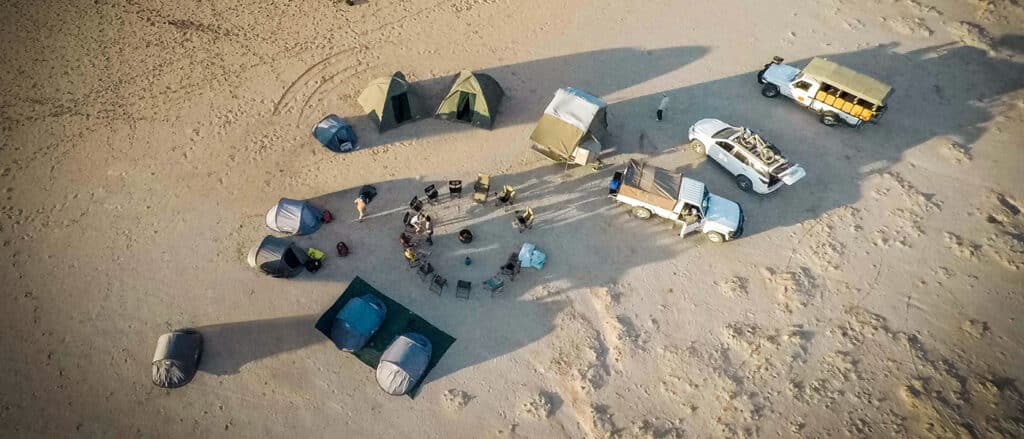 This is the Kgalagadi – or the 'Place of Big Thirst' in the San language – and according to the locals, you can never forget this amazing space once you've felt the blood-orange sands under your bare feet.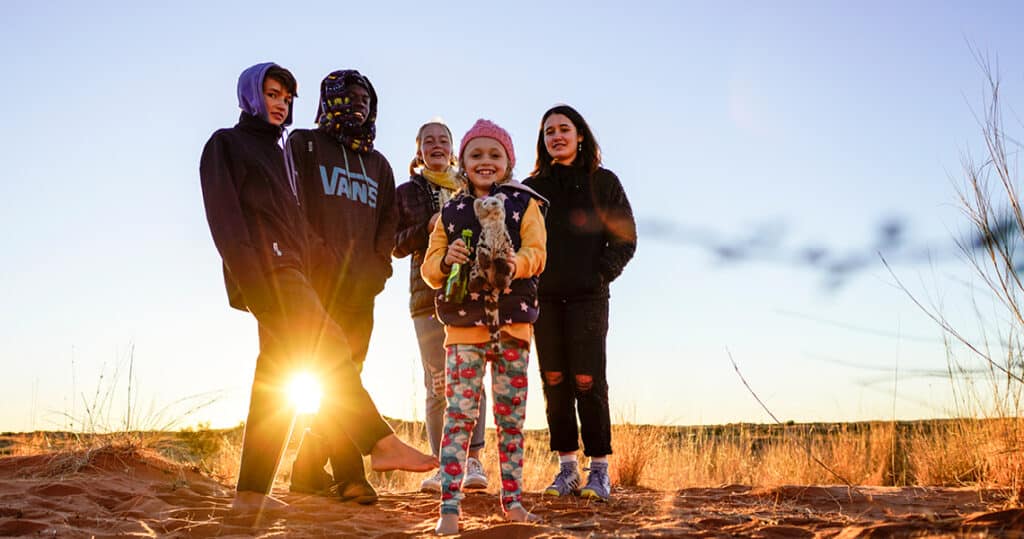 You eventually reach two other rivers coursing through this parched land – the Auob and Nossob – but you wouldn't necessarily know it, as few people have ever seen these flow even once in a lifetime.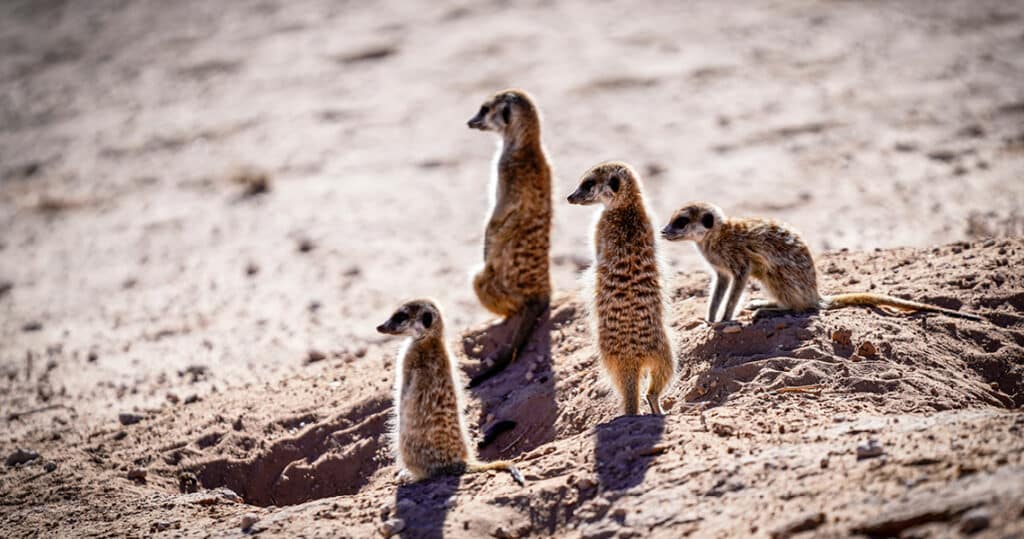 These dry riverbeds wind through the Kgalagadi Transfrontier Park, and visitors to this cross-border conservation area follow their courses as they search for the desert-adapted animals roaming this sparse land. But there are ways to get even further off the beaten track, even here within the heart of the moer-and-gone Kalahari.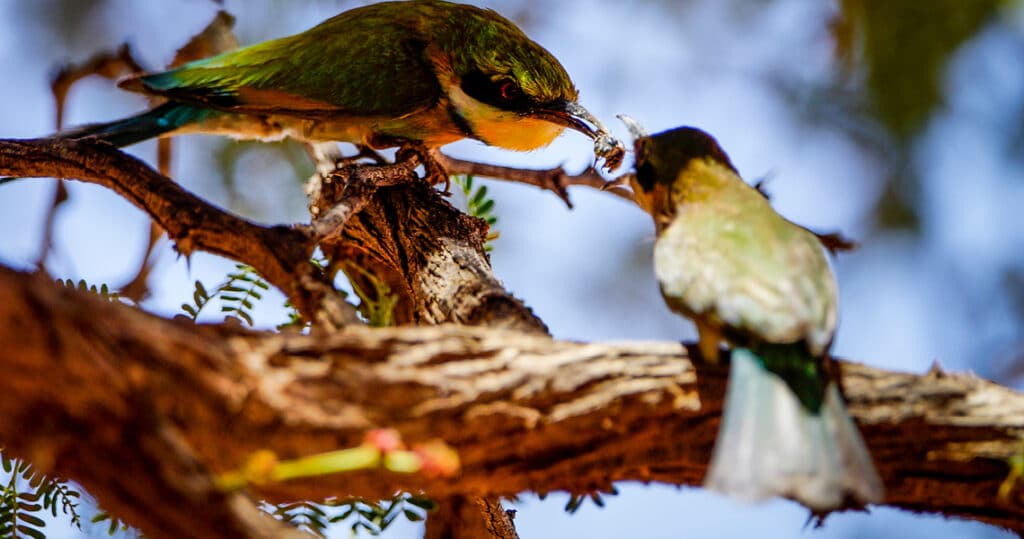 From the main gate, follow the corrugated Auob River road halfway to Mata-Mata Camp. You will most probably encounter large herds of springbuck and gemsbok – and maybe a cheetah or two if you're lucky – en route to the Kamqua picnic site.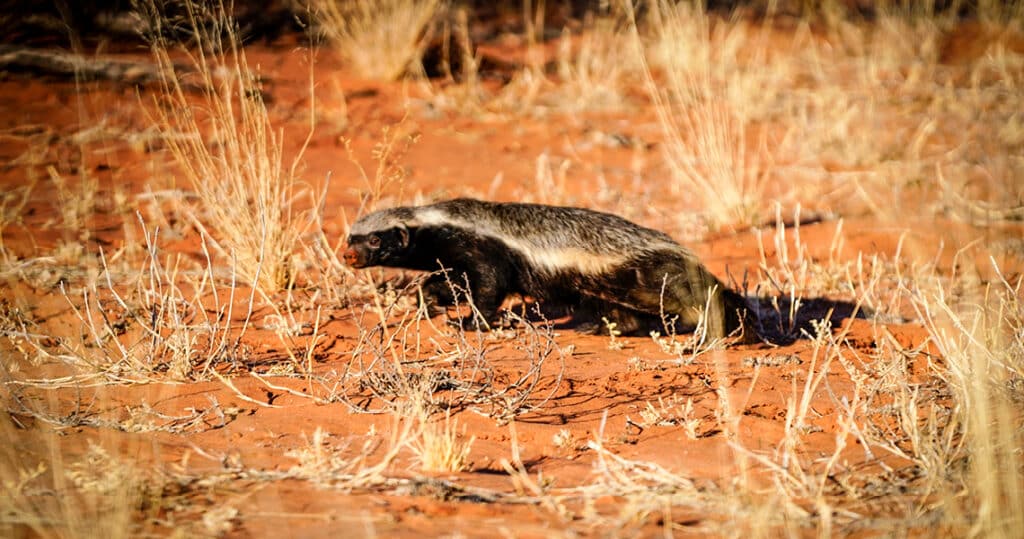 This is where the chance to test your off-road driving skills finally kicks into gear. A sandy dual track meanders westwards from the picnic area and onwards to where the secluded !Xaus Lodge awaits. Get ready for a roller-coaster ride of note, with 90 transverse dunes to be conquered as you cruise ever closer to the Namibian border.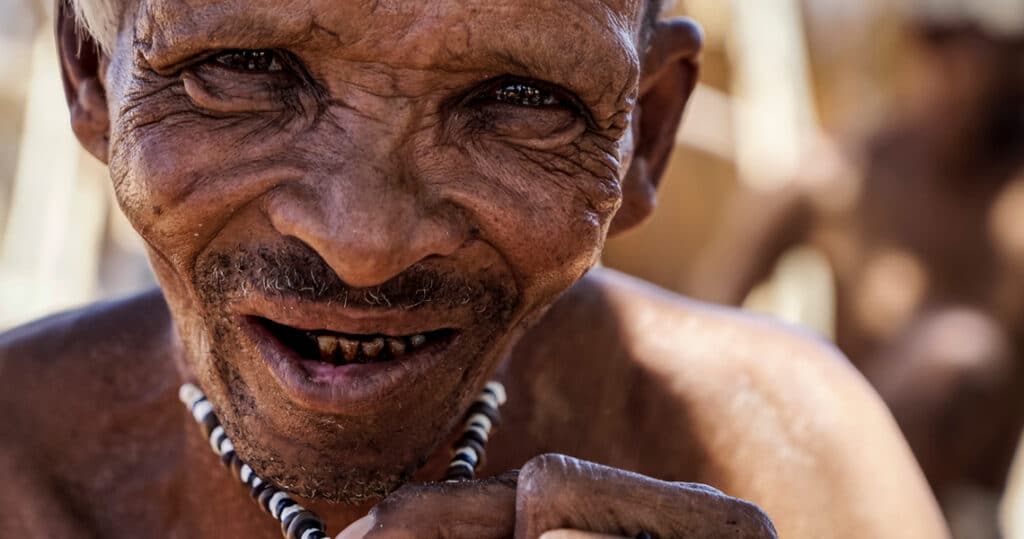 This community-tourism establishment is owned in part by the Mier and ‡Khomani San people, and it truly is a place of transcendental beauty. Remote, minimalist and sustainable, it encapsulates contemporary tourism ideals, and you're guaranteed absolute headspace here on the edge of a heart-shaped pan in the middle of nowhere.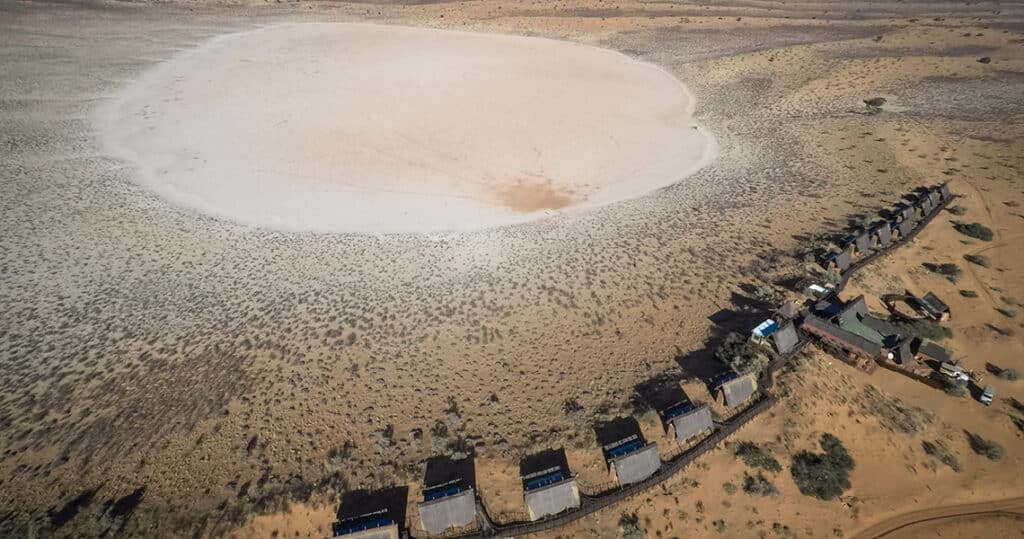 A visit to !Xaus is all about engaging with the great outdoors, though, even though this is as extreme an environment as you'll get anywhere on the planet. Dervish dust devils, soaring goshawks and resident barn owls punctuate the bass rumble of night-time lions roaring on the dunes right outside your chalet.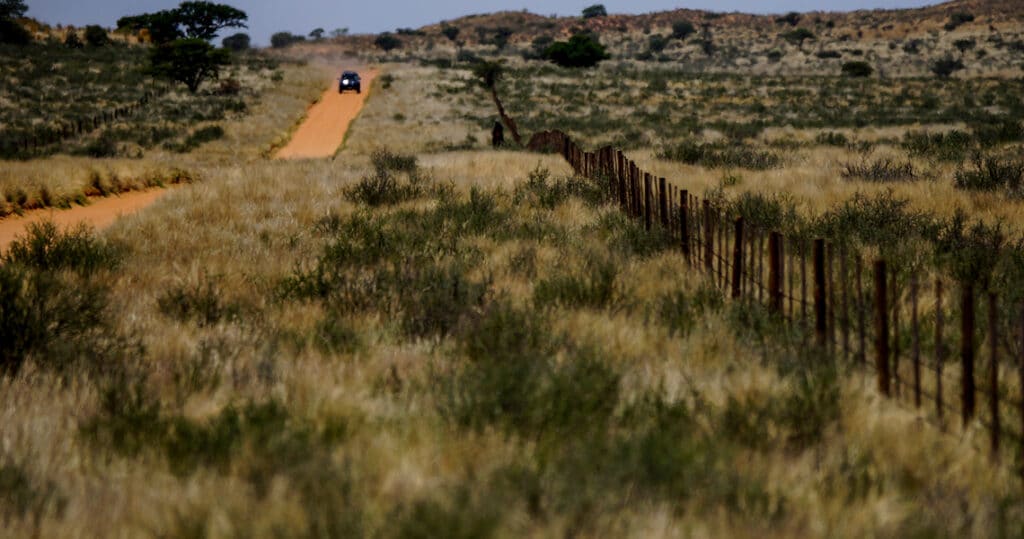 You may not always see them, but they're undeniably there, on the very periphery of your consciousness. And when you wake in the morning, their tracks around camp are proof that they're no figment of your imagination.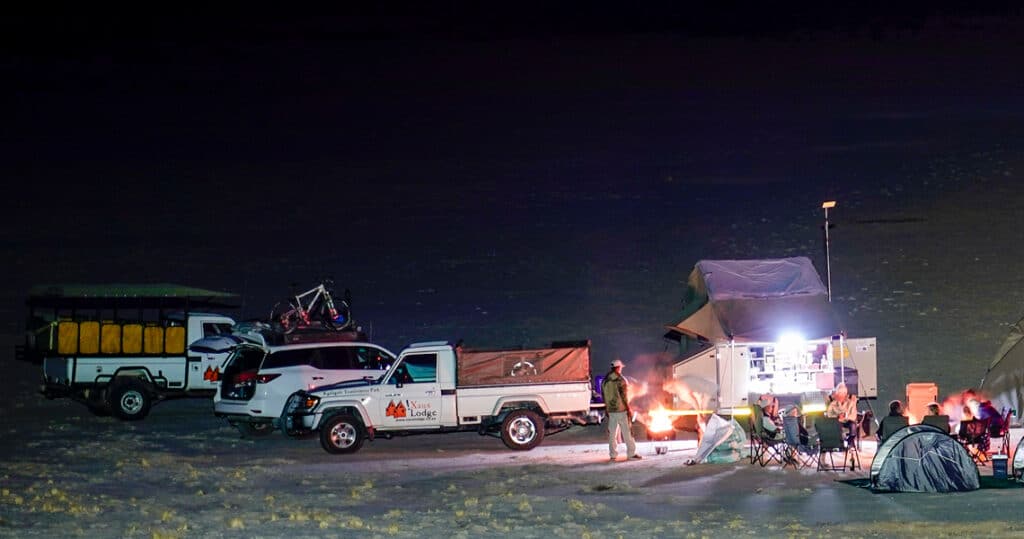 The presence of apex predators does not mean you can't venture into this captivating desert ecosystem. Every day at sunrise, visitors join one of the ‡Khomani San guides to go and 'read the Kalahari newspaper'. Once on the dunes, they patiently recreate the activity of the previous night from the multitude of tracks in the red sand.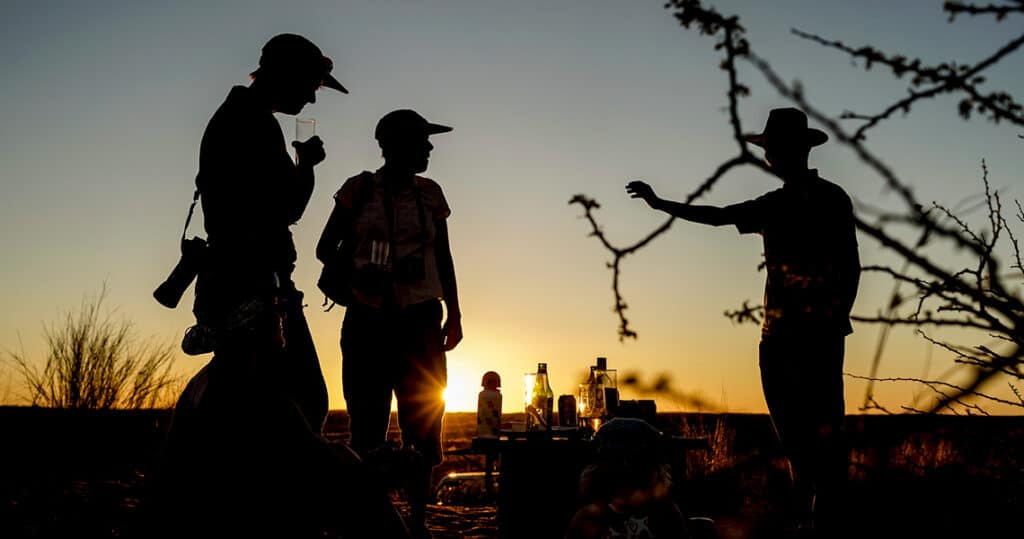 The slither of side-winding horned adders; the wispy brush strokes = of a spring hare's tail; tell-tale 'buck-spoor' depressions hiding trap-door spiders' lairs; and of course, hand-sized prints of the 'King of the Kalahari'. It's impossible to put into words the feeling of walking amid these dunes, all the while immersing yourself within a place where space and time becomes nearly impossible to quantify.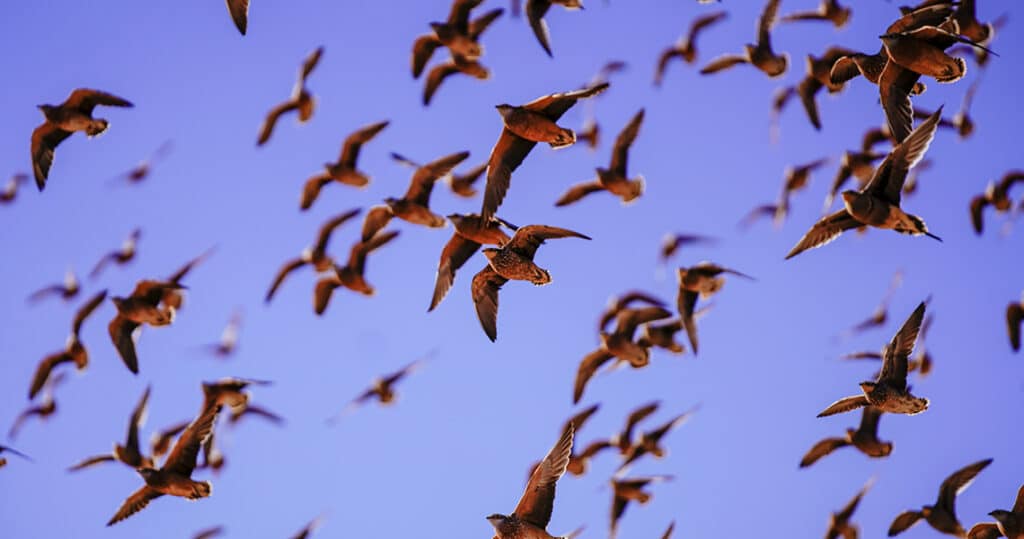 Unfortunately, Earth continues to revolve around the sun regardless, compelling you to surrender to the fact that it will ultimately rise on your final desert day. And then you will say your goodbyes and navigate the sidewinder dune track returning you to your reality, and the real world. But you will never forget your time at !Xaus …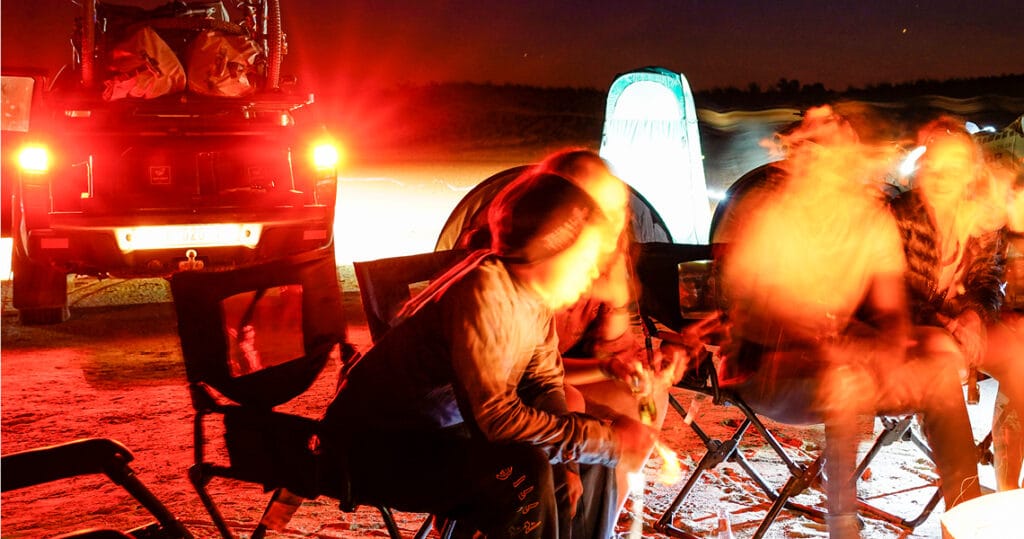 Get ready for a roller-coaster ride of note, with 90 transverse dunes to be conquered as you cruise ever closer to the Namibian border.
AN INSIDER'S GUIDE TO THE RED DUNE ROUTE
Here are a few additional off-road routes for those heading into the Kgalagadi region:
NOSSOB 4X4 ECO TRAIL
This rugged trail traverses the dunes between Twee Rivieren and Nossob, and is a totally self-sufficient bush experience over three nights and four days. You must supply all your own food, water, firewood, braai grid, tents and camping equipment.
Campsites are basic, and it's possible to extend your trip onto the remote Gemsbok Wilderness Trail in the Botswana section of the Transfrontier Park.
sanparks.co.za
TRANS BOEGOE RED DUNE TRAILS 4X4
This private farm – situated 50km from Groblershoop – offers four trails totalling 113km, with the full distance taking from six to nine hours to complete.
Unwind after your day of driving with a swim in the farm dam or around the braai. Grading ranges from 2 through to a 5 and a high-clearance vehicle is required.
safarinow.com/destinations
!XERRY WILDERNESS TRAIL
Embark on a two-day, two-night self-catering overnight trail where participants enjoy early morning and late afternoon walks in the company of armed guides.
Walks start from rustic base camp and guests must bring along their own equipment and food. Due to summer heat, the trail is closed from 1 November to 31 March.
sanparks.co.za

GETTING THERE
Navigate the private dune road from Kamqua picnic site, on the Auob River road in the Kgalagadi National Park.
Only booked guests are allowed on this track and you will need a 4×4 (!Xaus can also arrange a transfer). No day visitors are allowed, unfortunately.
sanparks.co.za
ACCESS 4×4 only, and for lodge guests
CELL RECEPTION No (basic Wifi at lodge)
GPS COORDINATES S 26.022388 / E 20.404894
WEBSITE xauslodge.co.za