Q&A: DESIGNER BONOLO HELEN CHEPAPE
Bonolo Helen Chepape recently won the Design Foundation's Future Found award, which recognises a young designer who has already achieved a degree of excellence with limited resources.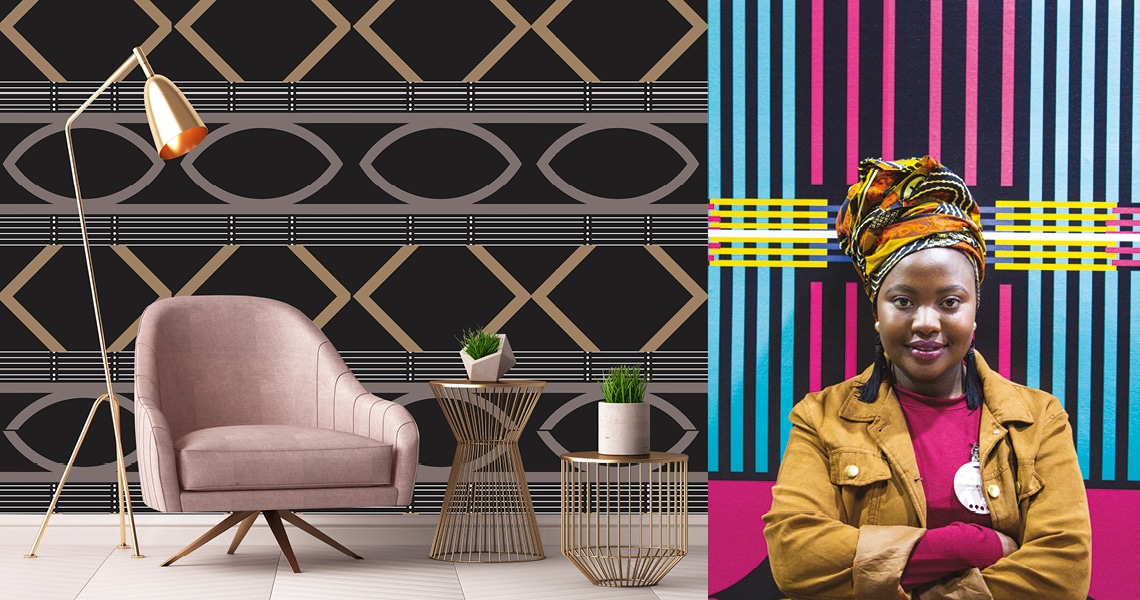 Bonolo, whose vibrant designs are inspired by her Pedi culture, began Lulasclan from a zozo shack in her mom's back garden with just R2 500 in her bank account.
Crediting the success of her entrepreneurial journey to time spent in her mom's tuckshop, patience and perseverance, she's been growing her business from her apartment and has recently acquired a factory space in Mafikeng for production and distribution.
DID YOU ALWAYS KNOW YOU WANTED TO BE A DESIGNER?
I've always loved design, but growing up I wanted to be a doctor. It was while designing my matric dance dress that my dress designer looked at my sketchbook and suggested I go into graphic design. I researched the course and changed my mind at the very last minute: I had already been accepted for medicine and decided that I didn't want to spend years reading books but wanted to draw instead! The rest is history.
WHAT ARE SOME OF THE COOL COLLABS YOU HAVE WORKED ON?
My first collab was with Mr Price Home to create a range of homeware that was inspired by my Pedi background. It opened doors and I learnt a lot. I also had the privilege of working with Nando's X Smeg in a collaboration to celebrate Nando's 30th birthday. I designed a set of patterns inspired by Nando's Portuguese and South African heritage that were applied to Smeg fridges, which Nando's customers could win.
CAREER HIGHLIGHTS?
Winning the Best Textile Award at the 100% Design South Africa Design Awards was a beautiful achievement. I hadn't realised that my work was capturing people's attention and it gave me the validation and motivation to keep going.
Then being part of the top 10 finalists of the Nando's Hot Young Designer Search and having the honour of one of my patterns being selected to feature in a Nando's restaurant was a dream come true.
Most recently, winning the Future Found award and meeting the other artists at the ceremony who have made it possible for young designers like myself to believe you can follow your heart and do what you love. It was the first award that my favourite designer Atang Tshikare won.
I hope to make the most of it, seek opportunities and grow.
WHAT DO YOU THINK IT TAKES TO SUCCEED AS A DESIGNER IN SA?
Originality, authenticity, hard work and just being true to yourself – finding your unique voice and trusting the process.
WHAT ARE YOU WORKING ON AT THE MOMENT?
I'm working on a new collection consisting of wallpaper, fabrics and cushions that will be released this year. I'm exploring my first piece of furniture, too, so it's going to be an exciting year.
lulasclan.com