Paraplegic rower Sandra Khumalo aims to represent South Africa at the postponed 2020 Paralympics in Tokyo next year.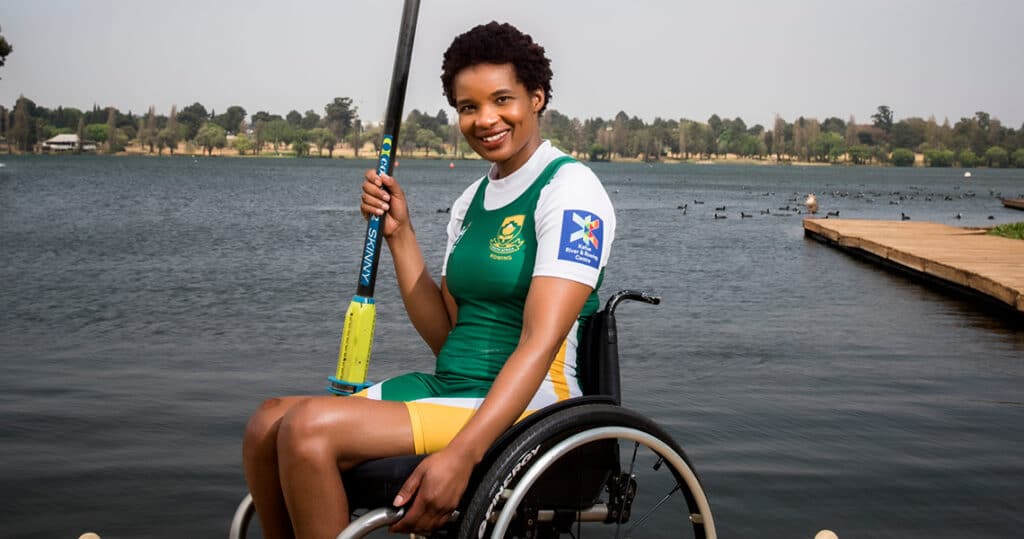 Agile, muscular and determined are the three adjectives that spring to mind as Sandra Khumalo lowers her single-scull boat into the water at Germiston Dam. She's a single working mother to two daughters, yet the sportswoman finds the time and energy in her jam-packed schedule to train every single day. A talented paraplegic rower, she has her sights firmly set on winning a medal and making her mark in the upcoming Paralympics. "I've put in so much work but, although I was initially disappointed that the Games were delayed due to the Covid-19 pandemic, I now see it as a blessing," she says. "The postponement means I have more time to train."
Khumalo recalls the first time she ever got onto the water in a boat. "I felt weightless and graceful," she says. "I knew I'd found my peace, because in water I saw independence. Rowing is just me and the boat. It gives me a chance to prove what my body can still do – not matter how broken it is."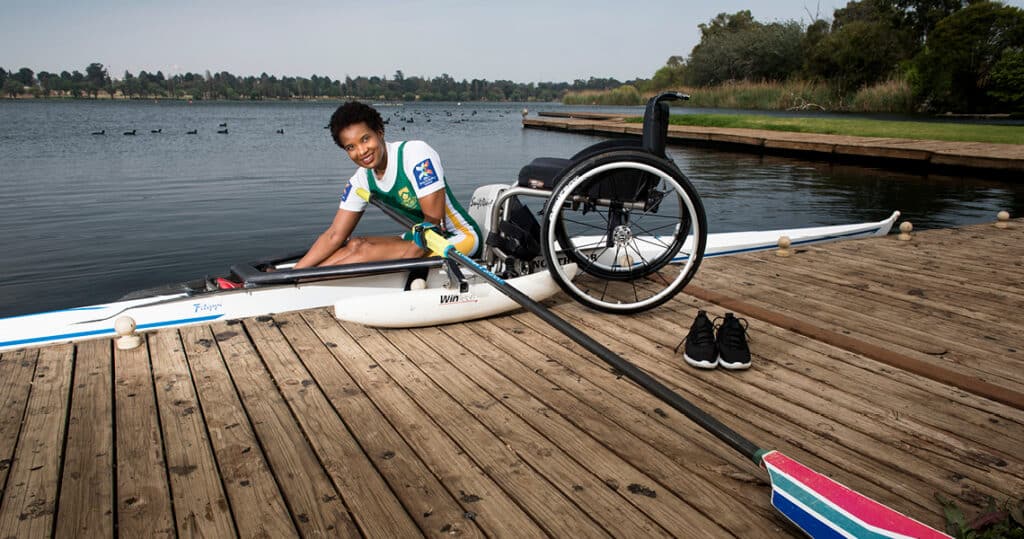 The athlete admits that becoming a competitive Paralympic rower was not what she had planned for her life. "But I wouldn't change it for the world," she says. "It was only after the accident that caused my paralysis that I wanted to conquer something physical as a personal testament that I was still alive. Rowing has given me a sense of purpose, direction and hope."
Fifteen years ago, Khumalo was in an accident as a passenger travelling to her job as a junior manager at a private reserve in the Kruger National Park.
"The vehicle rolled four times," she recalls. "I was fully conscious when I was airlifted to hospital, and couldn't understand why I could only move my head. I thought it was shock." X-rays revealed that her spine was badly bruised in three places, the bones crushed from T12 to L1. There was also extensive nerve damage. Doctors were doubtful that she'd survive the operation needed to fuse her spine – but Khumalo proved them wrong. However, her road back to health wasn't easy.
"I was emotional, despondent and totally broken when I realised I'd never walk again," she says. "I was 22, I had a four-year-old daughter – and I spent five months in such tremendous pain that I often couldn't even speak. However, right from the beginning of my recovery I was aware of a strong internal voice that told me everything would work out.
"A turning point came when my aunt asked why it was so important for me to walk again. Before the accident, I'd always been strong and positive – and with the help of my family, I realised how many things I was still able to do."
Fast-forward a few months, and the plucky young mother, confined to a wheelchair, was trying to find an activity to improve her fitness. "Before the accident, I'd always been comfortable while swimming," she says. "I found that, with the help of a personal trainer and a floating belt, I could feel relaxed and free in the water. I'd wanted to try basketball too, but I realised I was too fearful of injuring my back again – so I stuck to swimming and water exercises. One morning, while doing upper-body training at the gym before going to work, I was approached by a trainer who was recruiting for the Paralympics. She'd seen my determination and drive, and thought I'd make a good candidate."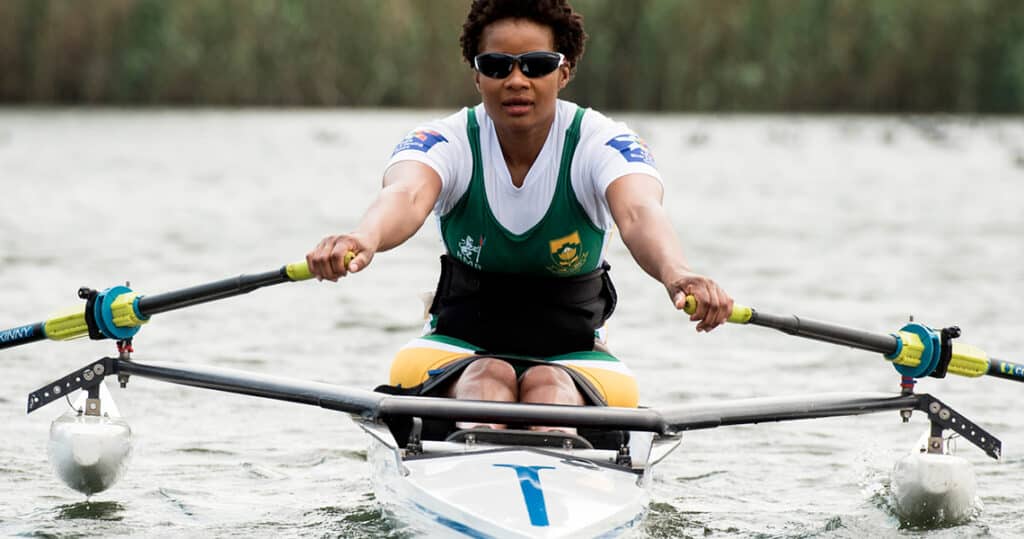 Shortly afterwards, the trainer introduced Khumalo to rowing. "She showed me the techniques and I was hooked from day one," she says. "I felt safe, stable and independent once I was strapped into the boat."
Being a paraplegic rower is not for the fainthearted. Khumalo has no control of her legs or trunk, and has to propel the boat with just her upper-body strength. She is flanked by pontoons to give her extra stability, but because it is a single scull, there is no-one to guide or cajole her, or to draw her attention to technique or direction. "I actually prefer that my performance and enjoyment are entirely dependent on me," she admits. "It means that there is nobody else to blame if things go wrong."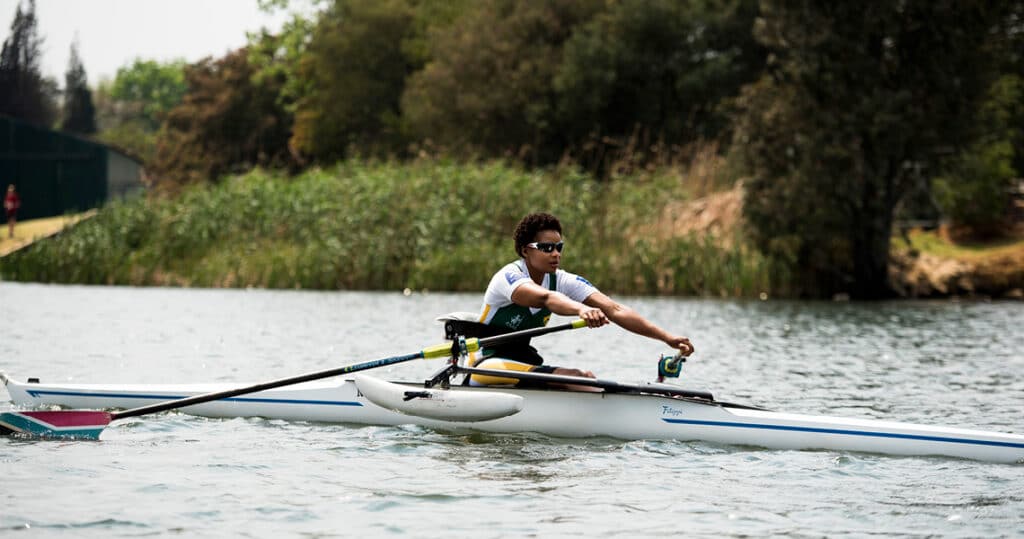 Her hard work and passion for the sport have been paying off. In 2012, Khumalo won silver at the women's single sculls final qualification regatta in Serbia. "There aren't enough words to explain how amazing and rich the feeling was," she says. "That moment made me accept myself. I fell in love with myself even more."
She competed at the 2012 Summer Paralympics, winning bronze, and qualified for the 2016 Paralympic Games in Brazil. She has also represented South Africa in the World Championships in South Korea (2013), the Netherlands (2014) and France (2015).
"I WAS HOOKED FROM DAY ONE. I FELT SAFE, STABLE AND INDEPENDENT ONCE I WAS STRAPPED INTO THE BOAT."
At present, her focus is firmly on qualifying for the Paralympics in Tokyo. Her intensive training schedule includes daily water practice that targets strength, endurance and sprints, and lots of time in the gym to build stamina and upper-body strength.
"Working hard and having faith have got me to where I am today," she says. "I trust that I have more highlights in my future."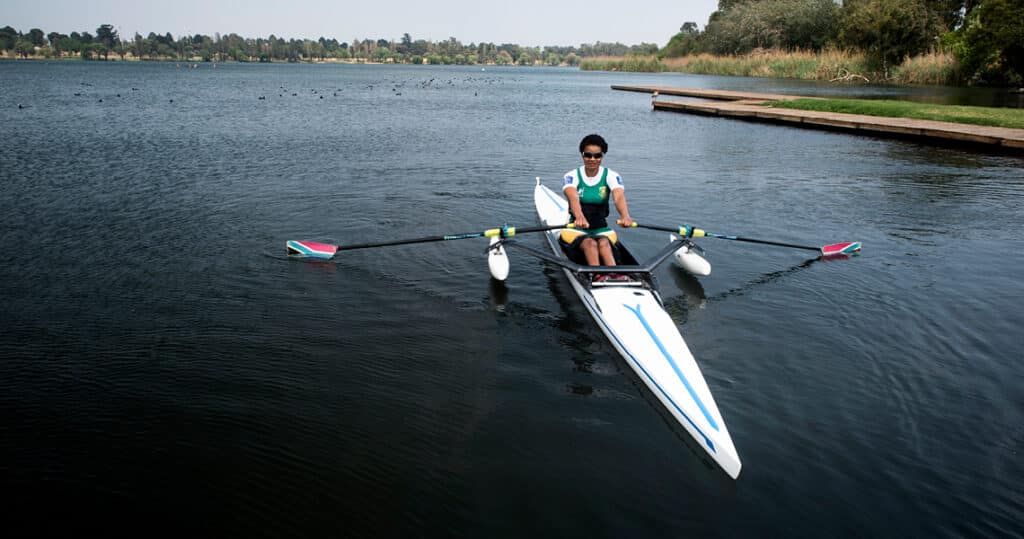 BETTER MOBILITY FOR ALL
The Paralympic Games in Tokyo are set to run from 24 August to 5 September 2021.
Toyota entered into a sponsorship agreement with the International Olympic Committee and the International Paralympic Committee in 2015 to serve as a worldwide Olympic and Paralympic Mobility Partner until 2024. Toyota shares the values and ideals of the Olympic and Paralympic movements, and believes in the power of sport to bring people of diverse backgrounds together and help them achieve their dreams.
Through its philosophy of "Better Mobility for All", Toyota is proud to support the Tokyo 2020 Games, and provide sustainable mobility solutions to help move the world forward.