"Not only does she get us from A to B, but our trusty steed Matilda provides a safe haven once we're there," says the couple, who share their adventures on Instagram as broad_river_overlanding. As Toyota Hilux and overlanding fans, we tracked them down to find out more. 
What do you do when not travelling? I [Simon] am an Operations Manager for a Bidvest Printing Company called Lithotech, and Tammy is the Director of her own company, Travel Marketing Experts South Africa. 
What's your travel motto? "Be prepared to be unprepared!"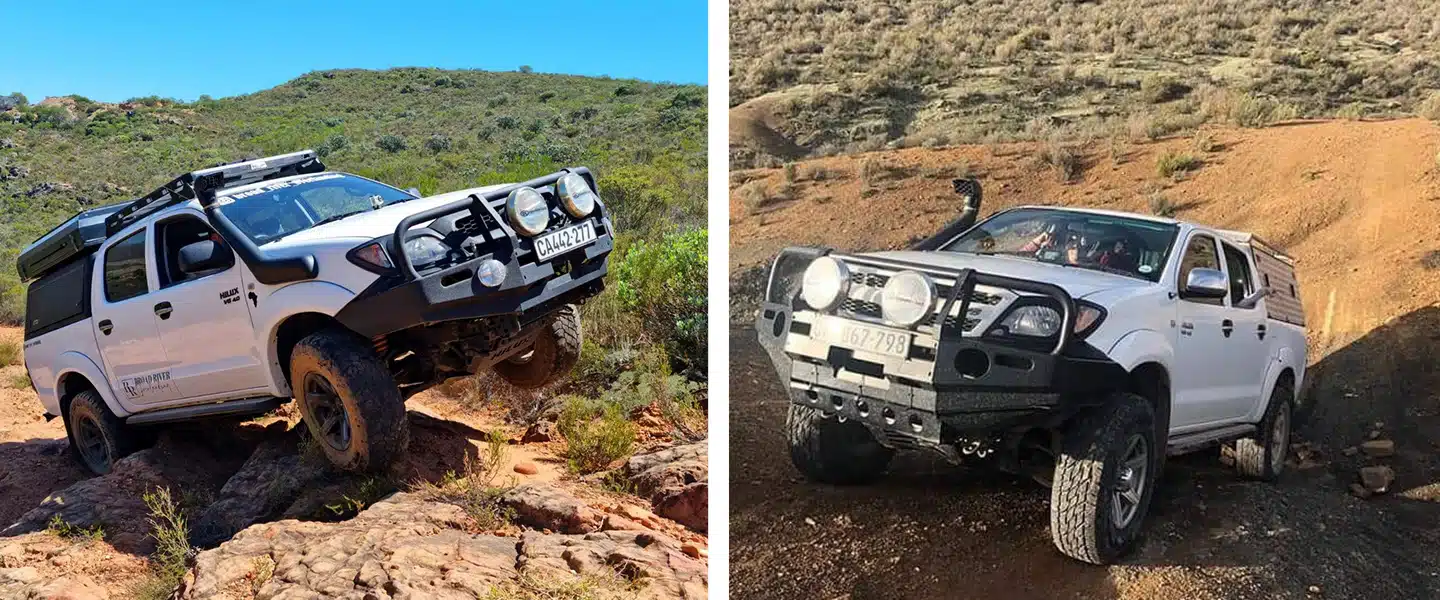 Tell us about Matilda: Matilda is a 2006 Toyota Hilux 4.0 V6 double cab. We bought her second-hand about four years ago. She caught our eye as she was well kitted out and looked after by her previous owner. Even though she's extremely thirsty, her 4.0 litre V6 engine is bulletproof and has plenty of power should we need it, such as when we travel solo. 
Why is your Hilux the best partner for road trips? Matilda is literally our home away from home. Besides the obvious benefits of being a Toyota and having the peace of mind that she will get us to remote destinations and back safely, we've kitted her out to offer the creature comforts we're accustomed to at home. We have a compact roof top tent that protects us from the elements, as well as a 270-degree awning and shower cube. On arrival at camp, once we've found level ground and mulled over the best view, we can deploy the tent, awning, shower cube, groundsheet, tables and chairs, light the fire in the fire pit and crack the first beer within three to four minutes.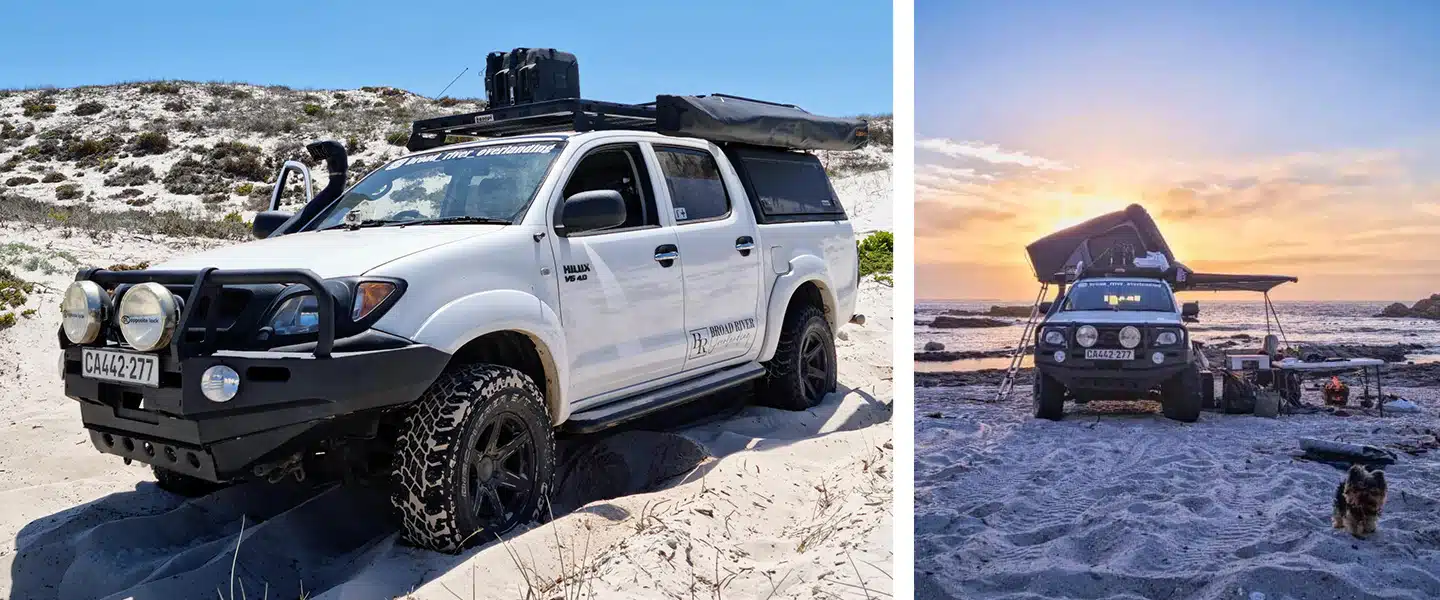 What's behind her name? Just as Matilda in Roald Dahl's novel of the same name had a mission to read every book in the library, we want to travel to every country in Southern Africa and leave no river uncrossed. 
Where has Matilda taken you and what has been your favourite destination? We've only managed to travel post Covid with Matilda, and it's been within the Western and Northern Cape. We enjoy travelling the Karoo, Cederberg area and the West Coast. Probably one of our most enjoyable trips was up to Noop on the Diamond Coast, where we were able to solo wild camp on the beach for a week. Just us, the sea and the harsh beauty that the West Coast has to offer; it was an amazing experience.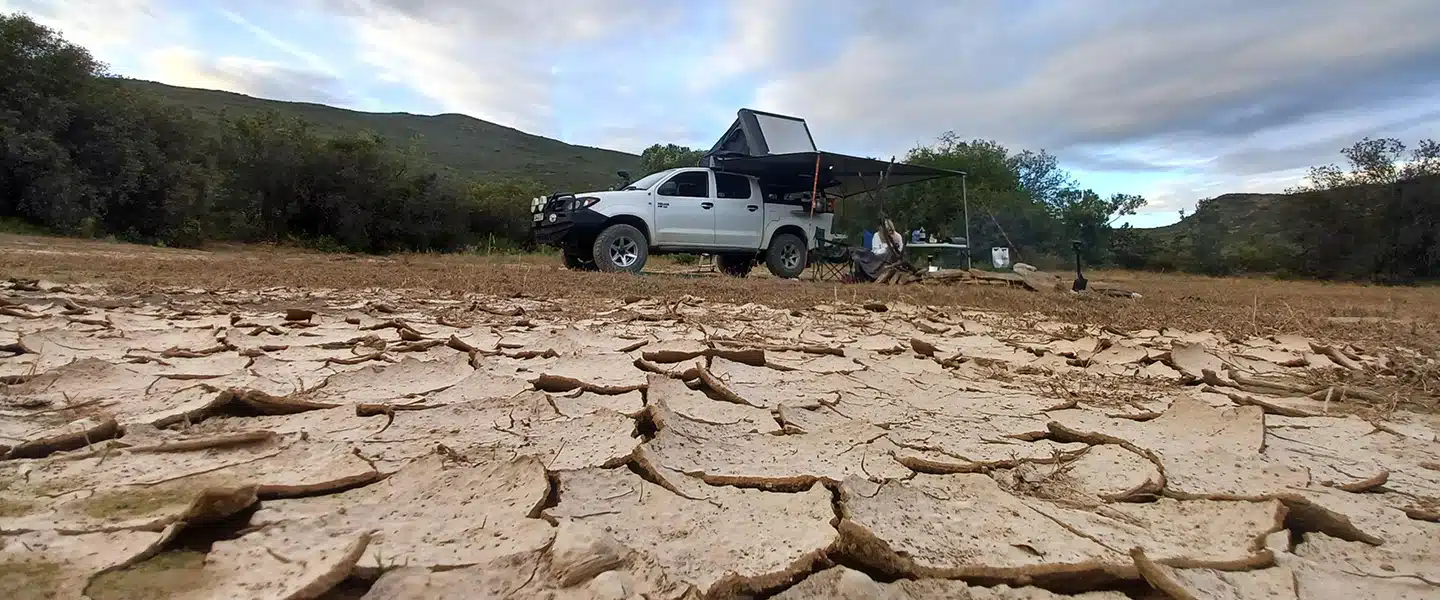 What do you pack? The build has been designed so that we can be self-sufficient for five days before we need to restock. We carry around 120 litres of fuel in jerry cans and in the onboard fuel tank, 85 litres of water (60 litres for showering and washing and 25 litres for drinking). Our kitchen unit and bar hold food and drinks for a week for two people and sufficient LP Gas to power the stove and shower. We have a dual 75-litre fridge for perishables and to freeze meat.  
Have you had any crazy experiences? Prior to buying Matilda, we travelled through Zambia for three weeks in a rented Toyota Prado. We arrived at a Lodge in Lake Kariba and ran into a fellow Capetonian who managed the lodge. He welcomed us, showed us around and invited us to join their year-end staff function. We ended up partying the night away with the staff before embarking on our 900 km route to South Luangwa on the opposite side of the country with very little sleep behind us (not recommended).  We endured a very slow 17-hour trip along the Great East Road to South Luangwa National Park. We arrived at Croc Valley Camp at around 11pm and were met by giraffe, elephants and hippos right outside our cabin. It made the cumbersome journey a worthwhile and memorable experience. 
What lessons have you learned along the way? When the wife says go left and your male ego says go right… go left as there's a good chance that you'll get that diff jammed up on that one rock! No one likes "I told you so!" when on holiday!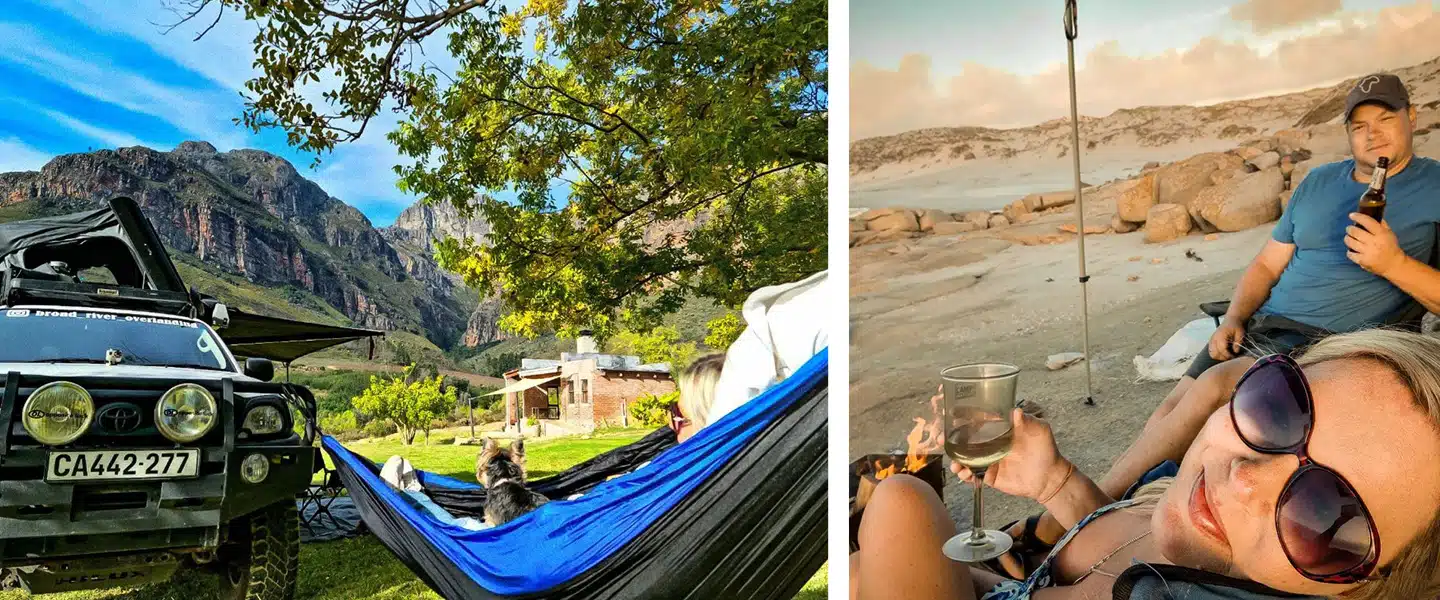 What advice can you give fellow travellers? Even though I fully agree with the sentiment that you don't need all the fancy, expensive equipment to get out there and camp, being well equipped does make for a more pleasant experience. Our build has definitely been a labour of love over a long period of time. We buy second-hand items off Facebook Marketplace only when we know we really need it. Camp often and slowly develop your systems and capabilities for your type of camping. There's no perfect setup, only what's perfect for you and the travel you enjoy. As we enjoy remote wild camping, we've geared ourselves towards that.  
Where to next? We're keen to travel to Botswana and Namibia. Other than that, we'll continue to get out every month to experience every campsite in the Western Cape.