OUR DNA – MORE THAN FAST
Telling the story of someone's life is a daunting task. Not only because of the sheer challenge of squeezing so much info into so little space, but also in distilling the available information into something that is not only palatable to the reader, but that also paints a realistic picture of the subject.
In this case, the subject is Toyota Gazoo Racing SA's Henk Lategan, current holder of the Class FIA title in the South African Cross-Country Series (SACCS) and a man who clearly has a lot of champagne in his future. Lategan, who turned 25 in May, grew up with a father, Hein, who raced in a variety of championships, claiming several titles during his own career.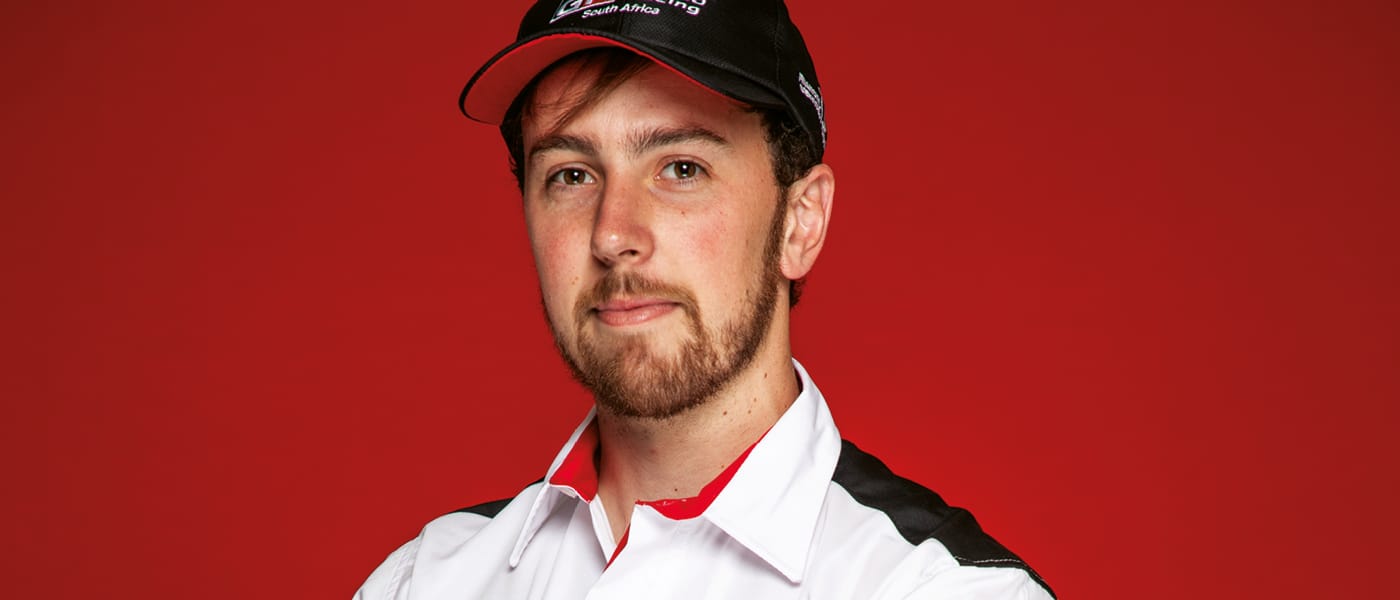 "My dad was never a slouch behind the wheel," he remembers fondly. "As a kid, I used to watch him race Formula Fords, Touring Cars and later he competed as one of the top privateers in the South African National Rally Championship (NRC)." It was during the elder Lategan's rally days that the racing bug bit Henk: "Track racing was what I thought I wanted to do. But then my dad pitched up with a rally car on a trailer for my 15th birthday, and the rest is history."
By 2012, Hein hung up his helmet and Henk, just 17, found himself signed to the Volkswagen Motorsport Team, the youngest works driver in SA rallying. "In those days we raced Class S2000 four-wheel-drive monsters and the learning curve was steep. Sometimes intimidatingly steep, but I certainly learned a lot," says Lategan of his days in the Polo. There were moments of doubt as Lategan struggled to convert his undeniable pace into championship points. Just when he was nally taming the beast,Volkswagen pulled the plug on rallying in 2015 – a devastating blow to Lategan."We'd done some rallies in Europe and I was feeling upbeat about my future as a rally driver. But then Volkswagen withdrew from the championship, with Toyota following suit a year later. Suddenly the South African Rally Championship collapsed … the rug had been pulled from under my racing boots." A year-long sabbatical followed, allowing Lategan the opportunity to think and breathe – things he could hardly do during the halcyon days of S2000 rallying.And then came a fateful opportunity to join the Ford team in the SACCS under the watchful eye of veteran Neil Woolridge.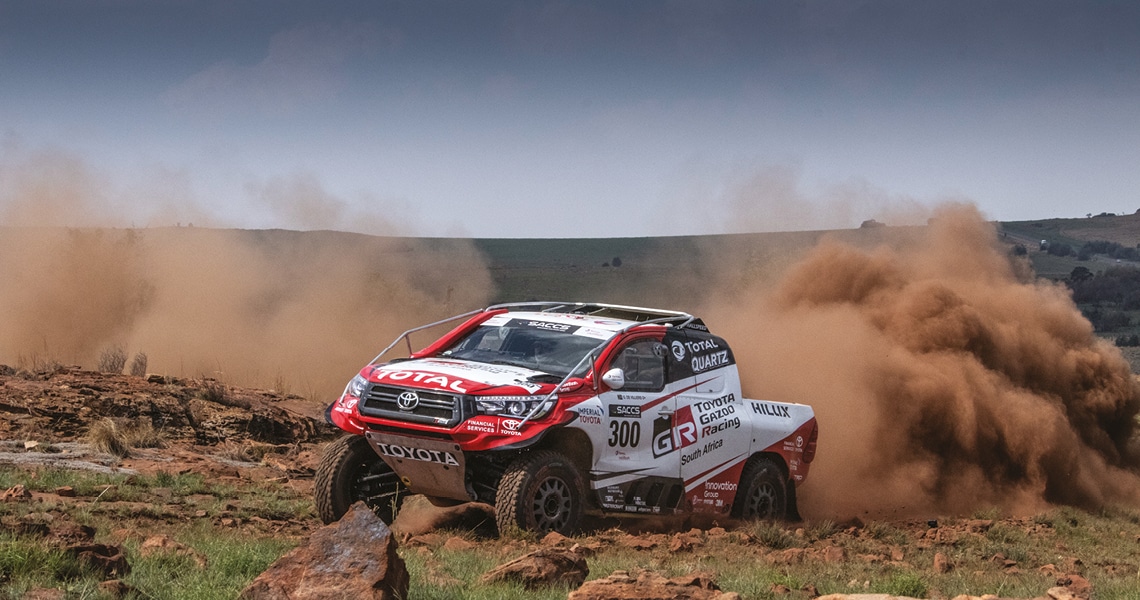 "Racing in Class T was unreal. It was my first chance to experience modern cross-country racing and even though I felt quite low when the S2000 era came to an end, I was immediately buoyed by the prospect of the big,V8-powered bakkie." Lategan suddenly found himself back on the steep learning curve of a new racing formula. Mistakes were made, lessons were learned, but one thing was abundantly clear from the get-go: he was fast … really fast. "My mindset has always been to look for every opportunity to go faster. I'm actually quite a laid-back guy, but when the helmet goes on, I have only one goal and that's to go as fast as possible. And a bit faster, sometimes."
"MY MINDSET HAS ALWAYS BEEN TO LOOK FOR EVERY OPPORTUNITY TO GO FASTER."
This mindset was welcomed by Toyota Gazoo Racing SA Team Principal Glyn Hall when he signed Lategan to the team for the 2018 SACCS. Since then Lategan has notched up two overall victories, recorded several wins in qualifying races and shown not only the pace that rst got him signed to Volkswagen eight years ago, but also the maturity that can only come with time."Right now, my horizon stretches from race to race. I don't know what comes next, but I would love to compete in the Dakar Rally. At the moment I'm racing in the car that won the Dakar Rally earlier this year. I'd like to think I measure up, but for now I'm just grateful to be part of Toyota Gazoo Racing SA."
Lategan lost out on overall victory on Round 1 of the 2019 SACCS in Dullstroom by just 25 seconds.That after 400km of racing. The man who pipped him to the post? Dakar veteran Giniel de Villiers. This time, age and guile beat youth; but if Lategan has anything to say about it, that will change soon.
THE CAR
Engine: 5.0l V8
Power: 287kW
Torque: 620Nm
Gearbox: SADEV 6-speed Sequential Shift
Transfer: SADEV with Centre Lock
Chassis: Tubular Frame
Wheel Base: 2 900mm
Track: 2 610mm
Overall Length: 4 810mm
Overall Width: 1 995mm
Height: 1 840mm