Any given dirt road surface will work – all you need is a gravel bike with a beefed-up road-bicycle frame and sturdy wheels, and you're good to crank. And the good news? There's a cool new event series around South Africa that you can enter.
In order to tick the official boxes, gravel-bike events should constitute a route combining asphalt and gravel surfaces, potentially including single track, maintenance lanes and Category B back roads. The new 100 Miler Series has all of the above in seven events spread throughout the country, so you can point your front wheel at anything from Karoo country roads and Drakensberg dirt passes to the back-of-beyond tracks winding through the Cape Winelands.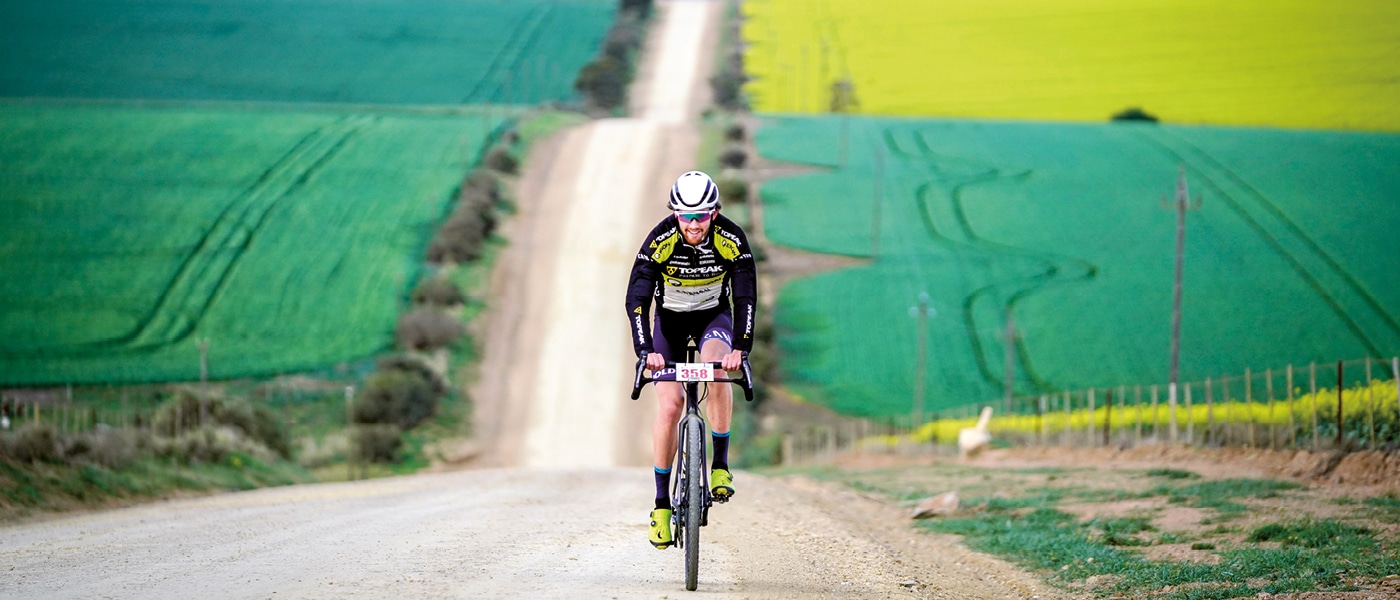 Ride The Karoo
22 February 2020
Welcome to the ultimate one-day riding experience, right in the hospitable heart of the Karoo. Expect a glorious weekend filled with authentic experiences, including Karoo braais, lamb potjie, fresh farm bread, condensed-milk coffee, koeksisters and craft beer. Riders will be treated to a combination of smooth jeep-track and district roads in the shadows of the mythical Compassberg.
Swartberg 100 Gran Fondo
25 April 2020
Ah, the natural splendour of the Swartberg region… It's truly tough to beat. The same can be said for the eponymous Swartberg 100 Gran Fondo, a festival of gravel riding that starts and finishes in the quaint village of Prince Albert, one of the Karoo's most exquisite little towns, set in one of South Africa's most breathtaking regions. The 171km route encompasses three gravel sectors, with a final relentless ascent of 28km over the iconic gravel pass, with gradients of 16% in places.
Race to the Sun
9 May 2020
For the Jozi crowd, this one starts at Hartbeespoort Dam and blasts along picturesque back roads all the way to the finish at Sun City. A huge field of 2  000-plus participants makes this the largest gravel-bike event in South Africa, ensuring a true Mzansi-magic experience for all riders.
Trans Elands MTB Marathon
6 June 2020
Many riders regard this as the country's toughest MTB marathon – and it's perfect for gravel bikes too. Now in its sixth running, this humdinger was founded by the late Lex Holmes, and takes place inland from Jeffreys Bay, in the Kouga area of the Eastern Cape. The 160km "Extreme" includes 3  000m of elevation gain, and will rate as a true test of the riders' physical and mental capabilities.
Around The Pot
18 July 2020
Your Overberg adventure cranks off from scenic Swellendam and meanders amid the magnificent Langeberg foothills via a green-and-gold patchwork of canola and wheat fields. The first segment ends
at historic Malgas, where a 45-minute neutral zone allows you enough time to enjoy a lekker "roosterkoek", one of the race's many claims to fame. You and your bike then cross the Breede River on a ferry before bombing to the finish.
Maloti 100 Miler
26 September 2020
The Maloti 100 Miler stands proud as one of the Rainbow Nation's most spectacular (not to mention challenging!) off-road cycling events. The steep and dramatic Maloti passes that wind along these rugged mountains combine tough road conditions with high-altitude cranking, basically guaranteeing a love/hate relationship with what is without question a beast of
a ride.
Race to the Sea
17 October 2020
A relatively new kid on the mountain/gravel scene, its various race options are headlined by a 100-miler starting in charming Franschhoek, from where a breathtaking route will meander via the Winelands to the finish line in Hermanus. Entries for the 167km ride are now open for 2020.
THE GRAVEL BIKE
Rondo Ruut CF2
Looking much like road bikes, gravel bikes have slightly sturdier frames and bigger-profile tyres
for more grip. The Rondo Ruut is one of the best examples: light and responsive, yet still comfortable on gravel roads, it offers excellent value for money given its quality and spec.
Frame Carbon fibre
Fork Carbon with variable geometry
Tyres Panaracer Gravel King SK 43c
Groupset Sram Rival 1 (1×11 speed)
Price R54 590