NEW SA COINS
The South African Reserve Bank and the South African Mint have released a series of six circulation coins as part of the "SA25 – Celebrating South Africa" commemoration of 25 years of democracy.
Depicting the first democratic election and five different themes from the Bill of Rights, the new circulation coins, as well as a range of collectable coins, were designed in collaboration with local creatives Neo Mahlangu, Maaike Bakker, Rasty Knayles, Peter Mammes and Lady Skollie.
We spoke to artist and designer Neo "Nene" Mahlangu to find out more.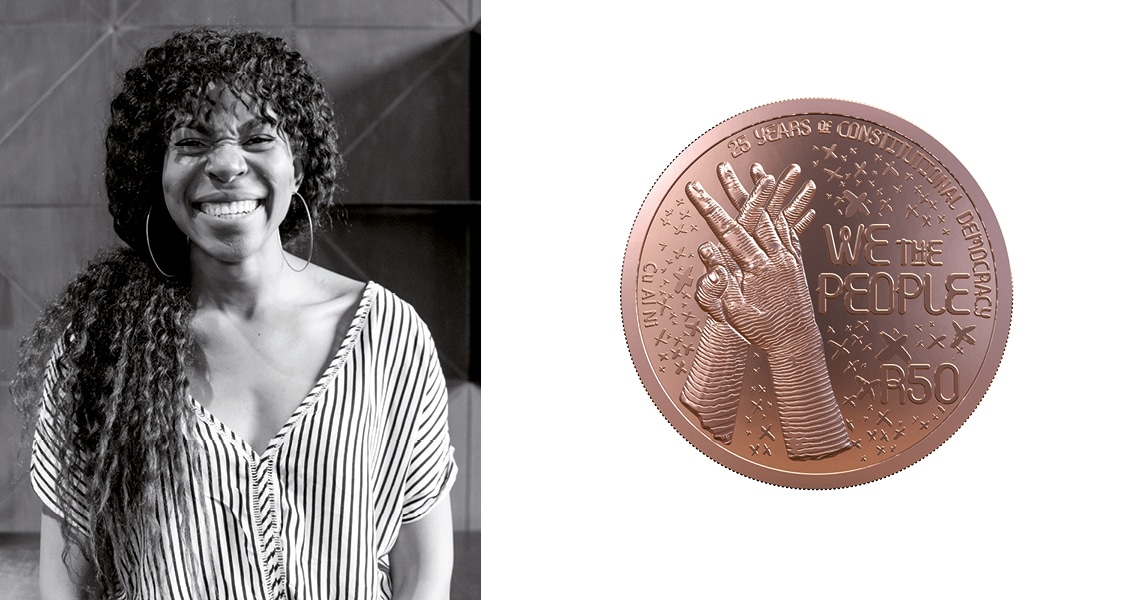 Q&A WITH ARTIST & DESIGNER NEO MAHLANGU
When did you know art and design were in your future? I always knew I was creative, but I didn't know how to direct that energy. As a teen, I took up dance, music, singing, writing. Later, I discovered that my ideas translate well into pictures, and I realised I could have a career as a visual artist. My mind is always buzzing with ideas, and I'm thankful to have found a way to exercise that part of me.
Career highlights? Being a Cassirer Welz Award finalist in 2017 at Absolut One Source Live, a festival that celebrates African creativity, was a good stepping stone. My involvement was facilitated by the Bag Factory Artists' Studios and Strauss & Co. The Bag Factory is a creative hub that continues to play a big role in my career. Being featured as an Emerging Creative at Design Indaba 2018 taught me how to turn my creativity into a viable career. I was included in the Between 10and5 list of the top 40 creatives under 30, and this year I designed two coins for my country… All of these highlights have been a great learning curve.
Tell us about the brief for the SA25 coins. The South African Mint approached me with themes from our constitutional Bill of Rights – Children's Rights and the Right to Education – to create artworks about. The pairing of these two coins made sense to me; I think they go hand in hand. I believe one of the most important things to achieve in our youth is a good education; even as we grow older, we should never stop learning. I wanted the Children's Rights coin to embrace the vibrancy of youth and, hopefully, remind adults of the energy of their younger days, so we can continue to support, encourage and direct our children to be the best version of themselves. If children thrive, the future of our country will be in good hands. In addition, I've never seen a black female on our currency before, and that's something I wanted to change – so you'll see a girl among the group on the Children's Rights coin.
What are you working on right now? I'm working on a solo exhibition, which will be happening in a few months. I'm also taking part in some group exhibitions towards the end of the year. Stay up to date with my news on Instagram @nenemahlangu.