Photographer: Graeme Wyllie. Assistant: Raymond Lekala. Stylist: Karin Orzol. Shot on location at The Playground. 
The bubbly model and student (she's studying towards a degree in Education), celebrated her 23rd birthday in January, two months after being crowned Miss Soweto 2021 and a day after receiving the keys to a brand-new silver Toyota Starlet, which is hers for the duration of her reign.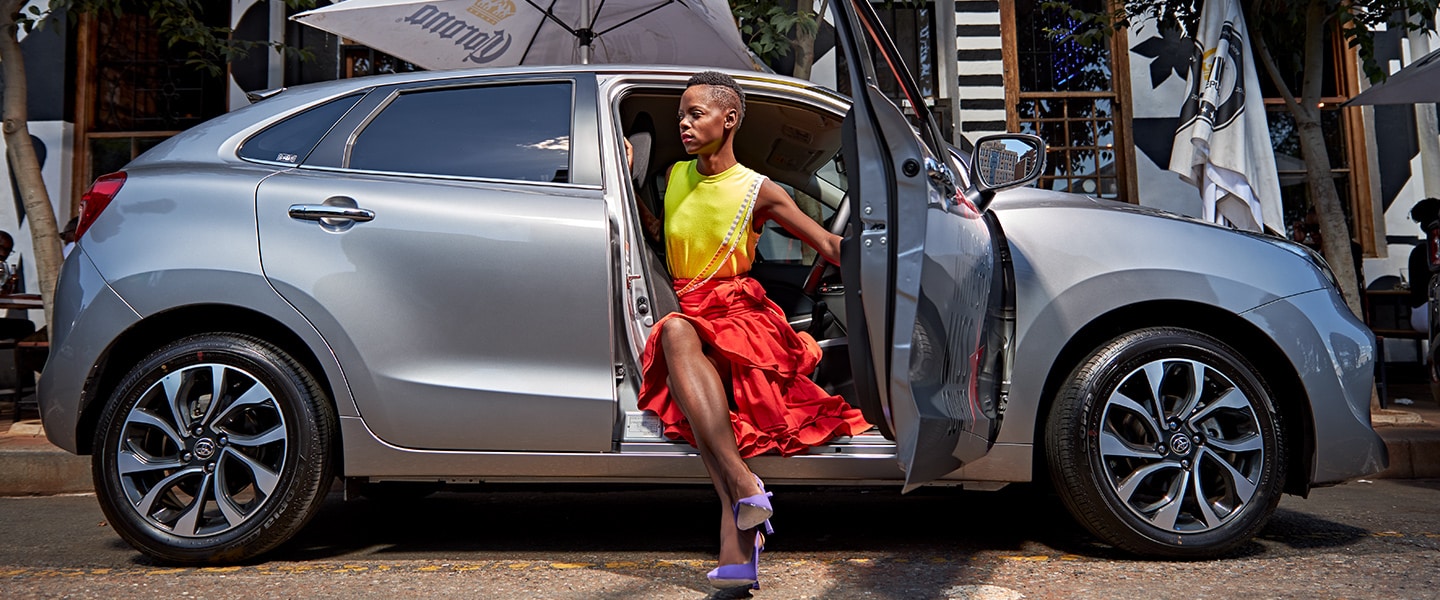 MISS SOWETO PAGEANT
Ludina was one of 20 finalists selected from over 1 000 contestants. The top 20 are judged across a wide range of criteria, including posture and grace, first impression, presence in front of a camera, personality, confidence, modelling skills, communication skills, answers to judges' questions and audience appeal. The Miss Soweto pageant is open to any woman between the ages of 18 and 24 who was born, lives in or has special ties to Soweto. Ludina also received R10 000 cash from Toyota, in addition to a host of other prizes.  
OUT AND ABOUT IN BRAAM
We caught up with Ludina  and her Starlet at The Playground in Jozi's Braamfontein, a space that many may remember as the Neighbourgoods Market. The Playground is a platform for young talent in Joburg and hosts an artisan market every Saturday with a menu of gourmet street food, cocktails, and live music performances and DJS. Soon it will offer live music and events on Sundays too.  
 You recently celebrated your 23rd birthday – what did you do?  
I got my car the day before my birthday. I couldn't contain my excitement to drive my very first baby, so I drove my car all around Soweto.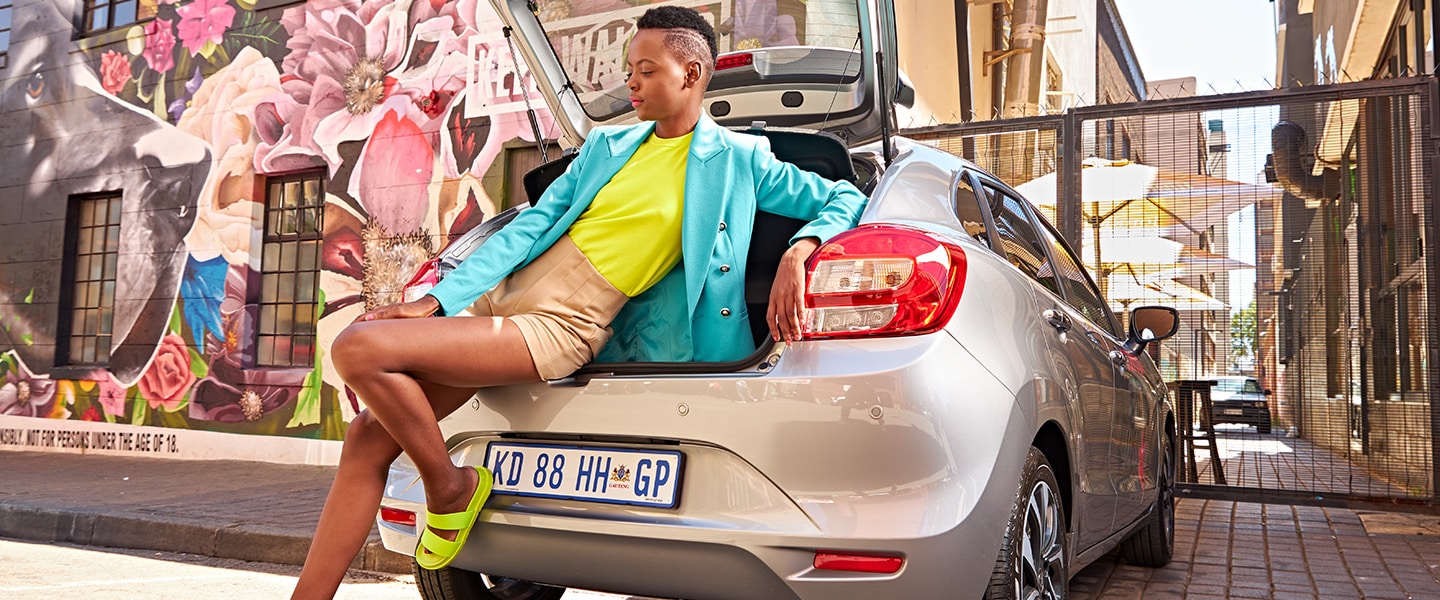 What does the title of Miss Soweto mean to you? 
Beauty pageants are incredibly impactful because they help empower young women. I am thankful to White Star as the main sponsor of Miss Soweto for providing such an important platform for young women to take up space, to have a voice, to redefine themselves and to make a positive impact in their community and in the world at large. I've been granted an opportunity to be the representation that the younger me so longingly searched for.
What do you hope to achieve this year as Miss Soweto? 
I hope to create a safer, more inclusive and realistic society, especially for those living with a visible difference such as scars, marks and conditions as they often endure discriminatory attitudes that undermine and belittle them.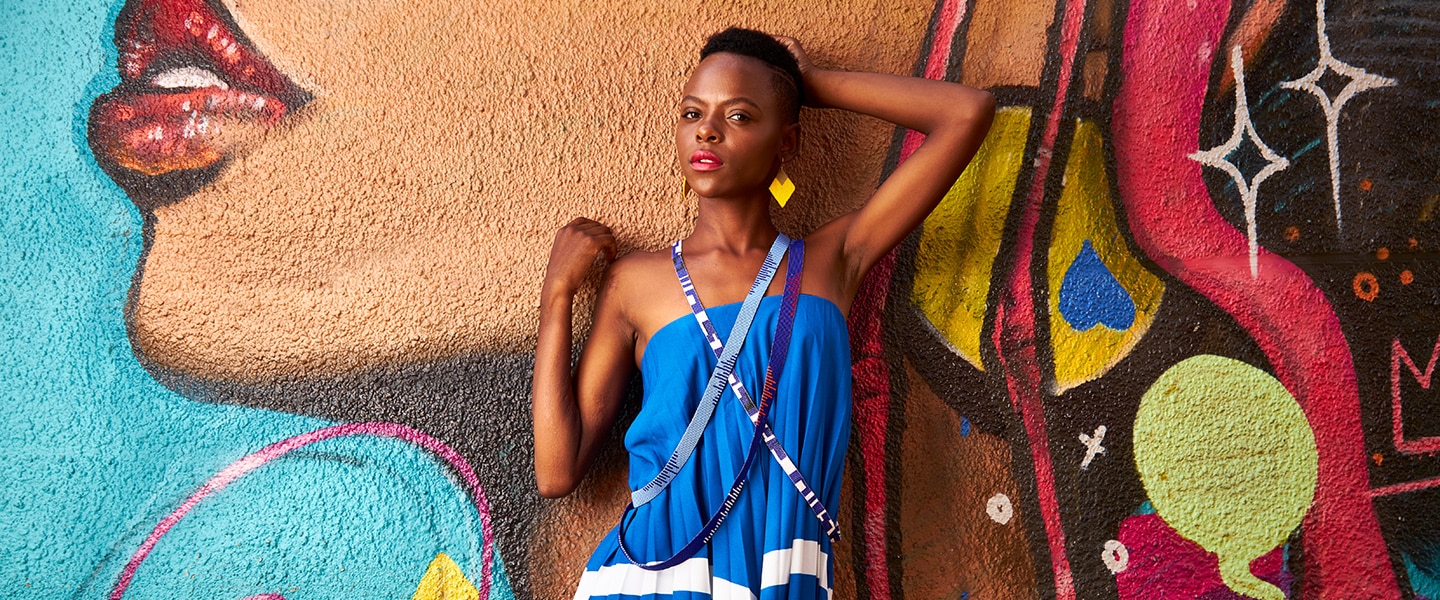 What role do you think beauty pageants play? 
Beauty pageants serve as a platform that mould and empower women to be pioneers of society. These platforms help amplify our voices and seek solutions to the challenges we face every day.  
Tell us about your new Toyota Starlet…  
This is a car fit for a queen, and it's perfect for a new driver like me. I'm in love with the features on the steering wheel. 
What do you like to do in your downtime? 
I love being indoors, and you'll probably find me writing a good piece of spoken word poetry. 
What do you love about your city and its surrounds? 
I love Braamfontein. It's such a refreshing place after being indoors. The views, restaurants and artwork, and the entire atmosphere is really thrilling. And if I need a place to scream it all out and release fatigue, Soweto towers bungee jumping is a perfect stress-relief spot! 
What are your plans after your year-long reign?  
I have a burning desire to book a shoot for a billboard and grow in the fashion and commercial industry. 
Featured pic: Ludina wears – Top: Zara; Skirt: Wizards Vintage; Heels: Zara; Necklaces: Marigold Beadwork
Stockists: Marigold Beadwork;  Simon & Mary;  Wizards Vintage;  Zara