The twitchers were on high alert with their bird-call apps, binoculars and Roberts field-guides. Squawks, tweets, whoops and ca-caws came at us from all sides – the sort of soundtrack capable of converting anyone to the birdwatching game. 
There were slow-to-move crested guinea fowl mustered on the ground, and pairs of trumpeter hornbills with their oversized beaks balancing on branches overhead. 
We heard yellow-throated longclaws, Burchell's coucals, the slightly hysterical call of a purple-crested turaco, a puffback that sounded like a wind-up toy. We carefully listened to a sombre greenbul: 'Willie! Willie! Come out and fight with me… sca-a-ared?' it sang, like a schoolyard scoundrel hoping for a punch-up. And a red-eye dove sang 'shoot me with a two-point-two', which seemed awfully violent for a glorified pigeon.
The Roads Less Travelled
We passed in and out of alternating biomes in Maputo National Park. One instant, the vehicle was besieged by thick bush, waterberry and monkey orange trees, and sprawls of tangled vines, everything wild and jungly; the next moment, a vast marshland – swampy, reed-covered and lined with wild date and ilala palms – unfolded before us. When we stopped at the tranquil, reed-encrusted lake, a black-headed heron flew above the water's surface; higher up, soaring on the thermals, a fish eagle uttered its familiar cry. 
Across the way were the bulbous forms of submerged hippos, crocs sprawled like logs on the distant shore where rows of low hills undulated towards the horizon. There were nyala, waterbuck and oribi, a side-striped jackal bounding through the tall grass, and a lone elephant splashing about at the lake's edges, snacking on nearby branches. 
Around each bend, more of that rare feeling of being somewhere untouched, seldom seen and where some sections of road had turned to mud, our driver engaged 4×4 and we collectively held our breaths as he put foot.  
The Path to Recovery
Officially proclaimed in December 2021, Maputo National Park stretches for around 100km, from just south of the capital to Mozambique's southern border where it will hopefully soon connect with the northern boundary of Tembe Elephant Park in KwaZulu-Natal's Maputaland.  
That this 1,700km2 reserve exists at all is somewhat miraculous. The result of a merger between Maputo Special Reserve and Ponta do Ouro Partial Marine Reserve into one contiguous area, it's been hailed a conservation triumph following the civil war that plagued Mozambique from 1975 until 1992. Its history is full of harrowing tales of elephants killed by landmines, and smaller creatures caught in snares. Never mind the people fleeing for their lives.  
History's tumultuous conflict and poaching have given way to a peaceable kingdom; instead of devastation, there exists a thriving amalgam of huge grasslands and beauteous beaches, swamp forests, sprawling wetlands, coastal lakes and endangered mangroves. Elephants that survived the war are flourishing – herds can be found on the open floodplains or ambling through dense dune forests. 
According to Peace Parks Foundation, which lobbied for the creation of the park for almost two decades, it's among the 36 richest biodiversity hotspots on earth.  
Helping pave a path to recovery, around 5,000 animals have been translocated into the area since 2010; almost a dozen species, including cheetahs, were reintroduced. Infrastructure and security personnel have been installed and the park is now a linchpin in the vast Lubombo Transfrontier Conservation and Resource Area, a network of protected places straddling northern KwaZulu-Natal, Mozambique and eSwatini across some 10,029km².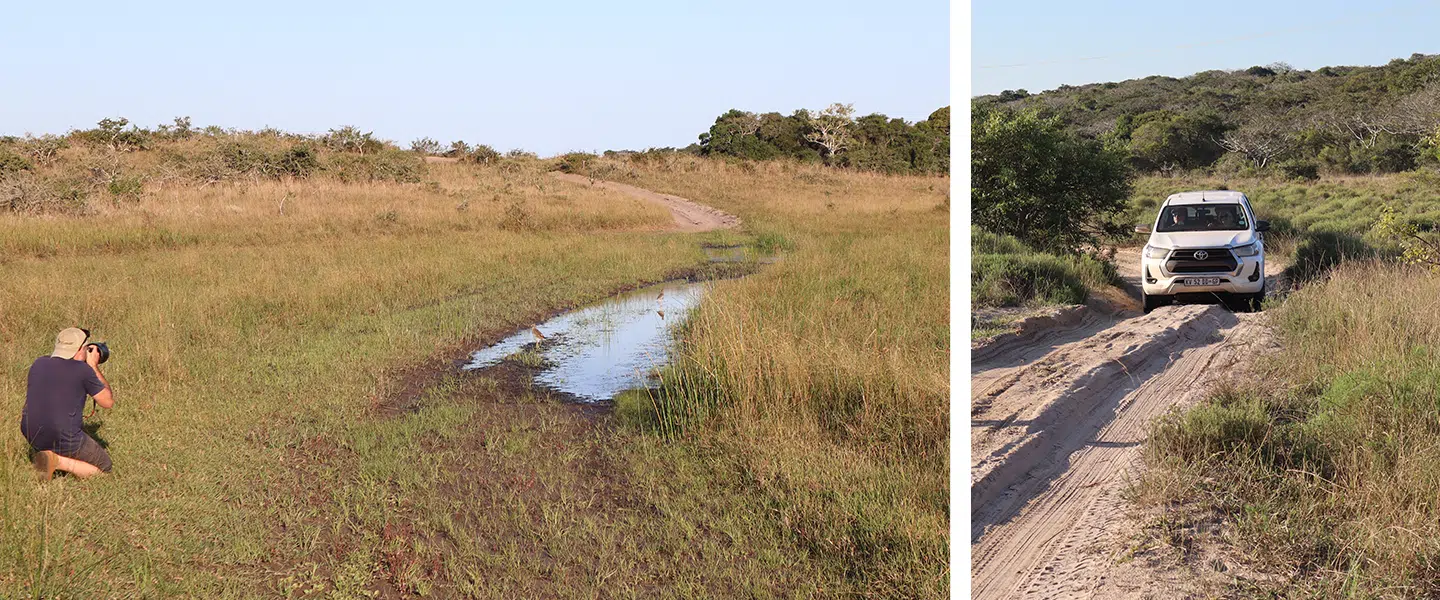 A Conservation Dream
It's not only the expanses of shimmering green that make Maputo National Park special, but that it protects a huge protected marine area, shelter for whales, dugongs and sharks – plus the world's biggest conglomeration of giant trevally, a predatory jack fish weighing up to 80kg. Its beaches are vital nesting sites for endangered leatherback and loggerhead turtles – between October and February it's possible to see females making their way across the sand to lay their eggs or observe hatchlings crawling to the sea at night. 
All of this makes it a naturalist's dream, a place that brings you down to earth completely. Despite the good road network and proximity to Maputo, once you enter, its huge distances and lush wildness slow you down, making you feel like you're travelling across time.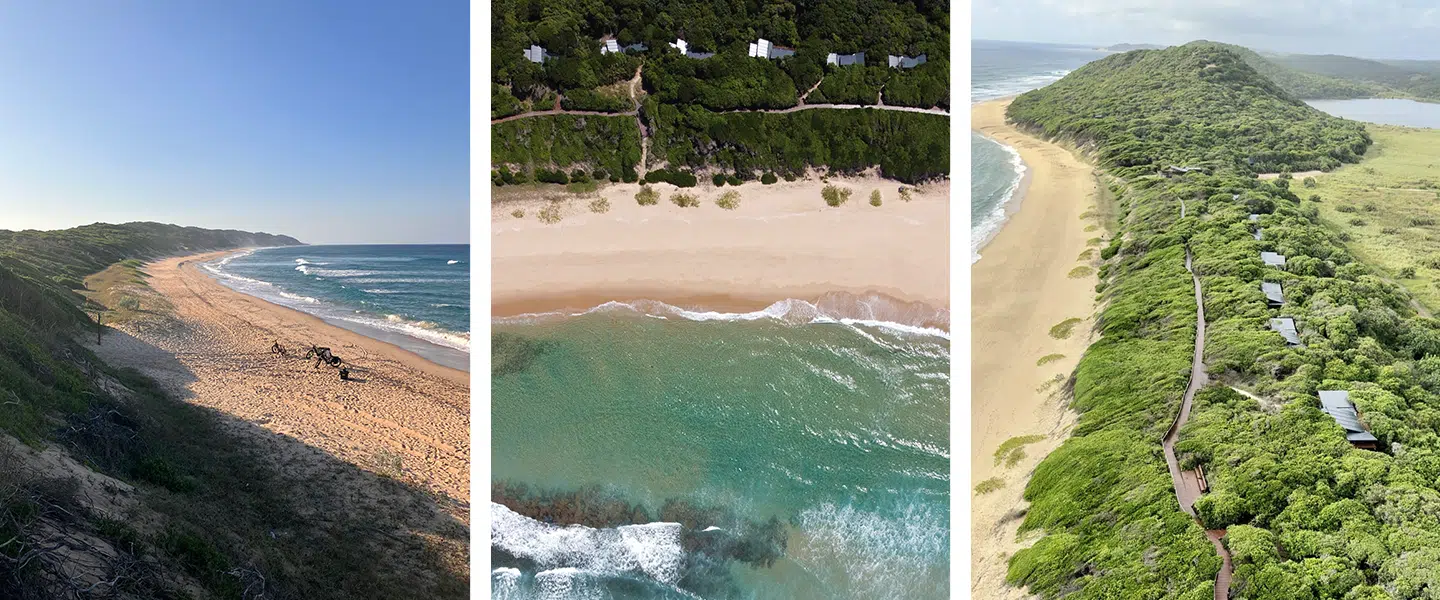 A True Hideaway 
From the main gate, it took us more than an hour to reach the freshly minted Membene Lodge which, with its interlinking wooden boardwalks, straddles bush and beach.  
It's a big eco-sensible, architect-designed facility with a mix of self-catering chalets for families, more compact units deep within a sunlight-dappled dune forest, and at the other end, slick camping sites.  
Aside from game drives for eccentric birders, it's a great base for exploring the reserve. One morning, we rode e-bikes along the beach, the breeze whipping our hair into our faces as ghost crabs by the thousands scuttled towards the water. After several kilometres, we stopped at a spot called Anvil Bay where we snorkelled in the rock pools and spotted humungous parrot fish before zipping back to the lodge for lunch by the pool.  
Commissioned by Peace Parks, the lodge is a hideaway in the true sense of the word. You can be within metres of one of the tucked-into-the-bush accommodations, yet barely able to suss out any hint of its existence.  
Constructed from prefabricated, low-carbon-footprint PVC hardboard, the open-plan chalets put you in mind of southeast Asian tropical architecture with an almost Japanese minimalist aesthetic. Eco-architect Neil Crawford worked with nature, making it the star of the show rather than trying to dominate it. From the 'dune' chalets, where the waves sound like they're inches from the bottom of your bed, you have only to open the windows for a full-blown sensation of sleeping in a forest.