MAN OF STEEL
The life of a racing driver, one would assume, is filled with thrills, adrenaline and the smell of oil, petrol and burning rubber. But it turns out those are the exceptions, rather than the rule.
"Like many of the guys I have raced over the years, I'm just a normal guy. I have a wife, kids and a day job. And eight times a year I go racing," says Michael van Rooyen – Toyota Gazoo Racing SA's man in the Global Touring Car (GTC) championship.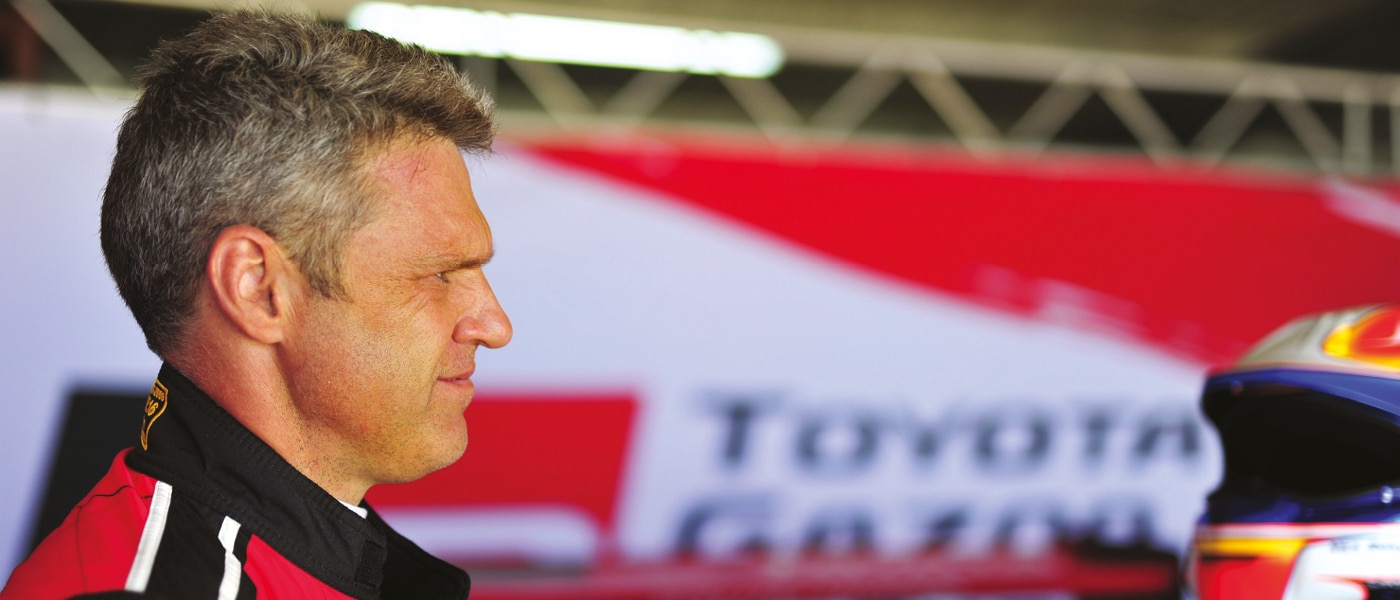 RACING CV
The Rustenburg-based director of a steel construction company has been racing since 2000, and like many of his contemporaries, cut his teeth in karting, winning the 125 GP Karting National Championship in 2004. After another National Championship and a fth place at the Rotax Max World Championships in the same year, Michael switched to saloon cars in 2005, competing in the Polo Cup.
Next was a move to bigger, faster production cars, which really was the place to be until the demise of the Bridgestone Production Cars series in 2015. Between 2008 and 2015, Van Rooyen drove for Ford, Opel and later Chevrolet."Production car racing was spectacular," says Van Rooyen. "It was a world full of adrenaline and egos, and I loved every moment."
Once the series came to an end after the 2015 season, the new GTC formula emerged to quickly be recognised as South Africa's premier saloon car racing formula and Van Rooyen was quick to take up the challenge.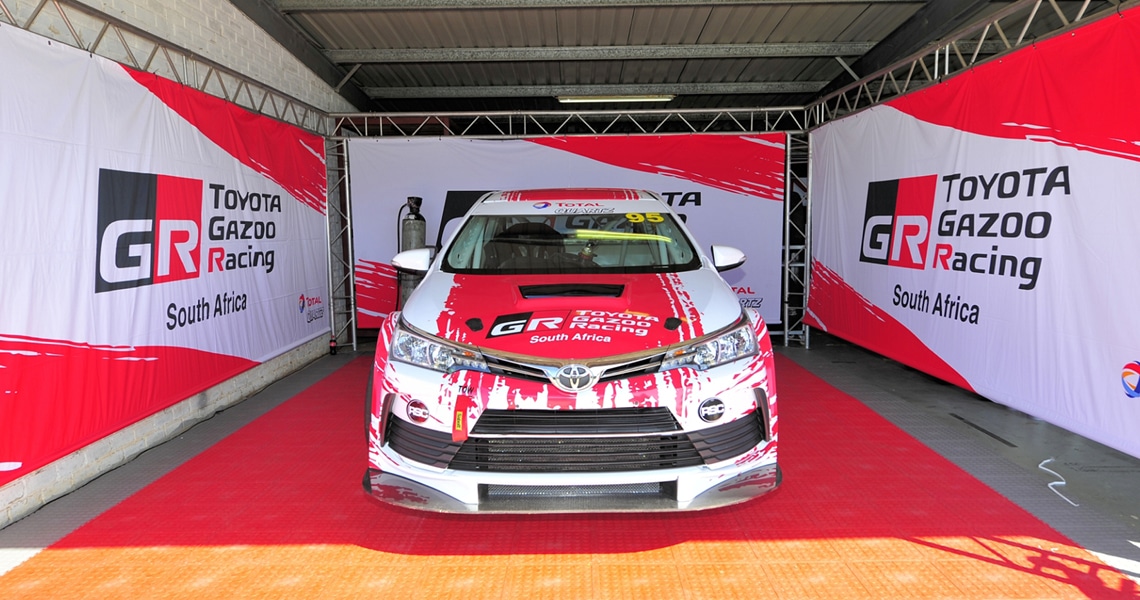 LIFE IN GTC
"In production cars, there were many factors that played a role in the outcome of each race, the biggest being budget. But GTC promised a much more equal playing eld, and I couldn't wait to take a crack at it,"says Van Rooyen. After initially fielding a BMW in
Rustenburg Steel Construction (RSC) livery, he joined Toyota Gazoo Racing SA for the 2019 season. "Being part of such a prestigious team is a dream come true for me. Remember, Gazoo Racing is now a globally recognised brand and this year the team won the Dakar Rally. Not only that, but they are also defending champions in the South African Cross-Country Championship as well as the South African National Rally Championship. So, I'd better step up my game."
"I'M JUST KEEPING MY HEAD DOWN AND MIND FOCUSED ON THE NEXT RACE. MY AIM IS TO WIN RACES AND IF I MANAGE THAT, I CAN START HUNTING FOR MORE CHAMPIONSHIPS"
Over the years,Van Rooyen has learned to identify his own strengths and weaknesses as a racing driver and he loves racing in dodgy weather, especially if the track gets wet. And he is really starting to bond with his new GTC Corolla: "The Toyota Corolla has been a beauty since Day 1. The car is a touch longer than my previous car and somehow that seems to make a difference. But more than that, everything has felt really solid from the start, and I really enjoy racing the Toyota." As for the future, he says: "For now, I just want to focus on each race. I want to spend as much time as I can with my wife and kids, and I want to win races."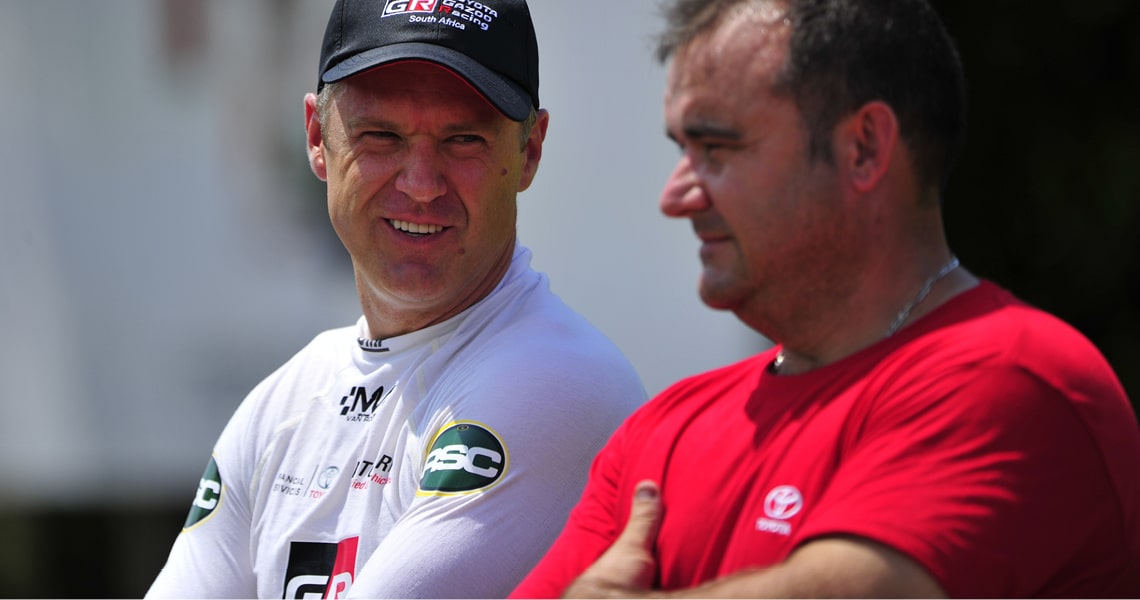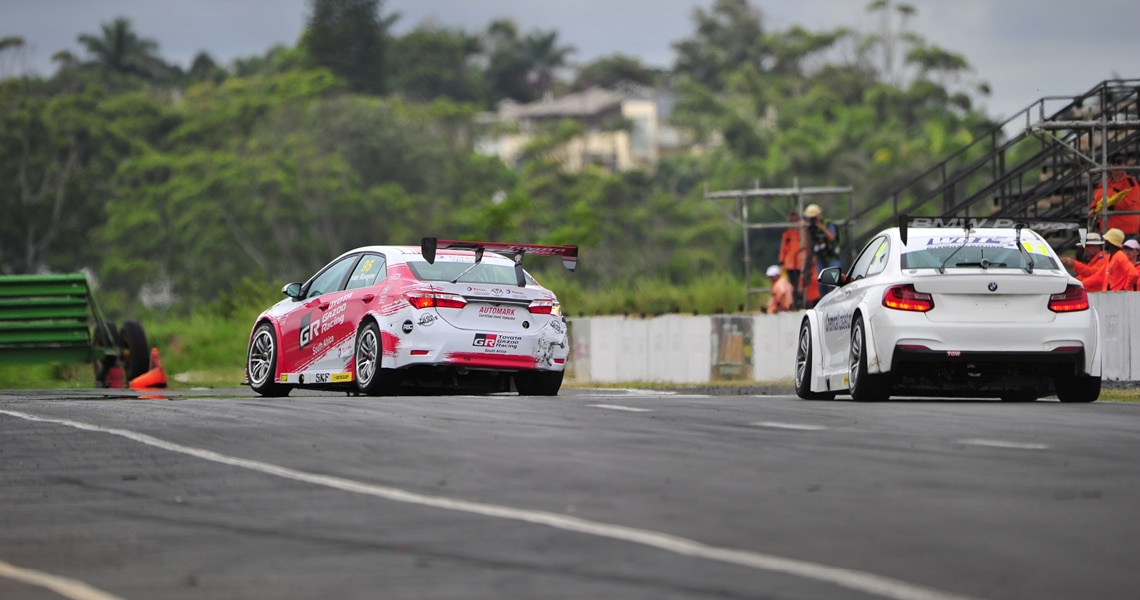 THE CAR
The GTC is, essentially, a one-make formula in the sense that all the cars feature common chassis, running gear, ECU, suspension, tyres and other components. This commonality has two purposes: it brings down the cost of development and building of the cars, and largely levels the playing eld, making for highly competitive racing as a result. All the cars on the grid share common engines too, but each car carries a body shape that is relevant to the manufacturer in question.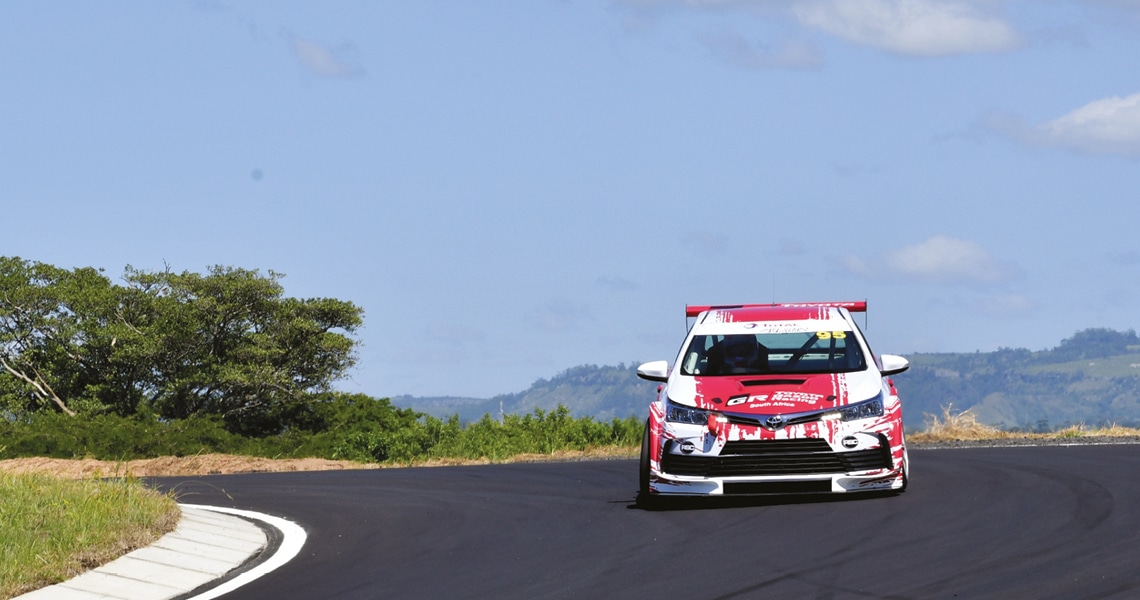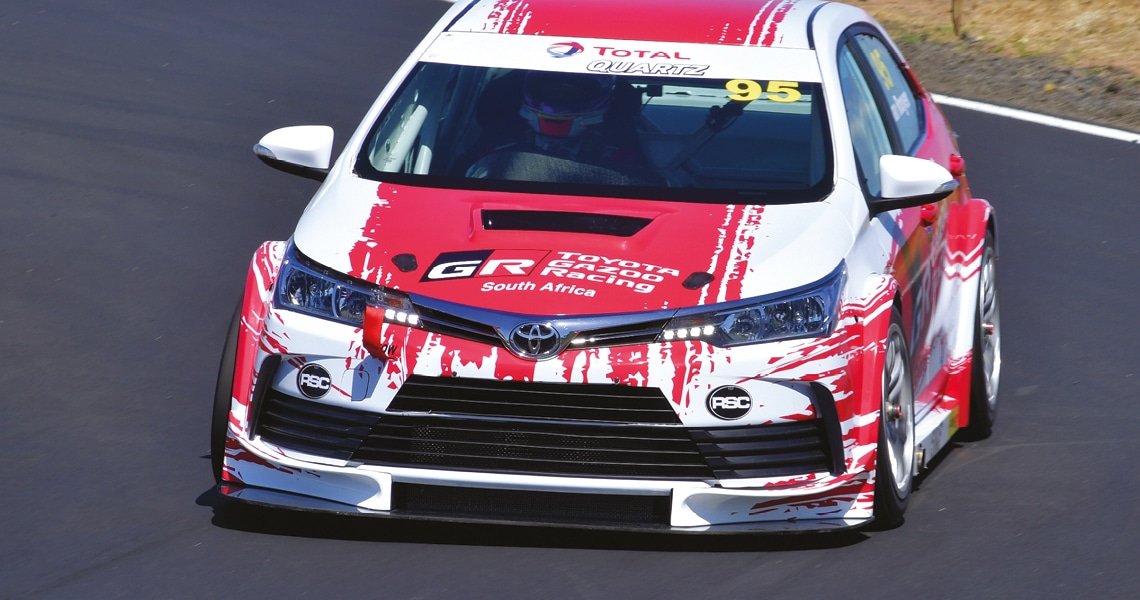 In the case of Van Rooyen, Toyota Gazoo Racing SA has entered a Toyota Corolla with the following specifications:
Engine: 2.0 litre, 4 cylinder, turbo-charged petrol
Power: approximately 400kW
Engine Management: Common ECU
Gearbox: 6-Speed Sequential Gearbox by Albins
Chassis: Common Chassis
Brakes: Brembo Suspension: Ohlins Shocks
WALDO DE WAAL