Whether in rivers, dams, tidal pools or the ocean, wild, open-water swimming is one of South Africa's fastest-growing sports.
There's a feeling that runners, cyclists and hikers get when they're out on their own. Off-road drivers get it, too. It's solitude without loneliness; peace and quiet without silence. For swimmers like Capetonian lawyer Kerry Kopke, that feeling is found out in the open water.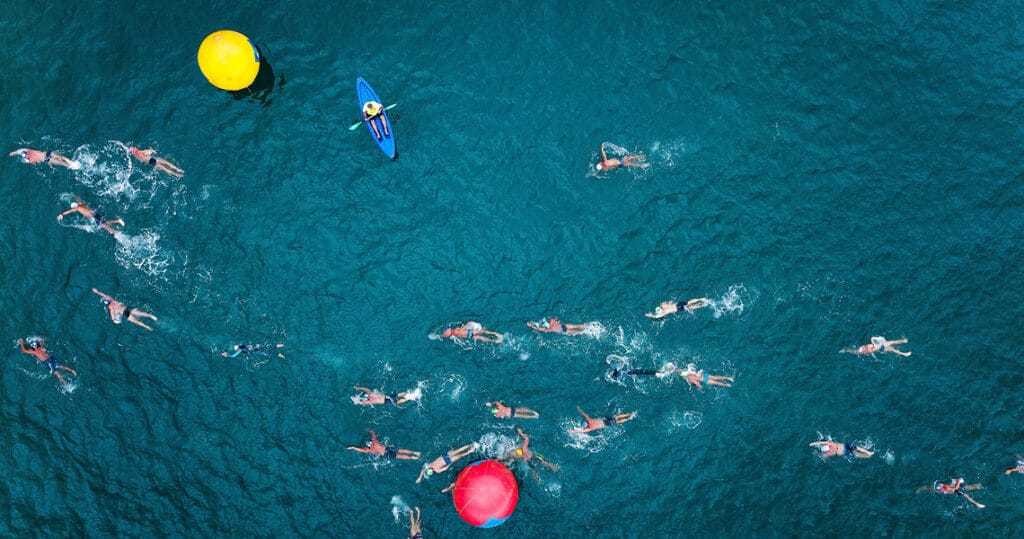 Open-water swimming (or "wild swimming") is quietly growing in popularity. More and more South Africans are discovering the joys – and the risks and thrills and challenges – of escaping the confines of a swimming pool and getting out into the rivers, lakes, dams, waterways and seas around our country.
"I've always been a swimmer," says Kopke, "but I only started open-water swimming about a decade ago. If you enjoy swimming and you like the sea, it's a natural transition."
Cold water is known to boost the immune system, improve circulation and activate endorphins.
But you have to be tough. Whether you're doing the Midmar Mile, the Sun City Swim, the Swim Series in Jeffreys Bay or the iconic Robben Island Crossing, you'll be exposed to the elements: winds, waves, wildlife… As Kopke points out, the conditions change constantly. "There are unknown currents – and there is no rest out there if you're tired. It's a harsh environment.'
Yet those in the know say that the mental benefits of open-water swimming far outweigh the physical hardships, and that they border on the transcendent: meditative pacing, deep breathing and being one with the environment.
Unless you're a strong swimmer, it's best to start in a swimming pool, then "graduate" to longer distances in a freshwater dam before heading out into the open seas. There, hours of training prepare your body for the cold temperatures and your mind for loneliness of the long-distance swimmer.
When Kopke started, open-water events were the sole preserve of a few very hardy souls. "There were definitely fewer of us back then, but we've been seeing steady growth year-on-year – and that's a worldwide phenomenon," she says.
Open-water swimming was technically an event at the 1896 Summer Olympics, when even the 100m event was swum in Athens' Bay of Zea, but the epic marathon 10km open-water event was only added
to the Olympic roster in 2008. Today, there's even a World Open Water Swimming Association (known as WOWSA because, well, obviously).
South Africa is home to two of the world's must-do open-water events: the popular Midmar Mile in KwaZulu-Natal (the world's largest in terms of participants), and the Freedom Swim from Robben Island to Cape Town's Bloubergstrand.
Kopke is a member of the Cape Long Distance Swimming Association, which maintains a records database for the Robben Island Crossing. "It's a hallmark crossing, and people come from all over the world to do it," she says. "You get people who train for it – and then never swim open water again. It's like running the Comrades Marathon, I suppose."
Kopke has done the 7.4km Robben Island Crossing five times herself, so she knows it well. (Her personal best is 02:54:00, in case you're wondering). "It's a real test of your mettle – not necessarily because of the distance, but because of the water temperature," she says. "You're likely to be swimming in 14°C water, so your body is fighting the whole time."
She says many committed open-water swimmers train in fresh water. "The truth is, if you're an open-water swimmer, you'll swim in just about anything. Swimmers who live inland tend to train in dams,
then come down to the coast for races or events. Often, we end up doing pool training, just because we need the distance. Sometimes you can't get the distance out at sea, because it's just too cold and too tough. If you want to swim 3km on a miserable day when the waves are chopping, you have to use a swimming pool."
If there is a rivalry in the open-water swimming world, it's between those who swim in wetsuits and those who don't. "Wetsuits give you warmth and buoyancy, so your skin is more protected and there is a difference in your performance in the water," says Kopke. "That's why there's a perception among some swimmers that if you wear a wetsuit it's not 'real' open-water swimming. I'm quite inclusive, so I don't care what you wear in the water. Many wetsuit swimmers are people who do open-water swimming as part of triathlon training. Our open-water races have a 'skins' (or 'naked') category and a wetsuit category, just because of that difference. That doesn't mean your swim is any less valid – it's just a different event category."
Besides, sports like open-water swimming are less about competition, and more about personal achievements and social interactions. "It's pretty standard for open-water swimmers to swim a mile for fun," says Kopke. "And if you're on a social swim, you'll stop for a chat along the way as well. We'll sometimes bump into people we know, and have a chat out in the middle of the sea."
And yes, that's a "we". Open-water swimmers never swim alone – mostly for safety reasons, but partly for social reasons.
"There's something for everyone," says Kopke. "You'll get people swimming in events, doing races or long-distance crossings or marathon swims – and then you get people dipping."
Wait… Dipping?
"That's when people get together in groups, swim out to just past the waves, and then just… bob. They don't swim, they just tread water," Kopke explains. But since cold water is known to boost the immune system, improve circulation and activate endorphins, it's little wonder that the sport is growing in popularity.
"Inland, they do wild swimming, where they'll dip in waterways," says Kopke. "It's the same all over South Africa, whether you're inland or at the coast. You'll have people swimming, and you'll have those who just want to be in the water. There are so many different ways to enjoy the water. Whatever you're comfortable with is great. Just get in!"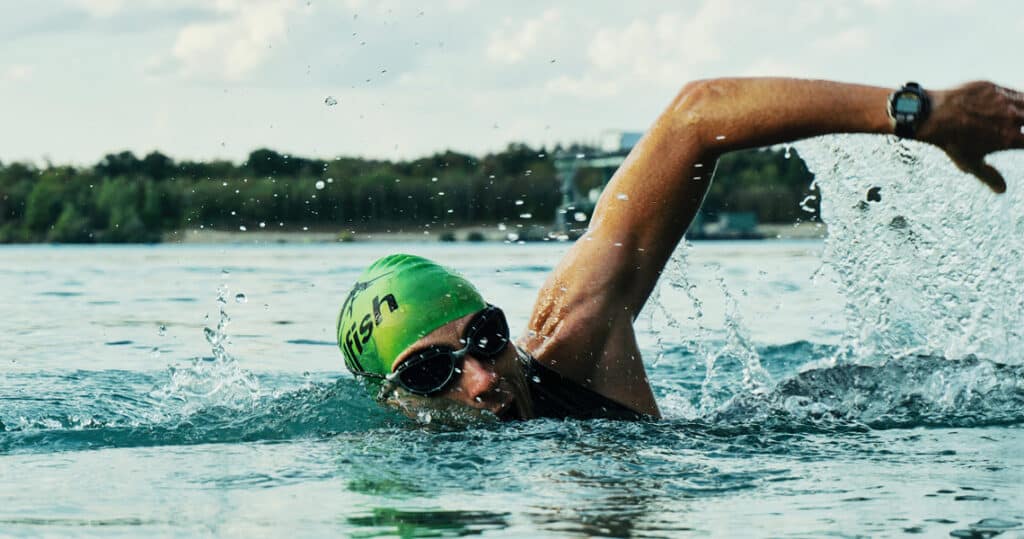 WHERE TO SWIM
Five open-water events to watch – or try!
The River Mile Africa's oldest open-water swimming event (it dates back to the 1920s) is a family affair, held at Cannonville on the Sundays River in Nelson Mandela Bay. zsports.co.za/river-mile
The Midmar Mile The world's biggest open-water event sees more than 13  000 swimmers hit Midmar Dam near Howick in the KZN Midlands. midmarmile.co.za
The Marina Mile This increasingly popular open-water swim is held at J-Bay's Marina Martinique. zsports.co.za/marinamile
Lighthouse Swim Extreme distance (5km) combined with extreme cold (it's the chilly Atlantic) make this swim between Milnerton Lighthouse and Big Bay one of the big events of the season. bigbayevents.co.za
Walkerbay Xtreme This spectator-friendly 2.5km event runs from Hermanus's New Harbour to the historic Old Harbour (and back again for the 5km), with plenty of viewing points along the way. walkerbayxtreme.com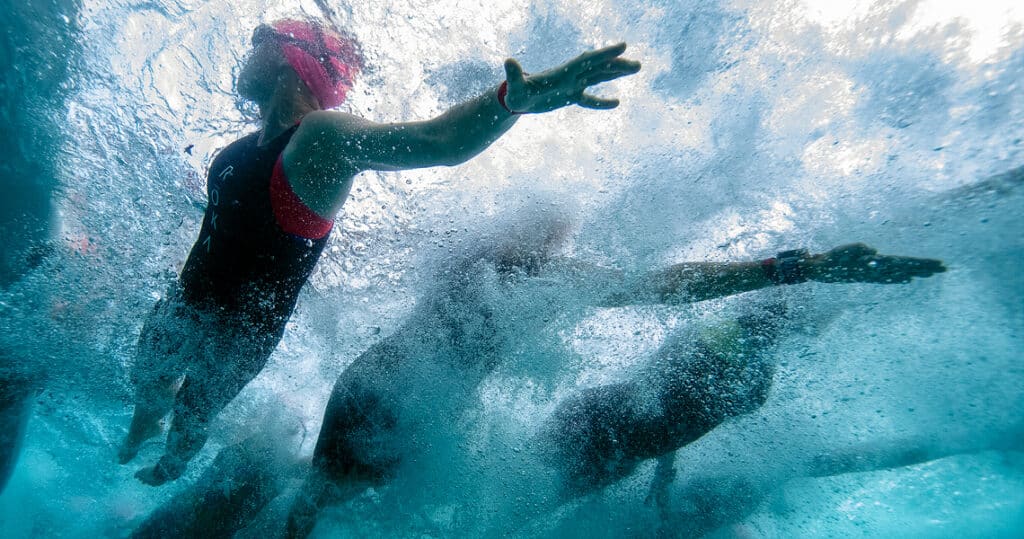 SA's Best Wild Water Swimming Spots
Grab a wetsuit (or not!) and immerse yourself in South Africa's most popular inland open-water spots.
1. SILVERMINE There's more to Cape Town than ice-cold oceans. Silvermine on the south peninsula is a gorgeous mountain dam that many locals use for open-water training.
2. VICTORIA LAKE Germiston Lake (as it's better known) also offers canoeing, rowing and waterskiing.
3. BASS LAKE Just an hour from Joburg at Henley on Klip, this outdoor hotspot also offers scuba, fishing, 4×4 tracks and MTB trails.
4. CRADLE MOON LAKE One of Gauteng's best open-water swimming venues, the 32-hectare Cradle Moon Lake benefits from
the clean waters of the Crocodile River.
5. LONGMERE DAM Located just north of White River in Mpumalanga, Longmere Dam (which is actually a reservoir) hosts one of the legs of South Africa's Open Water Series.
6. FLORIDA LAKE While Roodepoort's public swimming pool is far more famous, its lake also hosts open-water swimming events.
7. EBENEZER DAM A particularly pretty dam on the Groot Letaba River, Ebenezer hosts the Limpopo leg of Swimming SA's Open Water Swimming events calendar.
Not sure if the water's safe for swimming? Check the Cyanolakes app for bacteria warnings. cyanolakes.com