Hiking or hill walking. Trekking or tramping. Ambling or rambling. Potentially, maybe even a spurt of trail running on the side…
Whatever your favourite form of perambulation may be, there is nothing quite like escaping on foot into the great outdoors.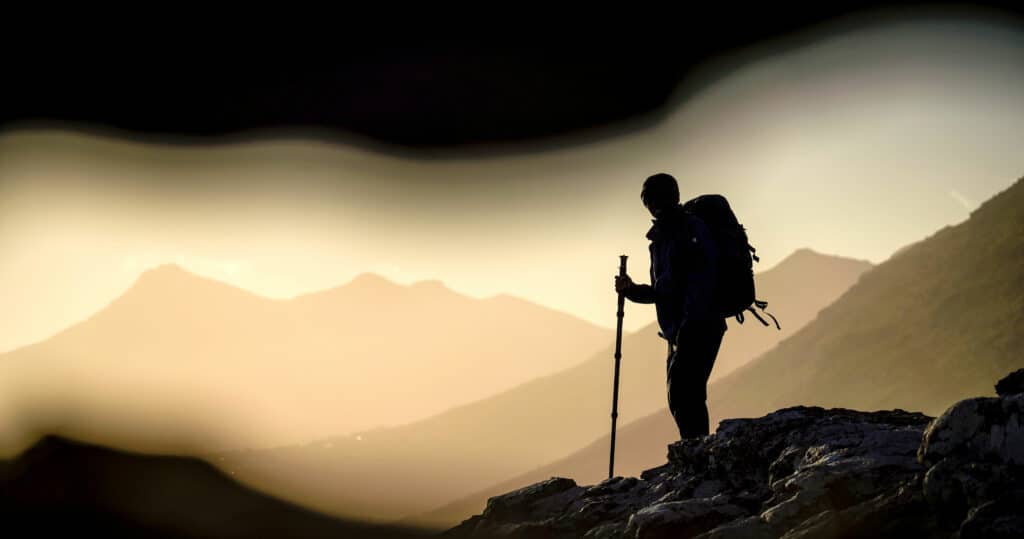 Aristotle, one of the earliest "rambling academics", believed strongly that movement stimulated thinking – and fervent hikers reading this are no doubt nodding their heads in agreement. Writer Henry David Thoreau seemed to agree too: "Methinks the moment my legs begin to move, my thoughts begin to flow."
Well, hold that thought right there if you live in South Africa, because we're slap-bang in the centre of prime hiking country. We have dozens of breathtaking multi-day trails to choose from (in both the figurative and literal sense of the word), including everything from easy grassland meanders to seriously technical coastal crushers.
Step onto these trails and you will overdose on a botanical treasure trove, with the full gamut of wilderness wetlands, indigenous forest and fragrant fynbos fields just waiting to be explored. You can tick off a dozen or more ecosystems along the way, and fall head over heels in love with nature.
Where do you start, though, when you have literally hundreds of trail options vying for your attention? The outdoor crowd have very differing views as to what is doable or beautiful or satisfying – but the following list of trails should tick most of these boxes.
BOOT UP!
CLIMB ONE OF THE WORLD'S NATURAL WONDERS
Skeleton Gorge & Nursery Ravine Circuit, Table Mountain (Western Cape)
Table Mountain tops the list for a multitude of hikers from around the globe. The steep ascent along Skeleton Gorge will test you, and the upper reaches will see you face the occasional scramble along rickety ladders and over giant boulders. Once you summit, keep left around Castle Rock before descending via Nursery Ravine towards Kirstenbosch.
FEEL-GOOD FACTOR
Think of it as Mother Nature's stair-machine, with the added bonus of fresh air and shade within the ravines. The Cape fynbos biome boasts towering stands of red alder, yellowwood and other indigenous trees amid a profusion of heather, protea and restios. sanparks.org/parks/table_mountain

SPOT A MOUNTAIN LEOPARD IN A MEGA-RESERVE
Leopard Trail, Baviaanskloof (Eastern Cape)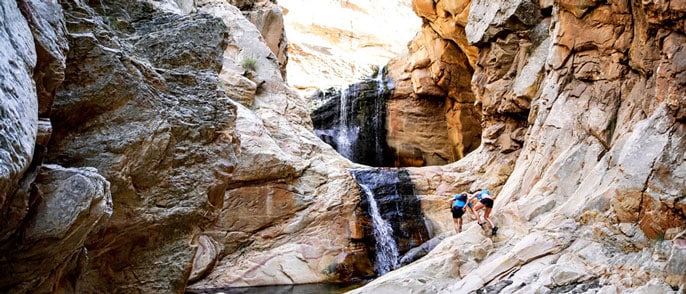 This 200km-long "Valley of Baboons" is hemmed in by mountain ranges to the north and south. The lower altitude results in intensified rainfall, creating a lush landscape with diverse fauna and flora. Slack-pack onto the four-day/three-night Leopard Trail for a testing mix of single- and jeep-track, with loads of shale and rock. The longest day is 22km.
FEEL-GOOD FACTOR
End-of-days views, rucked-up ridgelines, agoraphobic wilderness space, a chance to spot a spotted cat… This is an A-lister trek. A protected microclimate means you can hike the Leopard Trail for much of the year, but expect midsummer to clock into the high 30s, while winter serves up severe cold fronts. Book at gobaviaans.co.za – or trail-run it if you dare: leopardrun.co.za.

HIKE AN AFRICAN ICON
Otter Trail, Garden Route (Southern Cape)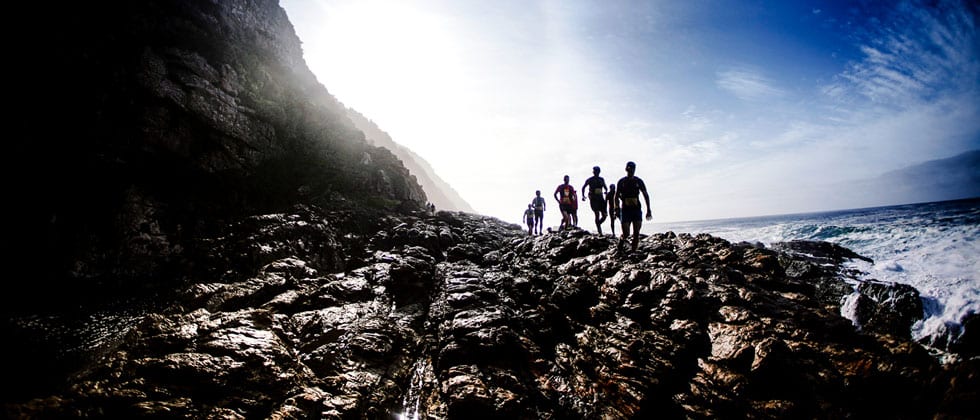 This mythical meander bangs you onto a rugged, clifftop path via one of South Africa's most diverse botanical kingdoms. The Otter Trail draws hikers from around the world to hike "one of the finest wilderness walks on Planet Earth". Start from Storms River to follow the pristine coastline for 38km westwards until you reach the seaside village of Nature's Valley. Hikers have to book years in advance, and are limited to groups of 12 people.
FEEL-GOOD FACTOR
The Otter Trail is iconic, and traverses a spectacular section of the Garden Route National Park. It's known for its lush green forests, deep gorges and steep cliffs overlooking the Indian Ocean, with breathtaking views across Africa's oldest and biggest marine reserve. Do it in one go during the Otter African Trail Run (otter.run) – or go for the full five-day schedule. sanparks.org/parks/garden_route

EXPERIENCE AN ADVENTURE IN CULTURE
Blouberg Reserve (Limpopo)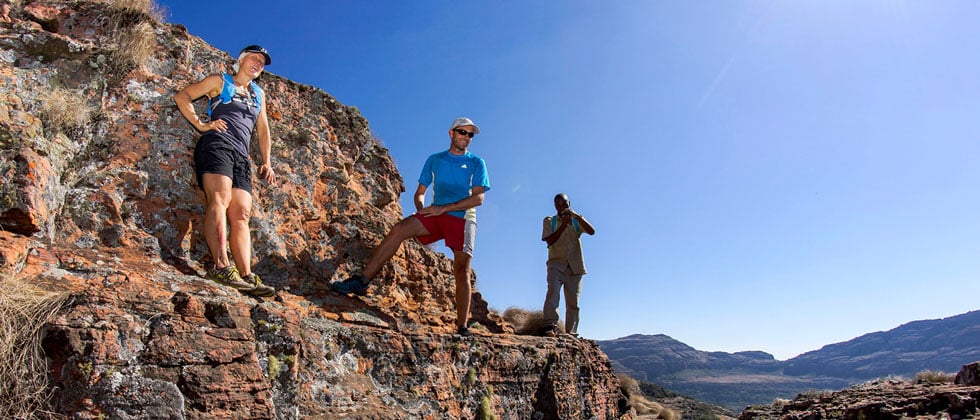 This is about as far off the beaten track as you will get anywhere on the southern African subcontinent. Just reaching Blouberg Reserve is an adventure – especially during the rainy season, when you will most definitely need a 4×4. The Cultural Camp in the reserve is part of the excellent "African Ivory Route", drawing its architectural inspiration from the local Bahananwa – a remnant splinter group who settled in this area centuries ago.
FEEL-GOOD FACTOR
Keep it easy on the Pools Hike (3km) or try extreme exposure on the 12km Cliffs Hike. There is also the option of summiting Blouberg Peak (16km) and visiting the vulture colony – but this is a full-day outing.
africanivoryroute.co.za

WALK IN A WORLD HERITAGE SITE
iSimangaliso Wetland Park (KwaZulu-Natal)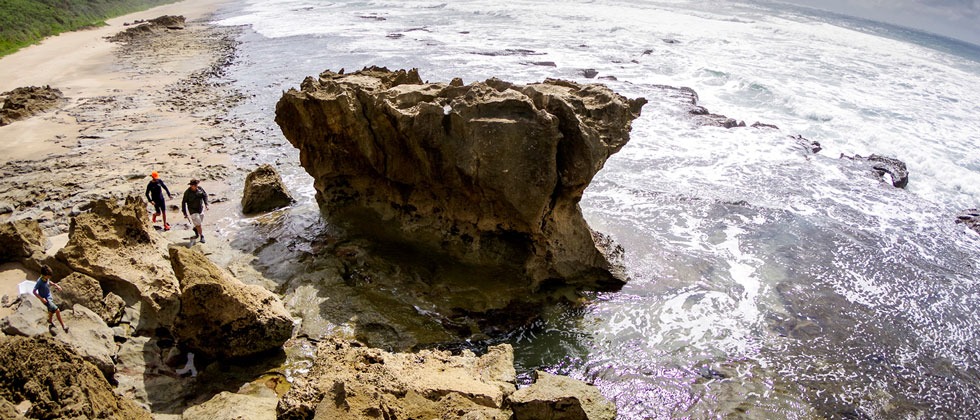 Biodiverse and globally relevant, this is just the place to visit if you're in the mood for a dose of "endless summer". Northern KZN's sunny season lasts for a good 11 months, and it scores top marks as a hiking paradise. Trails abound where beach blends perfectly with safari, with verdant sand forest, ancient grassland dunes, shimmering lake systems and vast wetlands unfolding onto picture-perfect coastal glory.
FEEL-GOOD FACTOR
Walk 25 000-year-old vegetated dunes with armed rangers, experiencing an incredibly rich and varied grassland ecosystem up close; hike to the Bat Cave near Mission Rocks; or go birding on the extensive estuary with crocodiles and hippos in attendance.
isimangaliso.com

HIKE, CLIMB AND RIDE IN THE PLACE OF THE CROCODILE
Waterval Boven (Mpumalanga)
Life is way too short for just one sport. Tranquilitas Adventure Farm is situated among the hills directly above Emgwenya, overlooking Waterval Onder and the Elands River Valley. There are more waterfalls here than anywhere else in South Africa, and the weather is excellent for most of the year. It's a world-famous rock-climbing and bouldering destination, but the hiking is off the charts as well.
FEEL-GOOD FACTOR
Most of the trails here were originally tramped by climbing crews making their way to rock faces and belay points, which means the views are to die for. Over the years, half a dozen mountain-biking trails have been added to the mix; they are consistently changed and diverted to create new permutations. Check out Rooibaard (12.5km), Secret Forest (4.5km) or the Rim Trail (8km), and look out for local and visiting trail runners who come here because of the relatively high training altitude (about 1 750m).
tranquilitas.com