The story of Conraad Venter and his rare, limited-edition 1984 Corolla 1800 TRD Liftback – a model that both brings back and creates fond memories.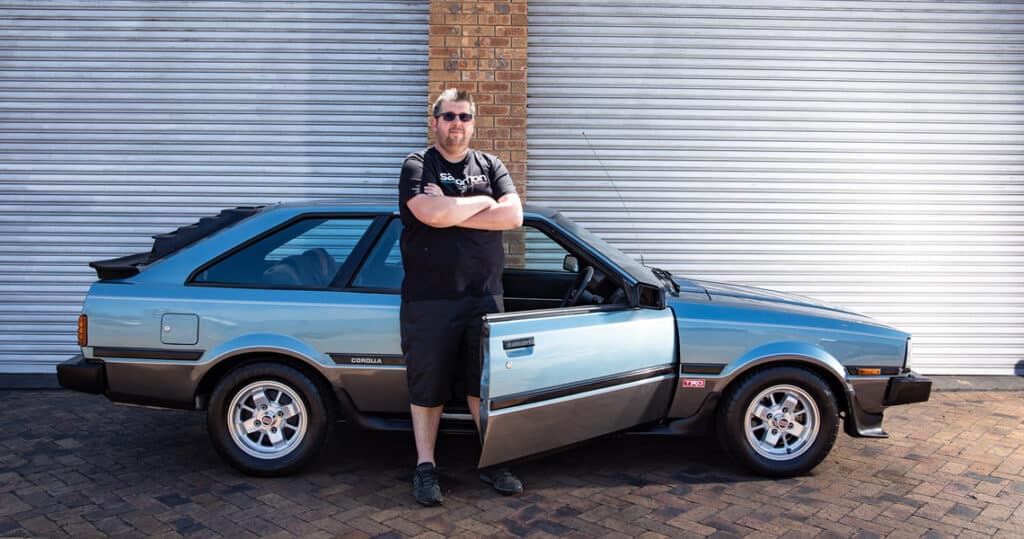 Leaf through the history books, and you'll find that Toyota has produced many iconic models since it was founded in 1937. From the svelte 2000GT of the swinging 1960s and the tail-happy AE86 of the neon-lit 1980s to the more contemporary Mk4 Supra that helped to propel the late Paul Walker to fame in The Fast And The Furious, this Japanese marque is no stranger to automotive pin-ups.
While most die-hard Toyota fans would no doubt pick the latter to park inside their dream garage, Cape Town-based enthusiast Conraad Venter prefers the more understated and somewhat lesser-known shape of his 1984 Corolla 1800 TRD Liftback. We'll meet him shortly; first, it's time for a brief history lesson
The history of a special South African Corolla
First seen in 1983, this sporty model was a homologation Class D rally special built in collaboration by Toyota South Africa and Toyota Racing Development (TRD) in Japan. Available only in our market and in limited numbers, these unique cars offered the man in the street accessible race-bred performance at a starting price of R12  200 (a mere R2  000 premium).
Compared to the standard SE Liftback, the TRD
hit the asphalt with a modified engine that claimed 25% more output courtesy of a special camshaft with increased overlap, strengthened valve gear and a pair of roary, twin-choke Dellorto side-draught carburettors. Exhaling through a free-flow exhaust system, this massaged motor allowed the TRD Liftback to scamper its way to 100km/h in 9.9 seconds, and reach a top speed of 184.7km/h.
This extra go was of course complemented by extra show: a set of lightweight Tosca alloy wheels, swollen polyurethane wheel spats and a rear deck spoiler were just some of the visual clues that alluded to this machine's mischievous persona. Flashy red-and-white livery licked the 1983 model year cars; those built in 1984 wore the stealthier blue-and-grey colour scheme of which Venter is particularly fond.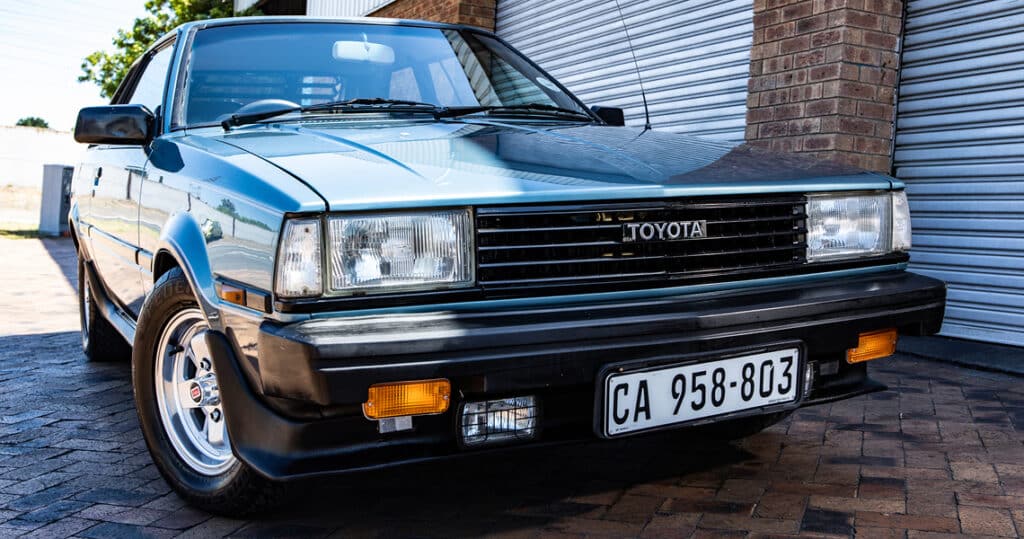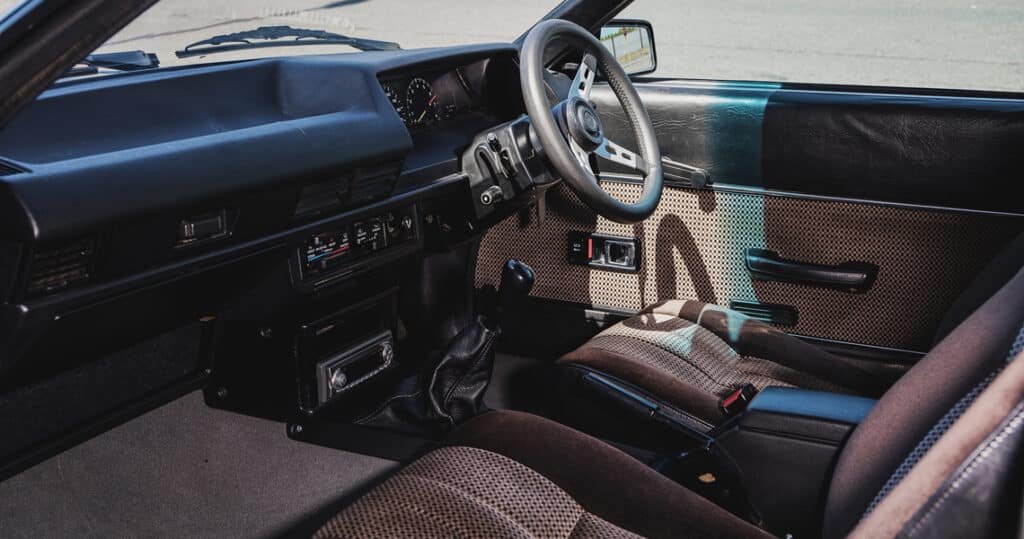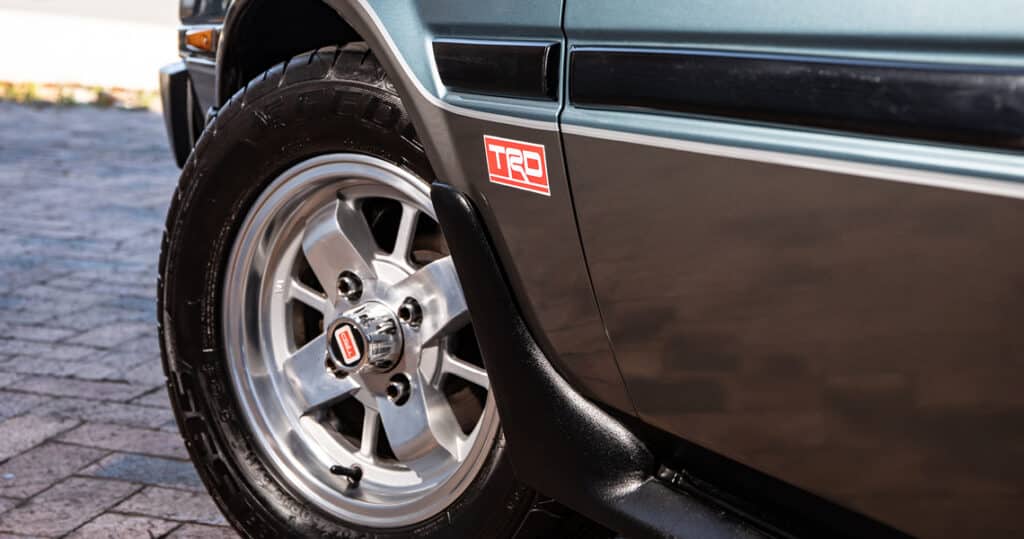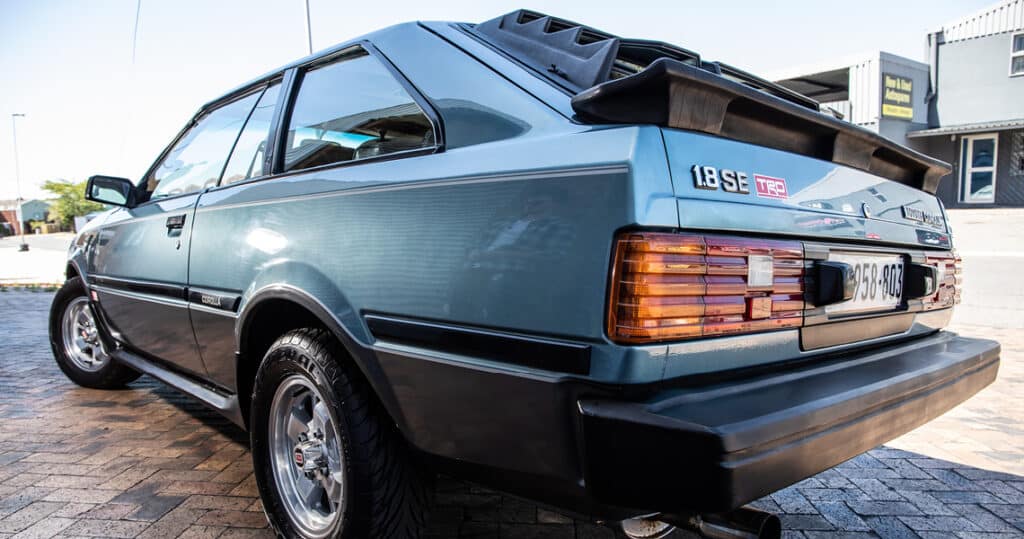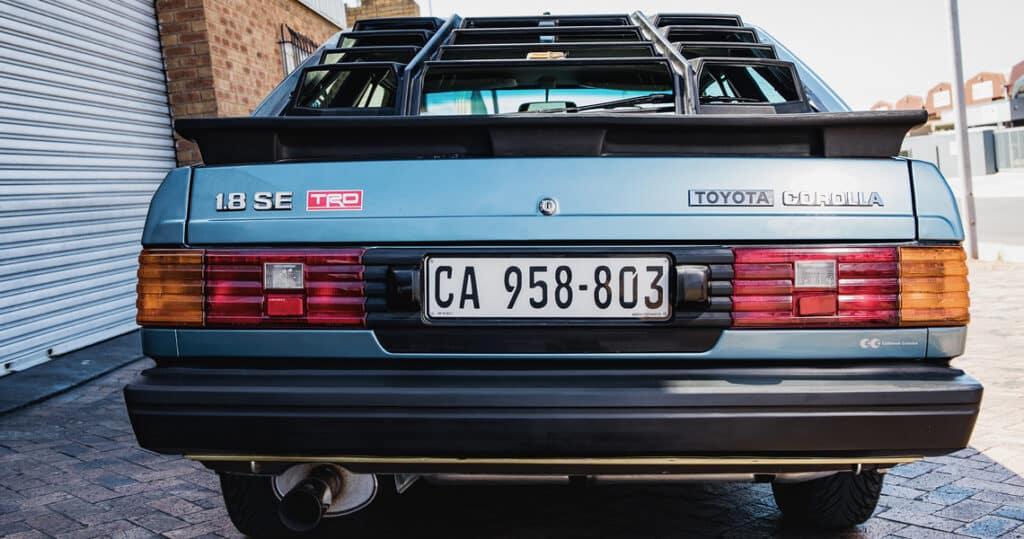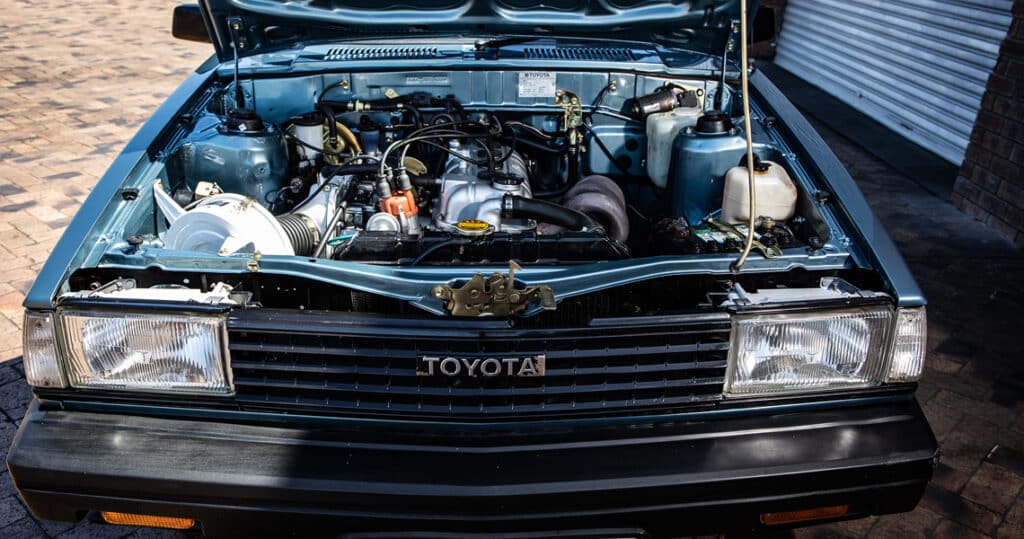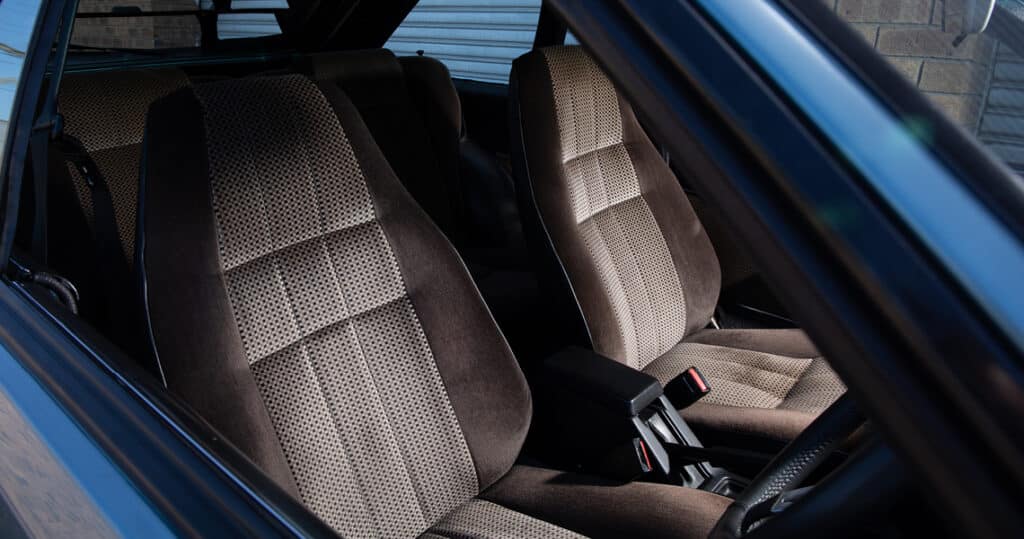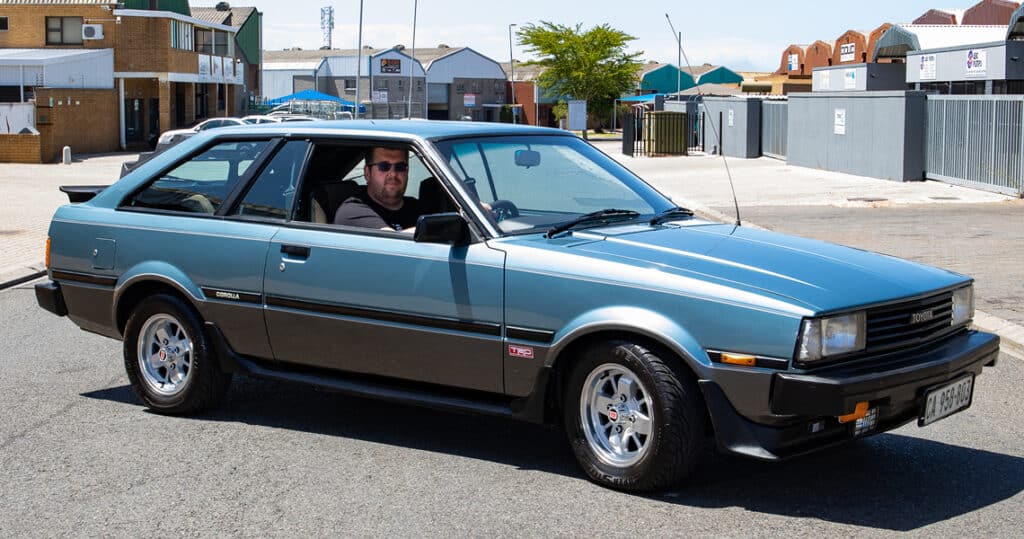 Venter's 1800 TRD Liftback
"My dad was always into cars," says the 38-year-old, "particularly those made by Toyota. Back in 1997, when I was a teenager, he tracked down and bought a 1984 TRD. His wasn't entirely stock, though; it had Weber carburettors and different wheels. He was unfortunately forced to sell it in 2000 after losing his job. Then, in 2005, he passed away."
In the years that followed, Venter decided that he was going to honour his father's memory by acquiring a 1984 TRD Liftback of his own – no mean feat, considering their scarcity. One day, en route to the airport, he spotted one moving through the traffic.
"I couldn't believe what I was seeing," he says of the chance encounter. "After I managed to get the driver to stop on the side of the road, we had a chat; I made an offer, and he accepted there and then. I transferred the money and bought the car that very day."
What followed was a comprehensive nuts-and-bolts restoration that slowly nursed the TRD back to showroom condition. While Venter conscientiously set about improving and strengthening numerous stock parts – such as the control arms and bumper stiffeners – legendary South African Toyota tuner Dave Repsold rebuilt the 1.8-litre engine at his workshop in Boksburg, Ekurhuleni. It was a time-consuming process that saw the spilling of blood, sweat, money and tears. The end result, however, proved to be well worth it.
"I've owned a Nissan GT-R before, and I'm not lying when I tell you that this Toyota attracts more attention," he says, his smile detectable in his voice. "When I take it out, I get hoots of approval and people giving me the thumbs-up. It's incredible." Although Venter mainly saves his factory-fresh TRD Liftback for easy Sunday jaunts, he's certainly not shy of taking it to the occasional car show, where the sight of this rare vehicular unicorn never fails to draw crowds of curious onlookers. "People go crazy for it," he says. "Even in the presence of 'fancy' cars like Ferraris and Lamborghinis, the TRD will be surrounded."
With so much petrol flowing through his veins, it's not surprising to hear that Venter has owned a variety of vehicles in his life. But while many of them have come and gone, this 1984 Corolla 1800 TRD Liftback is destined to be a keeper – not just because it's one
of 80 made in this colour that year, but because it's a gatekeeper of family nostalgia. "Whenever I drive the TRD, I remember my dad, the car he had to sell, and all those times we spent in it together," he says.
While it's good to remember the past, it's equally important to shape the future – and in this regard, Venter's cherished Toyota continues to play a pivotal role. "My father-in-law and my son join me for drives and also help me work on the car," he says. "Together, we're using it to build new memories."
It's proof once again that a car – an assemblage of metal and glass – can be so much more than just the sum of its parts.