IT'S SIMPLY ZOLA
A love for food that started as a young child sitting atop her grandmother's kitchen counter, grinding up mielies to be made into mielie bread. A love further fostered by a mother who was a fantastic home cook. A love that turned into a force like no other for celebrity chef and South Africa's darling, Zola Nene.
Zola's professional culinary career began with a trip to the UK. After realising a path in nance wasn't for her, the vivacious foodie packed her bags and set out on a gap year to discover her passion. There she found jobs working in professional kitchens where she eventually worked her way up to head pastry chef.And so a dream was born.
Returning to South Africa, she enrolled in culinary school. Her placements saw her working at some of South Africa's most renowned institutions, among them The Tasting Room at Le Quartier Francais under celebrated, award-winning chef Margot Janse.
From there, it was full steam ahead! She landed the gig of food stylist for the nationally broadcast breakfast show Expresso which, after seven years of gracing the screen as its resident chef, opened doors to the TV industry and set the foundations for a thriving career. Zola's warm, friendly and bubbly on-screen personality saw her go on to host a series of acclaimed local programmes such as The Great South African Bake O and Wedding Bashers South Africa. After winning over the hearts and getting into the kitchens of a nation, the next step was obvious: she embarked on writing her cookbooks.
First she wrote Simply Delicious, which was met with critical acclaim. It was soon followed by another award-winning publication Simply Zola. From one-pot dishes to dinners for one, she covers it all in her latest title, a testament to her connection with her ever-growing audience and how she's willing to give them exactly what they want.
For Zola it's a personal quest to prove that food and cooking good food needn't be pretentious nor difficult. Her books are packed with recipes that are simple to make yet deliver bold, deep flavours. There's no telling what's next for the culinary tour de force but if her past is anything to go by it's guaranteed to include wonderful meals, plenty of laughs and many more hours gracing our television screens.
Q&A with ZOLA NENE

WHAT IS YOUR FAVOURITE ROAD TRIP AND ROUTE TO TRAVEL?
I love travelling along the Garden Route. Driving from Cape Town through the Huguenot Tunnel all the way up to George and down on through to the Tsitsikamma.
WHAT'S YOUR FAVOURITE CHILDHOOD HOLIDAY MEMORY?
One that's always stuck with me is when I was really young and we went to the Wild Coast. I'm not sure why, but it's always been one I remember fondly.
WHAT IS YOUR FAVOURITE SA FOOD?
To pick just one thing would be a complete crime but my favourite SA ingredient has to be mieliepap. I love mielie meal in all forms!
WHAT'S YOUR GO-TO HOLIDAY RECIPE?
My mother's lamb curry, I always request it on holiday.
HAVE YOU OR YOUR FAMILY EVER DRIVEN TOYOTAS?
Growing up my dad drove a red Toyota. I don't recall the model. And my sister currently drives a Yaris.

ZOLA NENE PRESENTS MUESLI FRENCH TOAST
Yes, I know that everyone knows how to make French toast, but I often find that it can be boring to eat after a few mouthfuls. I've started adding extra crunch to mine by pressing some muesli into it, which makes every bite a pleasure because of the varying textures… hey, don't knock it till you try it!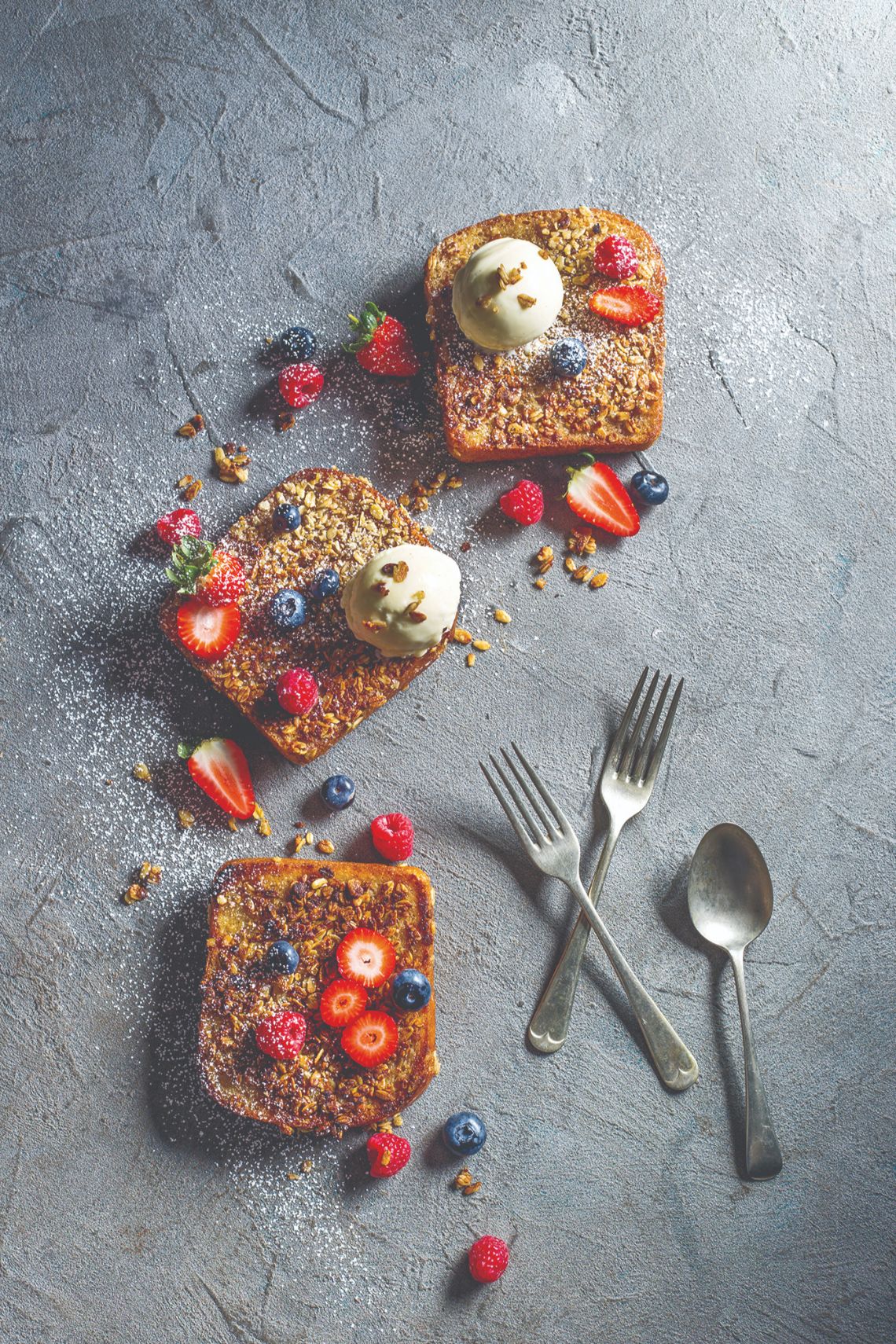 Serves 4
2 eggs
60ml milk
60ml sugar
5ml ground cinnamon
2.5ml nutmeg
5ml vanilla essence
4 thick slices brioche or kitke 250ml muesli
60ml unsalted butter
To serve: vanilla-flavoured frozen yoghurt, mixed berries, icing sugar
1. Whisk together the eggs, milk, sugar, cinnamon, nutmeg and vanilla essence. Dip the brioche or kitke slices in the egg mixture, then coat in the muesli.
2. Heat a pan, add the butter, then place the coated slices in the pan and cook over a low heat until golden brown on both sides.
3. Serve with a generous scoop of frozen yoghurt, mixed berries and a dusting of icing sugar.

STEVE STEINFELD