The Drakensberg (literally "Dragon Mountains") are unmatched in natural grandeur in South Africa, and the extensive ranges span the Eastern Cape, Kwazulu-Natal and Mpumalanga, as well as neighbouring Lesotho and Swaziland. Many of the peaks surpass 3 000m in altitude and it is no wonder its Zulu name, uKhahlamba, means "Barrier of Spears".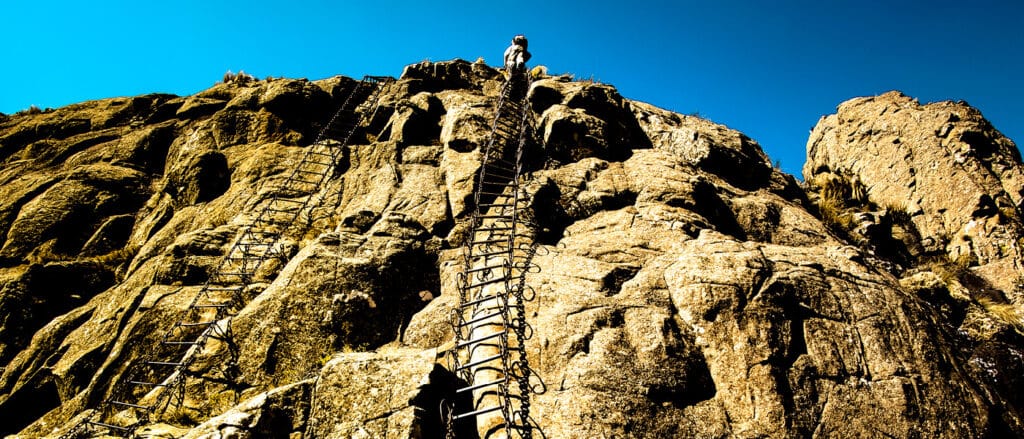 Today, I'm tackling the legendary Sentinel Hike in the Northern Drakensberg mountains. It's brass- monkey-bollocks cold here below the imposing loom of Beacon Buttress. All around, subalpine ridges bristle with bleak, frost-burnt grass, and the air bites champagne-sparkle clear.
In the distance, the Amphitheatre skyline – overshadowed by the burgeoning hulk of Sentinel Peak – goes all iconic before levelling out towards Sterkfontein and the Free State flatlands. I have no doubt I'm in Thin Air Country as I walk along a craggy footpath descending towards the "Three Witches".
It's been a special day – epic, even – on what undoubtedly rates as one of South Africa's premier hiking routes. There are no easy gains on the Sentinel Hike – it's a steep and craggy 3km slog just to reach the base of this gargantuan basalt monolith.
From here, the path flattens out for a while as you traverse along the foot of Beacon Buttress on your approach to The Gulley. Get ready for some heavy breathing and hard scrambling as you follow this mini-ravine upwards, with craggy rock faces looming up on either side.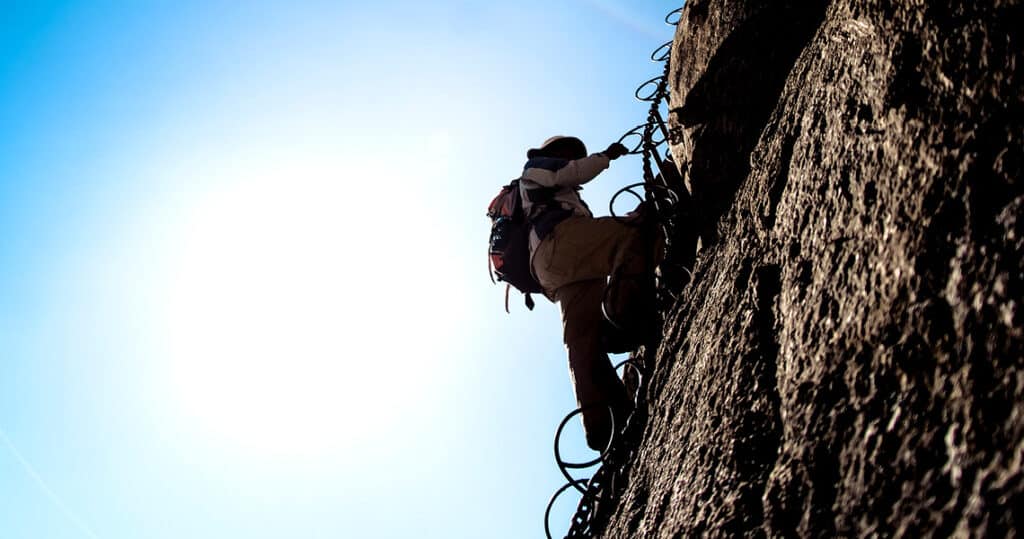 The rewards kick in as you crest onto a grass-land plateau to stand on top of The Amphitheatre at an altitude of more than 3 050m. It truly feels as if you have the whole of the world at your feet. Take in the magnificent vista towards Sentinel Peak, start your descent to Thukela Falls and then follow the eponymous river course.
You're not quite done yet, as Mont-Aux-Sources spikes on your left at 3 482m, the highest point in both the Drakensberg and South Africa. However, the defining moment for me on this incredible hike is encountering the chain ladders adjacent to the Elands River Falls, on the opposite side of The Amphitheatre.
They have a dwarfish feel to them, as if Gimli and his bearded Middle-Earth fellows fashioned them from pig iron deep within the Mines of Moria. You have no choice but to commit yourself to these rusted, yet rugged, metal structures, clinging like ancient mechanical caterpillars to the precipitous cliffs as you make your way downwards.
One thing, though: while you descend, remember to sneak an over-the-shoulder peek to take in the 270° panoramas – they are breathtaking in every sense of the word. Your circuit is nearing completion now as you traverse the buttress trail before returning to the car park.
And what a pleasure it will be to eventually head back to the spacious chalets of Witsieshoek Mountain Lodge, where you can grab a refreshing beer and reminisce about your fresh-air adventure – or if you prefer, get stuck into planning the next outing!
All in all, you can expect this exhilarating hike to take up to 10 hours – depending on your personal level of fitness – but the memories are sure to last a lifetime.
STAY HERE
Witsieshoek Mountain Lodge, at 2 220m above sea level, is the highest accommodation in the Northern Berg and makes for a perfect gateway to exploring the wonders of these incredible ranges. Local adventure operators offer a range of activities, including trail running, superb mountain biking, horse riding, big- wall climbing and fly-fishing. It is just the proverbial hop, skip and jump into the mountainous kingdom of Lesotho, where you can experience a diverse slice of Basotho culture in a part of Africa where life seems unchanged from a century ago.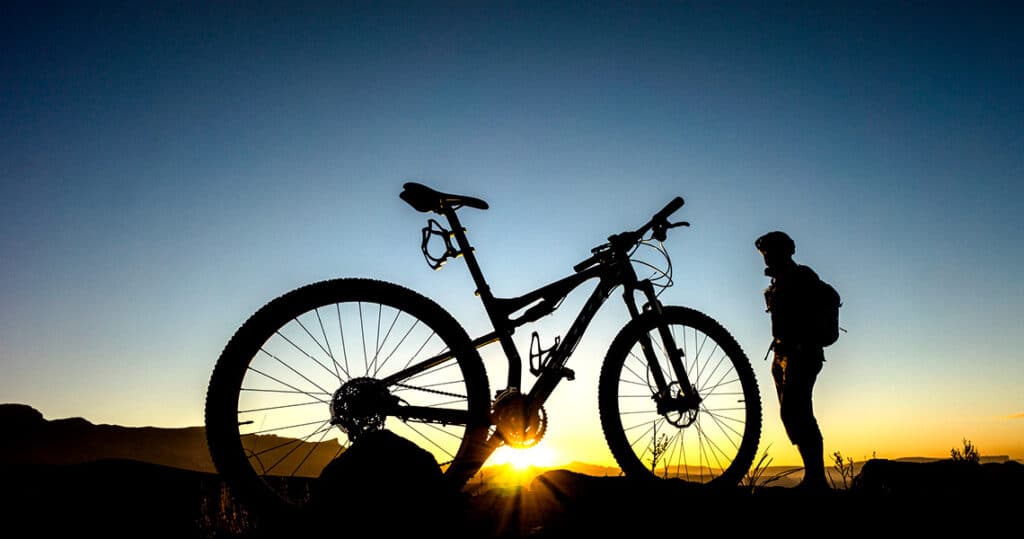 GO MOUNTAIN BIKING
The cranking here is off the scale, with anything going from grinding gravel road climbs to proper technical singletrack. If road riding is your thing, the 9km route from the lodge will bomb you down more than 1 000m before you dog-leg left and into a steep ascent.
A couple of quickie drops will give some respite, but this ride is 90% grunt. Sections of the road are being paved, but this could well take another decade. The return route reverses out the ascent and descent, making for 18km of impressive high-speed road surfing.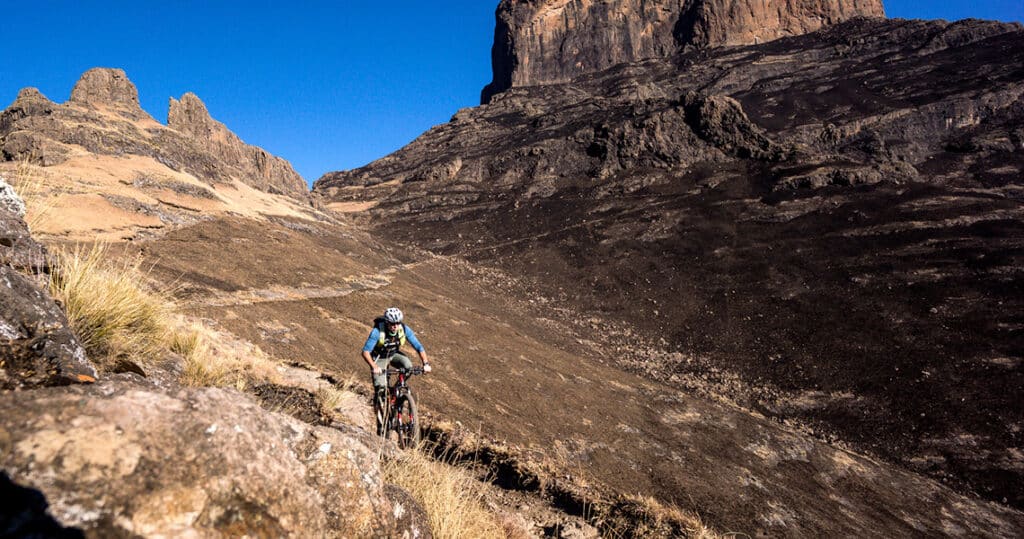 An excellent, technical single-track route has been created along the Metsi Matsho Hiking Trail from Witsieshoek Lodge. Point your front wheel downhill and speed into a combo of bermed trails and gnarly cattle track, with more than enough natural obstacles, stiles and wilderness thrown in to keep you coming back for more. Colour-coded trail options are wide- ranging, starting from the Green "Puff the Magic Dragon" Trail (2km) for the kiddies; an intermediate Blue "Sky Dragon Trail" 9.7km); and a Red "Dragon's Tooth Trail" (15.4km). The Black Trail has been subjected to loads of erosion, but would be a great challenge to more advanced riders. These make for top altitude-training trail runs.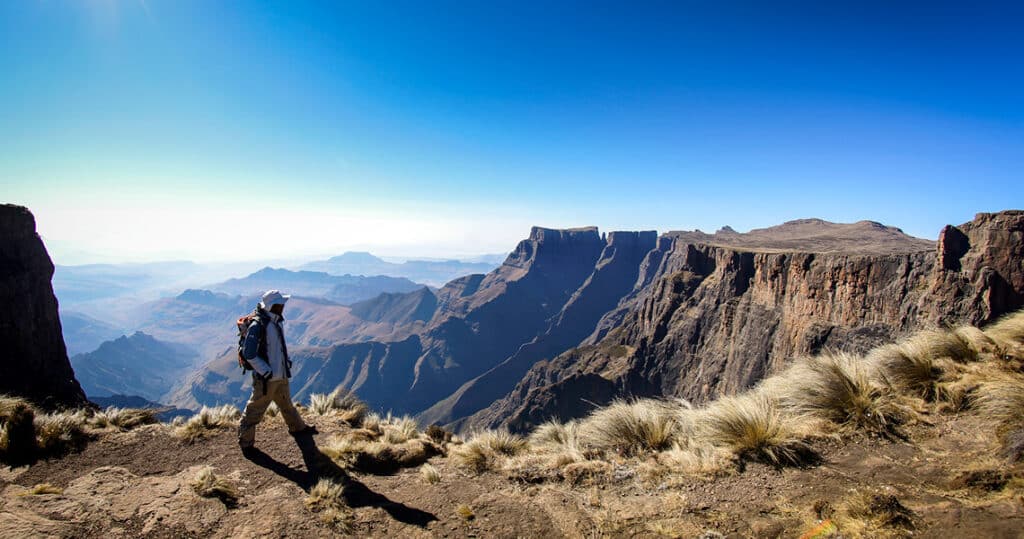 GO HIKING OR RUNNING
The Sentinel Hike is legendary, but if you fear you may not have the requisite mountain goat genes in place, there are numerous other trails to explore. You could opt for the Metsi Matsho MTB Trail as it offers a range of easy loops from 6–16km. Remarkable views and a relatively easy gradient along the contours make it a great afternoon trail run.
GO BIRDING
Should you need one final excuse to visit Witsieshoek, make it the Vulture Restaurant. Every morning, a fresh bone is delivered to a small outcrop near the lodge – on a silver platter, no less. If you're in luck, a bearded vulture may just spiral down for a breakfast snack. These endangered birds (Gypaetus barbatus) are a key species to spot here, while avid birders can tick off many LBJ "lifers" in these high-altitude grasslands. Keep an eye out for the Sentinel rock thrush (Monticola explorator), Drakensberg prinia (Prinia hypoxantha), Drakensberg rockjumper (Chaetops aurantius), yellow-breasted pipit (Anthus chloris) or the Drakensberg siskin (Serinus symonsi), to name but a few.
GO DRIVING
From high up in the mountains, you will see a large body of water glinting in the valley adjacent to Witsieshoek. This is the Fika Patso Dam and the drive here takes you along a stunning mountain road. There is also a hiking trail around the dam, but you need to plan for at least five to seven hours out on foot.
GETTING THERE
Take the N5 from Harrismith towards Bethlehem and turn left onto the R74 for 8.6km, carrying on straight when it turns into the R712 towards Phuthaditjhaba. Keep left after 29km onto R57 Mota Road. Follow the road for 30km through town and rural villages, but do not turn off. After another 29.8km keep left and follow the sign to Witsieshoek.
Add the Northern Drakensberg to your list of local destinations to explore once lockdown regulations allow.
ACCESS Last stretch brick/gravel, sedan okay.
CELL RECEPTION Yes
GPS COORDINATES 28°41'09.12" S / 28°53'57.76" E
WEBSITE www.witsieshoek.co.za