Embrace the beauty of nature by inviting greenery into your home.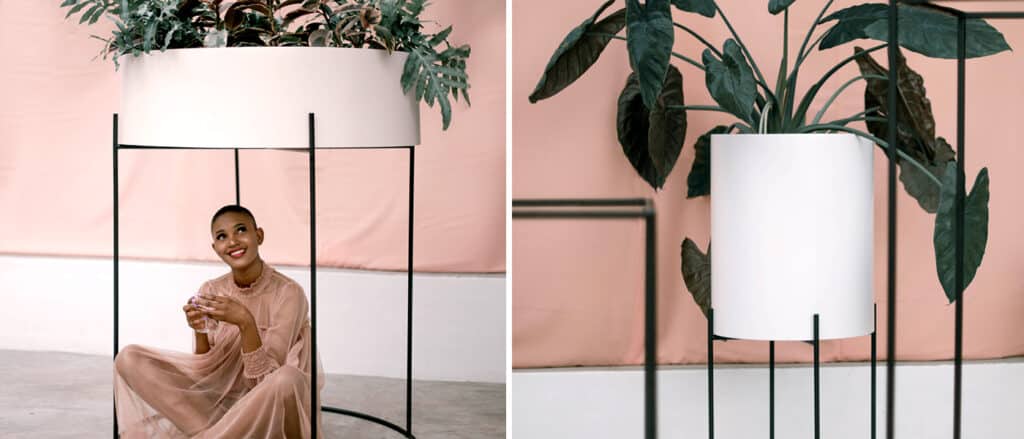 OUT OF THE BOX
Wildcat's plant stands are a smart alternative to cut flowers and office pot plants. These custom-designed, hand-manufactured planters are made by artisans in Johannesburg and display a weekly curation of lush indoor plants from the Wildcat greenhouse. If you love plants, but you're not into the maintenance involved, these trendy attention-grabbers are yours to rent and enjoy. wildcatplants.co.za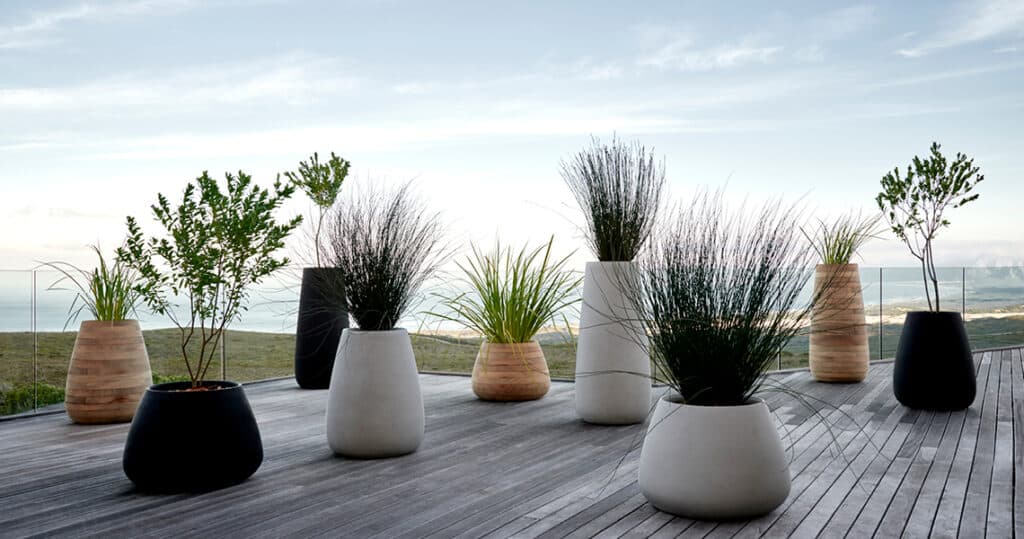 LIVING SCULPTURES
The Tuber range of planters is a collaboration between Indigenus and designer Haldane Martin, crafted from African iroko – a hard timber used for boats, flooring and outdoor furniture. The planters will weather all conditions, drawing their strength from individual cut pieces of wood bolted together with stainless-steel pins. The hand-assembled 'vessels' sit as if rooted in the ground and work especially well in groups of three or more. Glass- reinforced concrete versions have also been introduced. indigenus.co.za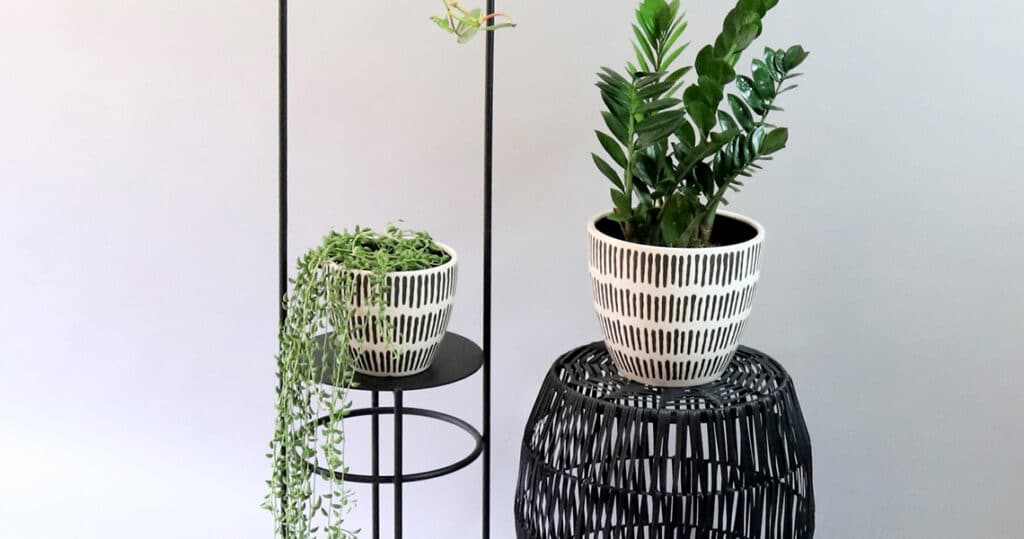 STACK 'EM UP
This graceful arching stand gives you the freedom to suspend hanging plants from the top hook, while the smooth bottom disc is ideal for table pots. The Atrium's Leonardo stand is handcrafted by South African artisans from mild steel and powder-coated in matte black for a flawless finish. This compact plant stand is all about clean lines and highlights greenery without overpowering it. atriumplants.co.za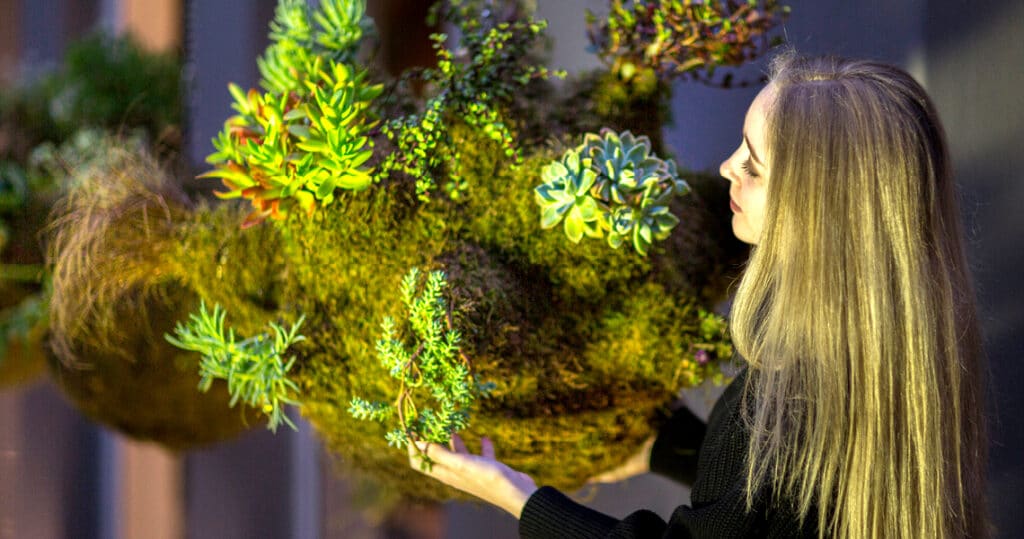 HANGING OUT
The WAZ Outdoor Hanging Gardens Collection comprises giant kokedama of 50-85kg and 50cm-75cm in diameter that almost magically hover in the air. They make a spectacular botanical masterpiece to liven up a patio, atrium, walkway or any outdoor area. Each unique Hanging Garden is a living artwork – constructed using intricate stitching to form a lush tapestry of moss, soil and the crowning glory: a combination of 14+ expertly selected plants in a functional, aesthetically delightful design. Sold through decorators, designers and architects. wazoutdoor.com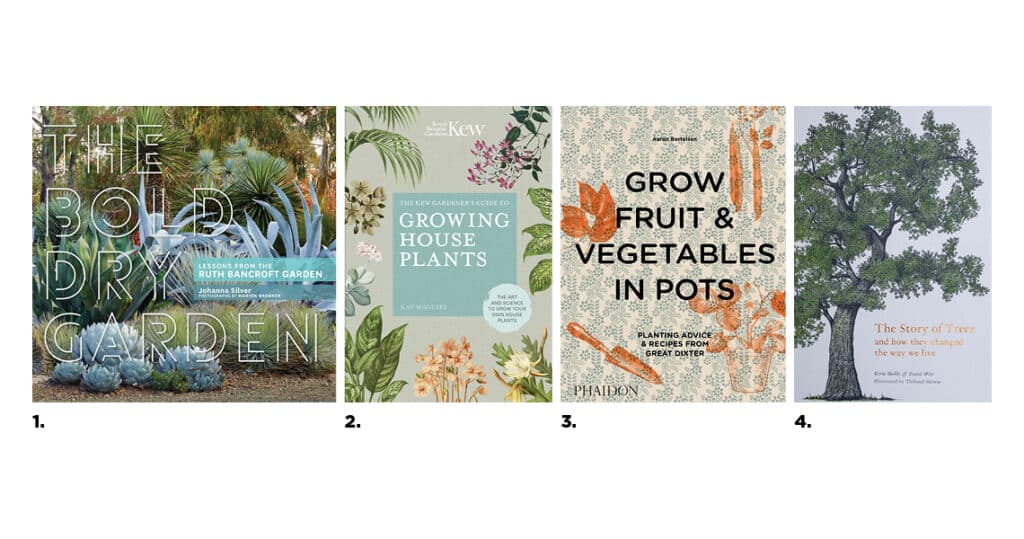 1. THE BOLD DRY GARDEN: LESSONS FROM THE RUTH BANCROFT GARDEN By Johanna Silver, Timber Press, R739
Evocatively photographed by Marion Brenner, this book showcases the California garden created by Ruth Bancroft (1908-2017). After deciding to focus on succulents in the 1970s, she ended up with more than 2 000 species of cacti, succulent shrubs and trees – proof positive that you don't need water to create something genuinely gorgeous in a garden.
2. GROW FRUIT & VEGETABLES IN POTS: PLANTING ADVICE & RECIPES FROM GREAT DIXTER By Aaron Bertelsen, Phaidon, R670
Focused on the expert advice of renowned Great Dixter gardener and cook Aaron Bertelsen, this beautifully designed volume provides clear, practical advice for successfully growing your own fresh produce in containers. Includes 50 recipes that showcase the resulting ingredients.
3. THE KEW GARDENER'S GUIDE TO GROWING HOUSE PLANTS By Kay Maguire, White Lion Publishing, R269
There are loads of guides to growing indoor plants available right now, but this one – published under the aegis of one of the world's top botanical gardens – stands out from the pack. Combining delicate botanical illustrations with 12 enjoyable practical projects, it's both informative and inspiring.
4. THE STORY OF TREES AND HOW THEY CHANGED THE WAY WE LIVE By Kevin Hobbs and David West, Laurence King, R670
Maintaining, as its foreword writer suggests, 'a delicate balance between fact-finding and story-telling', this exquisitely illustrated book presents 100 species of trees from around the world. A great gift for gardeners, it's also a volume to present to anyone fascinated by trees in general. We'd just like to request that they include the baobab in any revised editions…