Inspired by nature and its organic forms, furniture designer John Vogel reinterprets vernacular design through woodwork and weaving.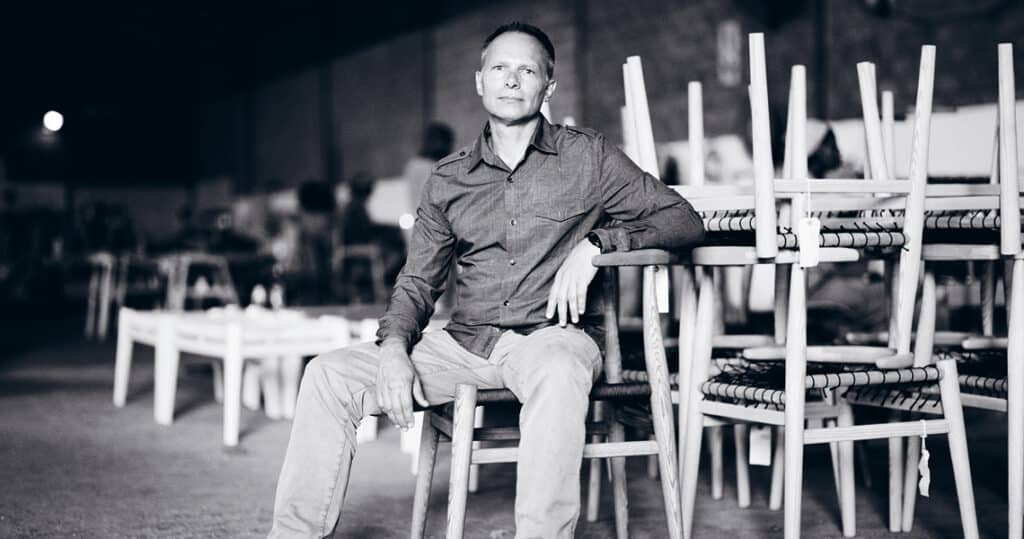 2006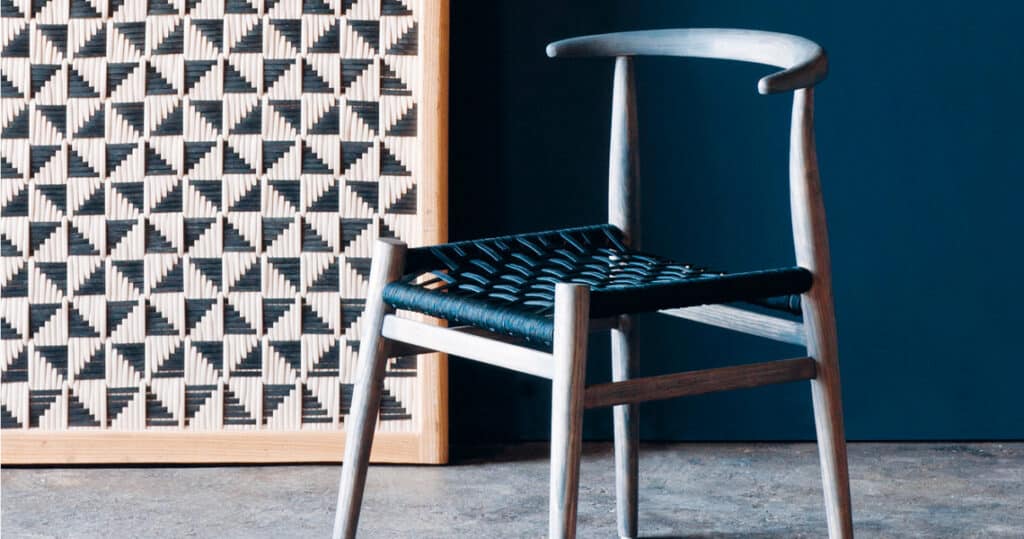 The Nguni dining chair was designed a year before I opened Vogel Design, and was first supplied to a restaurant called !Khwa ttu on the West Coast. That chair kick-started everything – it became one of the best-selling pieces in US store West Elm's "design under licence" programme. Back then, I had no workshop or big machinery, and made the prototype by hand with an angle grinder and drill in my garage, weaving the seat as an experiment. The weaving of the chair (and my subsequent designs) is my reinvention of the riempie style.
2013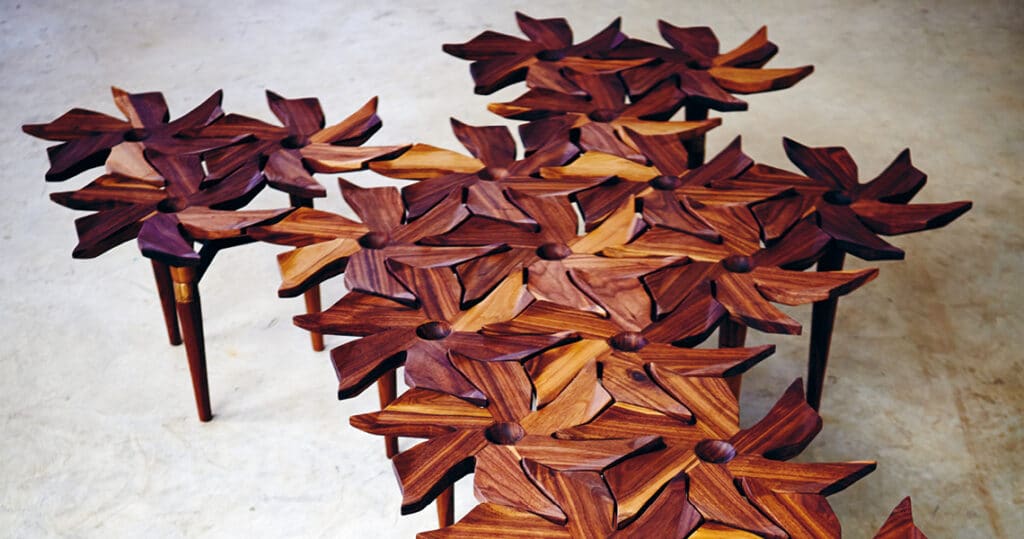 I started designing limited-edition pieces for collectable design gallery Southern Guild because I don't like to be restricted to one way of thinking. In 2013, I launched Bloom, which the gallery has shown at fairs around the world. The first piece was made from walnut wood. It was inspired by the Namaqualand flowers, and is made up of separate side tables that fit together like a never-ending puzzle, which you can arrange as you wish. I love it when people interact with the piece.
2015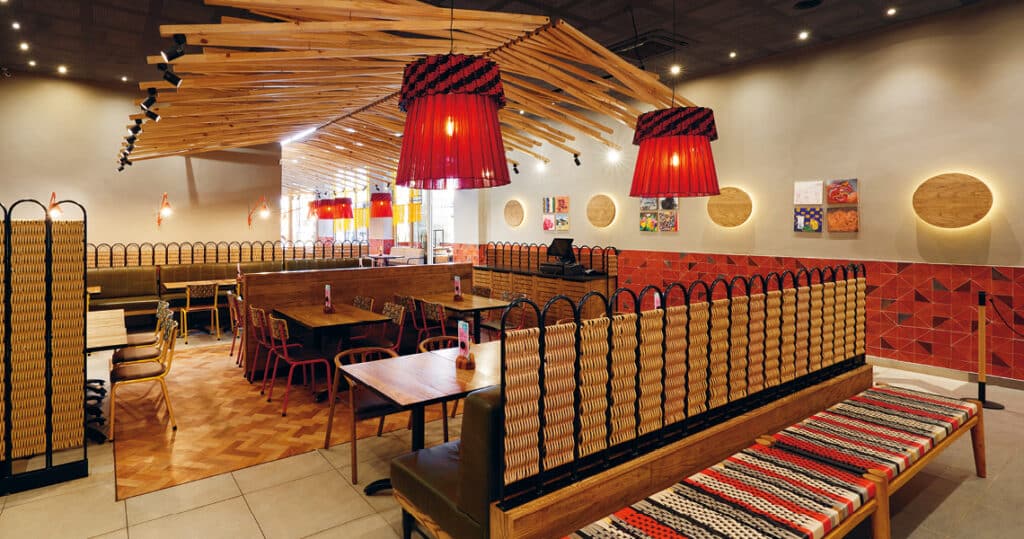 I've been working with Nando's ever since interior designer Tracy Lynch approached me to design pieces for Nando's Central Kitchen in 2015, and we clad their offices and conference room in woven panels. Now our products are available on the Nando's portal for all stores to procure, and we've decorated many of its restaurant walls. Our work, made by my 30-strong team, appears in more than 50 outlets around the world.
2017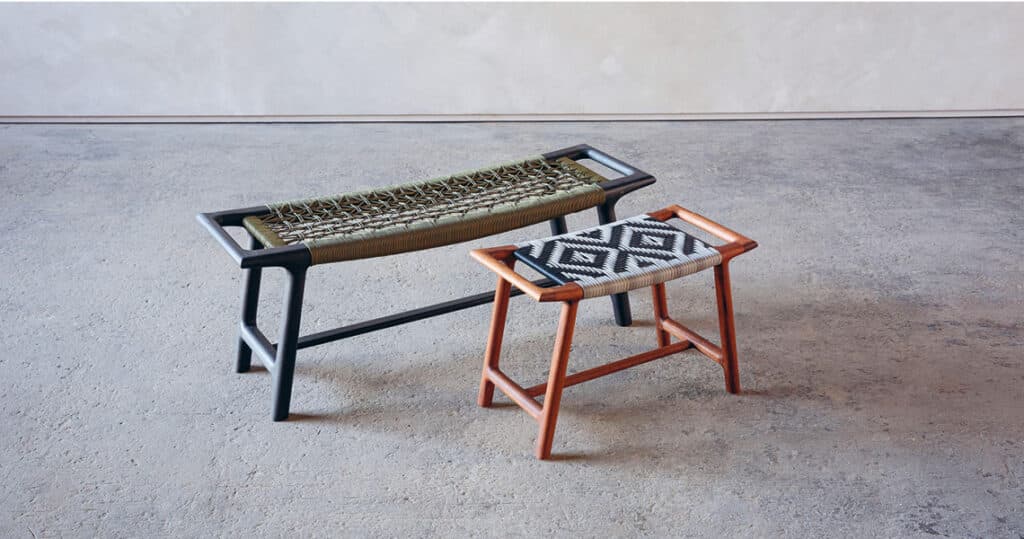 The Rus bench debuted at Maison&Objet in Paris in 2017. It was specifically designed for export, and is a smaller, more adaptable piece that suits the European market, where people live in smaller spaces. It can be used as a side table, bench or stool, and the weaving can be done in either cord or plastic, in a variety of colours. Plastic makes it suitable for outdoors and also allows for more solid pattern options. I love the hands-on aspect of weaving, and now employ five weavers dedicated to this craft in my factory.
2018

Ripple is one of my latest designs. It is a flat-pack ebonised-ash table that's simple but expressive. The table looks like it's almost separated from the legs, so it deconstructs the idea of a dining table in a subtle way.
The ripple shape is the first of a variety of legs that I will be designing for this tabletop, and is my interpretation of modernising a traditional turned leg. The repeated pattern was inspired by a similar-looking jar that I got in Mozambique. I have chosen wood as my speciality because I love its wonderful warmth, beautiful grain, and the fact that it's sustainable if it's managed well. It's one of the great noble materials, and fits in with all my design ideals and values.