Limpopo boasts some legendary back roads – and the juddering track traversing the tribal Tswana heartland to Blouberg Nature Reserve rates right up there.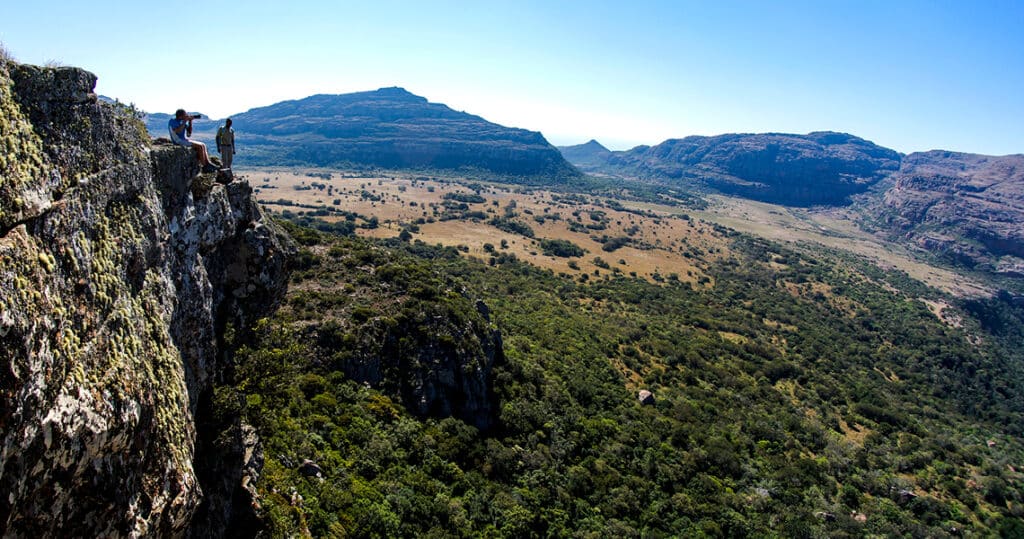 A shadow swoops across the face of "Moonshadow Wall", a sheer granite cliff that plunges into the indigenous Afromontane forest bristling 350m below us. Seconds later, a colossal Cape Vulture banks into the thermals rising up from the valley floor, soaring close enough for us to lock eyes as it glares in our direction.
The proximity of the bird – also known as the Cape Griffon, one of the old-world vulture species – lends it a surreal feel, as though a pterodactyl has time-jumped to the Blouberg massif to perform a fly-past. It seems disappointed that none of us is at death's door, and does a final circle before spiralling effortlessly upwards into the wide bowl of the sky.
We're left staring into the void, sitting with our feet dangling over the edge of the precipitous cliff. Hundreds of metres below us, our base camp languishes in the valley, surrounded by stabbing peaks and nestling upon densely wooded banks of a cascading mountain stream.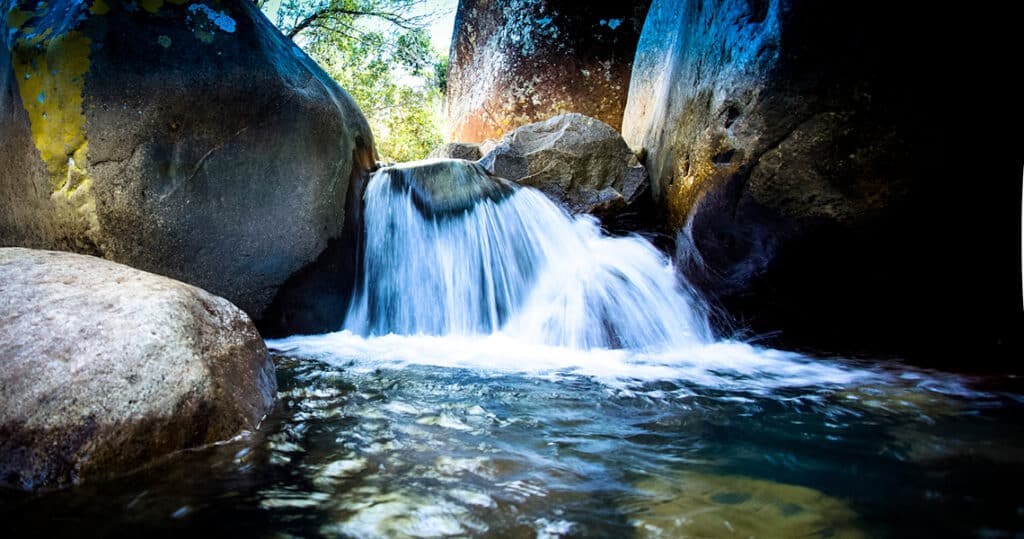 We left there this morning at sunrise, following in the jaunty footsteps of our guide, Khomotjo Sekiba, as we crossed a vodka-clear stream gushing over polished boulders. "There are leopards here, but they usually keep to themselves in those dense kloofs," he explained as we grunted against the incessant tug of gravity.
The gnarly footpath ascended from riverine bush into thorny montane vegetation, zigzagging ever skywards until we eventually crested onto a grassy ridge traversing towards the final approach.
A rather sketchy scramble to the summit along a nearly vertical drop-off – bristling with thick, tangled brush – followed, before we eventually reached our lofty viewpoint on the top of Moonshadow Wall.
We're pumped with adrenaline as we sit here at the zenith of one of South Africa's premier big wall rock-climbing sites, but the "church of the great outdoors" beckons all round. The fact that there are cold beers waiting at camp is all the motivation we need to get moving…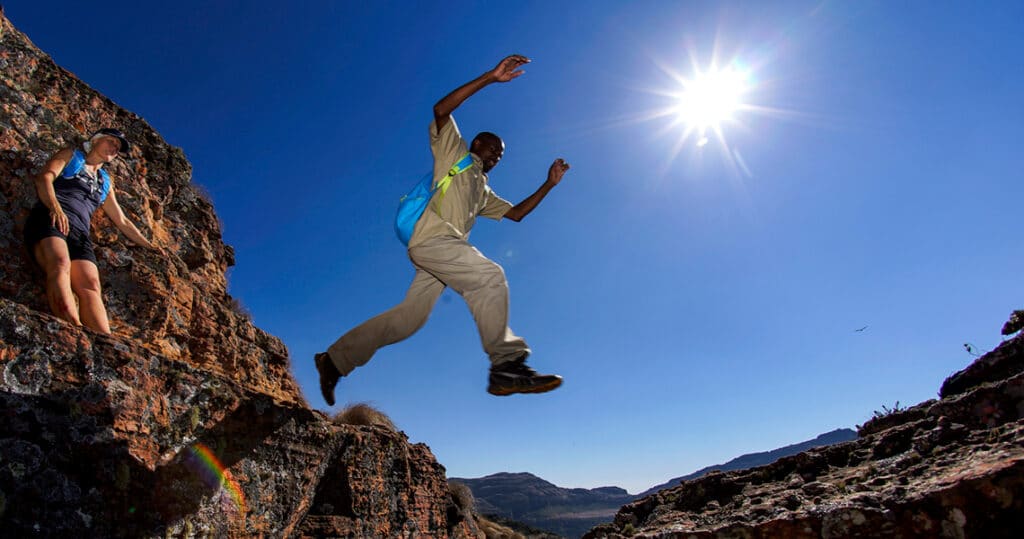 WE'RE LEFT STARING INTO THE VOID, SITTING WITH OUR FEET DANGLING OVER THE EDGE OF THE PRECIPITOUS CLIFF.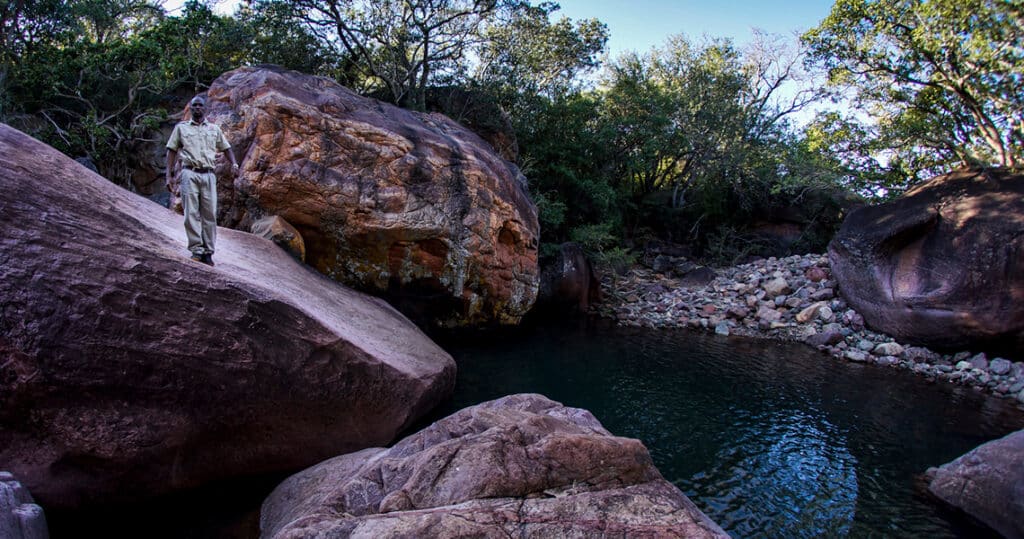 DO THIS
The good news is that this swathe of tribal land near Senwabarwana (previously Bochum) in Limpopo boasts way more than just hard-core hiking. Outdoor adrenaline and leisure opportunities abound, with a full house of cultural community activities to boot. So whether you want to soak up the sun, tramp into the emerald undergrowth in search of rare birds, or go endorphin hunting, know that you can do it all right here.
GO CRANK
Blouberg Nature Reserve might not be top of the pops when it comes to mountain biking, but it's worth your while to bring a bike. The local village is an easy – if rather rocky – 8km ride away, and will also allow you to grab a cold beer and interact with the local Tswana people.
GO BIRD
The bird you really want to spot is the elusive African Wood Owl, so listen out for its melodious hooting while sitting around the fire at night. Both the Cape Vulture and Verreaux's Eagle may be spotted from camp, but a summit hike will get you up close and personal with these imposing birds.
Blouberg Nature Reserve boasts an impressive list of 232 bird species, and many birders come specifically to visit the Cape Vulture (Gyps coprotheres) breeding colony in the high cliffs. Approximately 800 breeding pairs make this an important stronghold for the threatened species, and a visit to the "vulture restaurant" guarantees good photographs. Also look out for the African Hawk-eagle (Aquila spilogaster), Bar-throated Apalis (Apalis thoracica), Pied Barbet (Tricholaema leucomelas) and Freckled Nightjar (Caprimulgus tristigma).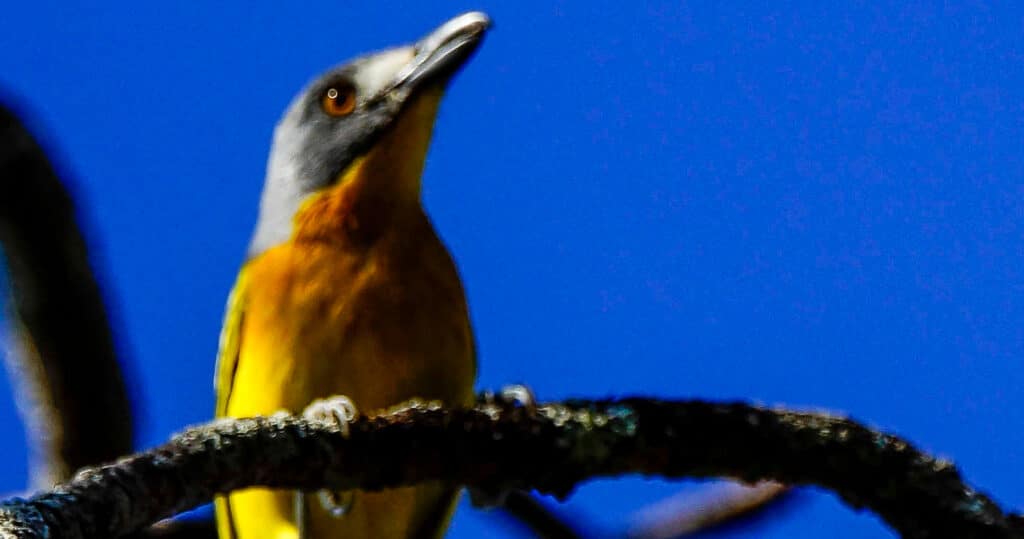 GO HIKE
A range of short hiking trails can be easily accessed from camp, and guides can accompany you on these. (Signage is minimal, and some local knowledge will be good, especially on the more technical routes.)
Start off with the easy "Ledjiba la Makgowa", or "Pools of the Wise" – a flat and relatively easy return walk of about 4km. Crystal cascades of water and giant boulders await at the end of a rocky river trail winding amid towering Euphorbia candelabrum, ficus and acacia trees.
A guide is a must for Blouberg Peak; this would constitute a full day out for most hikers. Crossing the river takes you onto the Pools of the Wise trail, but you soon split left to ascend up to the neck between the peak and the cliffs to the north of camp. After passing the abandoned village, continue to Blouberg Mountain Camp, where you can overnight if you arrange this in advance. The final push to the summit is a tough ascent through broken ground.
GO CLIMB
Blouberg Nature Reserve boasts a range of exposed and challenging routes of up to 12 pitches in total. The looming North Wall is rated as one of the best big wall climbs in southern Africa, with a superb vista unfolding across the Vhembe Biosphere region. Reaching the face is an expedition in itself, with various possible approaches; the hike from the farm Isaac's Kraal is probably the best-known route. The approach hike alone could take up to a full day.
Once you get to the base of the cliff, you are in for some hard-core climbing. There are no easy routes: all are long, sustained and exposed, and (take note!) their grading could lull you into a false sense of security. "Last Moon" is one of the easier routes, with awesome climbing on the adjacent "Chickenheads" or "Teddy Bears' Picnic". The area is extremely remote, which adds to the psychological challenge. Contact the Mountain Club of South Africa in nearby Alldays for more info.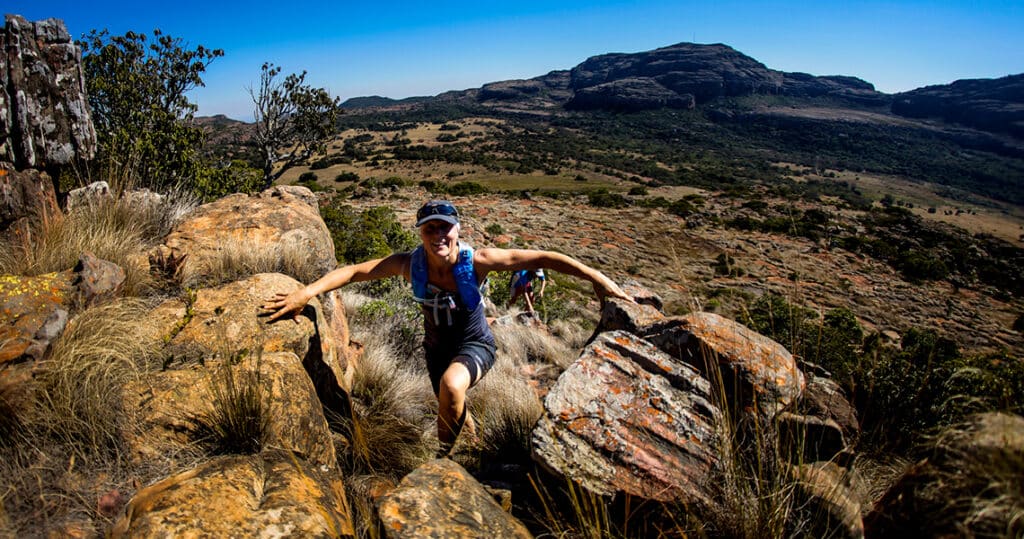 GO EAT
Pre-book a traditional meal at one of the village homes (with some drinks and shooting pool at the local tavern beforehand, if you're keen). Chances are there'll be "walkie-talkies" – chicken heads and feet – on the menu, so make sure you come hungry.
OUTDOOR ADRENALINE AND LEISURE OPPORTUNITIES ABOUND, WITH A FULL HOUSE OF CULTURAL COMMUNITY ACTIVITIES TO BOOT.
GETTING THERE
This is a proper moer-and-gone drive; as such, it's best attempted in a 4×4. From Polokwane, head 63km towards Dendron, then turn left towards Senwabarwana. After 20km, take a right turn to Indermark, a left after 1km to My Darling, and a right onto the D2233 after 9km. Look for the "African Ivory Route" signs to Blouberg from here – you have 12.5km of tar and about 4km of dirt to go.
Take note: Blouberg Nature Reserve is not a resort, and you need to be self-sufficient to enjoy this off-the-grid experience. You are surrounded by bushveld, with cook-eggs-on-a-rock summer heat and the potential for severe electrical storms. Autumn and early winter months promise clear skies and cold nights, so pack warm clothing for those starry evenings around the fire. The closest shops are in Polokwane, but the water is fine to drink. Bring sleeping bags, towels and plenty of wood – the latter is available at the camp, but at a rather hefty price.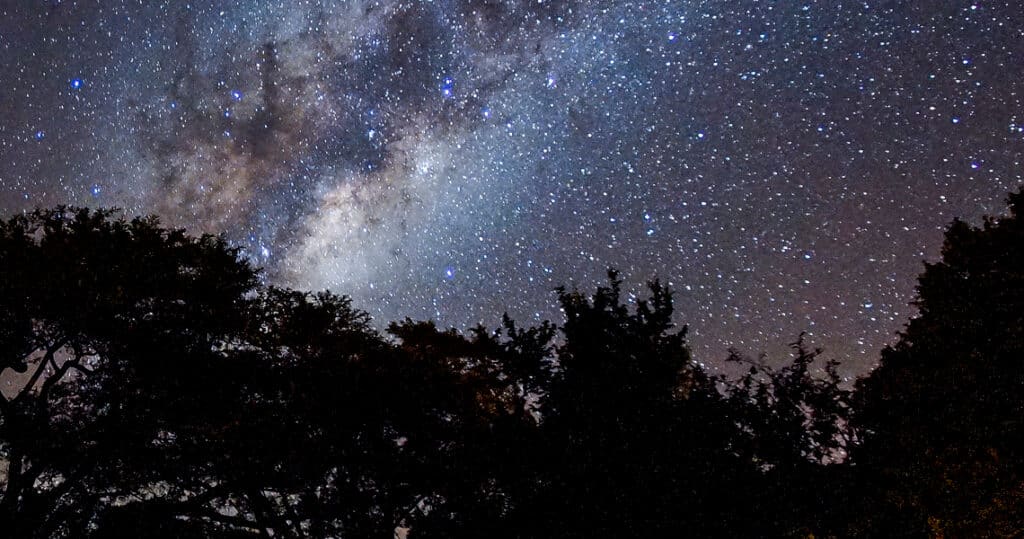 ACCESS
High-clearance 4×2 vehicle (minimum)
CELL RECEPTION
Weak to nonexistent signal
GPS COORDINATES
S23°06'37.64"; E28°59'07.73"
CONTACT
africanivoryroute.co.za | +27 (0)82 886 0989