THE IMAGE
The 'Eskimo Roll' is one of the first manoeuvres to perfect in a white-water kayak.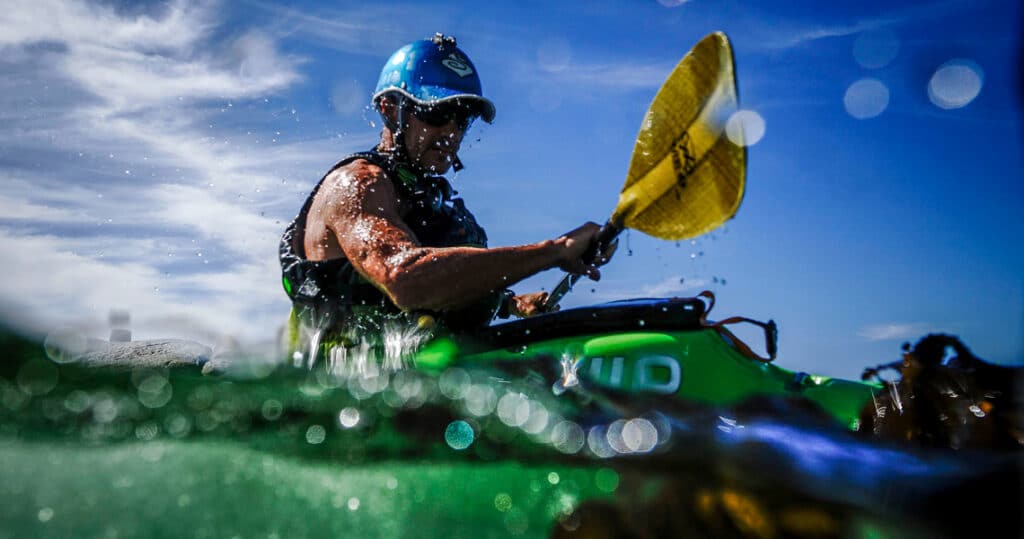 THE TECHNIQUE
Underwater photography takes you into Planet Earth's last remaining 'great wilderness'. We've mapped a mere 19% of the world's vast oceans and have explored only minuscule parts of this Big Blue playground.
Visually, water shots can be stunning, but you do need to invest in the right gear. Equipment-wise, you have a number of options, depending on how seriously you take your photography.
Here are two brilliant and affordable ways to get good water shots:
Many seasoned aqua adventurers trust their GoPro action camera to capture their moments of glory, and these indestructible little point-of-view (POV) hero devices deliver superb image quality and high-definition video at well under R10 000. You can even go for 360° visuals by investing in the dual-lens GoPro MAX.
Another affordable – and utterly kickass – imaging device is the new Olympus Tough. This R7 000 compact camera is shock-proof and waterproof up to 15m, and comes packaged with both a 5x zoom as well as microscopic macro lens. This means you can shoot up to 30x enlargements of marine critters while playing in the rock pools.
Last comes your choice of camera housings: 'soft' housings are basically sturdy plastic bags and will never last in rugged conditions. This is why serious professionals go for bomb-proof dive housings constructed specifically for scuba use. These tend to be ungainly, but their large ports make it easier to capture that defined line separating water and sky.
GETTING THE SHOT
Number one is to get yourself a wetsuit! Spending an hour or two in the Atlantic Ocean is a sure way to get hypothermia if you're not wrapped in rubber. Next is to make sure your camera model is capable of performing the move you want to portray. I pre-set focusing distance on the lens, set it to manual and used a fixed aperture to ensure my depth of field was ample for sharpness in key imaging areas.
TECH SPECS
EQUIPMENT CAMERA Sony Alpha a99
SLT LENS Zeiss 24mm
SHUTTER SPEED 1/2 500th sec
APERTURE f5.6
TECHNIQUE Shot with a rigid Ikelite housing
POST PRODUCTION Final post-production done in Adobe Lightroom.
sony.co.za | jacquesmarais.co.za
Gravity Adventures offer coasteering, kayaking and white-water adventures throughout South Africa. Check them out at gravity.co.za