THE IMAGE: STAR TRAILING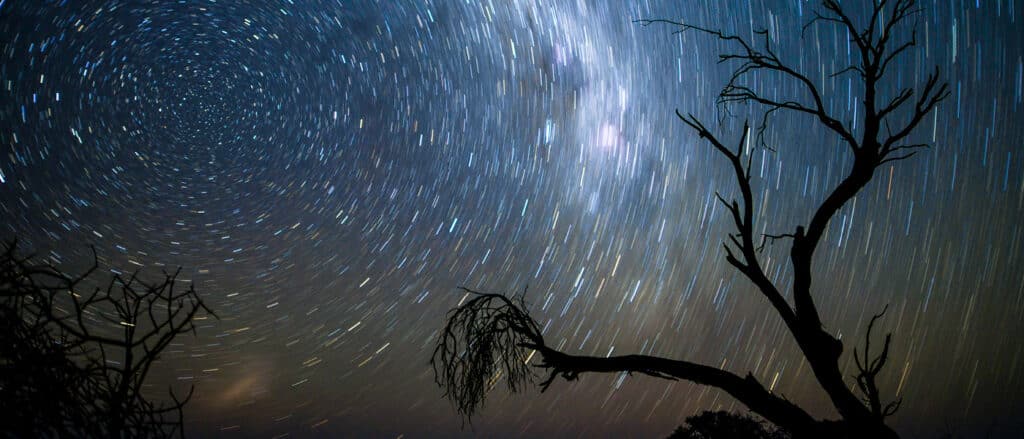 The Richtersveld Mountain Desert National Park is undoubtedly one of the finest places on the planet – rampant with runaway mountain ranges, shifting seas of sand and bizarre tracts of euphorbias. It is home to nomadic Nama shepherds and undeniably alluring to those in tune with their minimalist side.
THE TECHNIQUE
Night skies … There is something primal in being out under a star-studded firmament, with the whole of Planet Earth fading into nothingness while exposing the largesse of the universe within which we float.
Capturing those billions of stars is a dream for many amateur photographers – and a nightmare for some. Astrophotography – the official name for the genre – can be as simple or as complex as you want it to be, though.
At its most simple, you set up a camera on a tripod (or a handy rock), open the aperture as wide as possible, set it on self-timer and you're good to go. There are a few things you have to keep in mind, though.
Night photography is by its very nature low on light, so you will have to boost ISO (this refers to the sensitivity of your camera sensor). Also, the faster your lens – or the wider the aperture is able to open – the easier it will be to capture a good image.
In addition, if you want the stars to be pin-sharp, keep exposure to under 20 seconds, or the rotation of the planet will start to deform them. And once you've got the hang of all of this, start playing with multi-exposure, image stacking, and some of the more advanced techniques. There are loads of tutorials to go and check out on the net.
GETTING THE SHOT
Wandering on the alluvial Richtersveld Mountain Desert plains at night guarantees kick-ass star shots, plus you have great trees to use as foreground subjects. This image was set up near De Hoop Camp, shooting from a low-level tripod to ensure a big expanse of sky.
In order to capture the actual movement of the stars, use an off-camera timer to shoot multiple images, and then automatically overlay these to show actual movement of stars. Using a small laser torch adds a dash of blue colour to the tree for further impact.
TECH SPECS
EQUIPMENT
CAMERA Sony Alpha A7r3 Mirrorless
LENS Zeiss 20mm
SHUTTER SPEED 30 seconds
APERTURE f2
LIGHTING Image stacking of 30x individual photos
POST PRODUCTION Final post-production done in Adobe Lightroom.
sony.co.za | jacquesmarais.co.za

DO IT YOURSELF
You will need a 4×4 vehicle to truly enjoy what the Richtersveld has to offer, but the roads are generally non-technical. To get there, drive from Springbok along the N7 via Steinkopf to Port Nolloth and then Alexander Bay. Outside Alexander Bay, a gravel road turns right to Sendelingsdrif and the park.
All the information you need is at www.sanparks.org/ +27 (0)27 831 1506