Joburg lensman Richard Flack has been recognised in international wildlife and bird photography competitions. He sells fine art prints via his website theflacks.co.za.
THE IMAGE: CRESTED GUINEAFOWL
Hluhluwe-Imfolozi Park in northern KwaZulu-Natal is rich in birdlife, and offers amazing photographic opportunities. The camps are home to some iconic species. Usually-shy birds often become accustomed to human activity, which allows for closer encounters and more intimate moments.
THE TECHNIQUE
Great bird photographs evoke emotion through a combination of creative composition, intimacy, unusual or sublime lighting, once-in-a-lifetime or unexpected behaviour, and capturing moments that reveal the true essence of the bird they represent.
When it comes to taking the ultimate image, there are a few basics to consider. Get to eye level with your subject, and keep eye contact in your image. Adjust the angle until you find a pleasing background that doesn't distract from your subject, and ensure your focus is sharp in all the right places, specifically the eye and head.
Once the basics are in place, the next step is to understand composition, and know how to apply it on camera and while you are processing the image afterwards. Understanding symmetry, negative space and various other compositional rules can help you create an image that captures the attention of the viewer and stands out from the crowd.
The most important thing you need to have, however, is a healthy dose of patience and perseverance. Consistently great bird images are the result of countless hours spent in nature looking for a scene or moment that is unique and special. It is these moments that stir emotion and set one image apart from another.
GETTING THE SHOT
The Crested Guineafowl will normally run for cover as soon as it sees a human, but the resident flock at Hilltop Camp are considerably more accommodating. Despite their unusual friendliness, I followed a flock of at least 20 guineafowl around camp for more than two hours with very little to show for my efforts.
My luck came in the form of a roadside puddle. I noticed that one of the birds had approached the puddle to have a quick drink, and thought the rest of the flock may consider doing the same. I positioned myself on my stomach about two metres from the puddle, and waited for what I hoped were going to be full-frame drinking shots. I wasn't disappointed: I came away with a number of unique images, including this intimate photograph of a punk rocker drinking.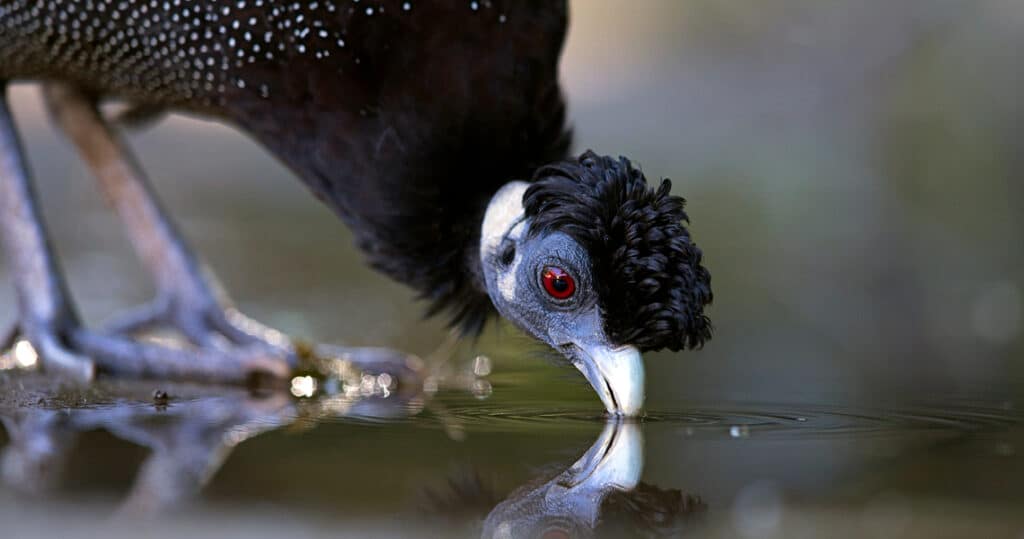 TECH SPECS
EQUIPMENT
CAMERA Canon EOS 5D Mark IV
LENS Canon 400 f2.8
ISO 1600
SHUTTER SPEED 1/400 second
APERTURE f4
LIGHTING n/a
TECHNIQUE Shot with a rigid Ikelite housing
POST-PRODUCTION Final post-production in Adobe Photoshop. Very basic changes made.

@theflacksphotography

Hilltop Camp at Hluhluwe-Imfolozi Park, northern KwaZulu- Natal: bookings.kznwildlife.com/MakeABooking.aspx bookings@kznwildlife.com | +27 (0)35 562 0848