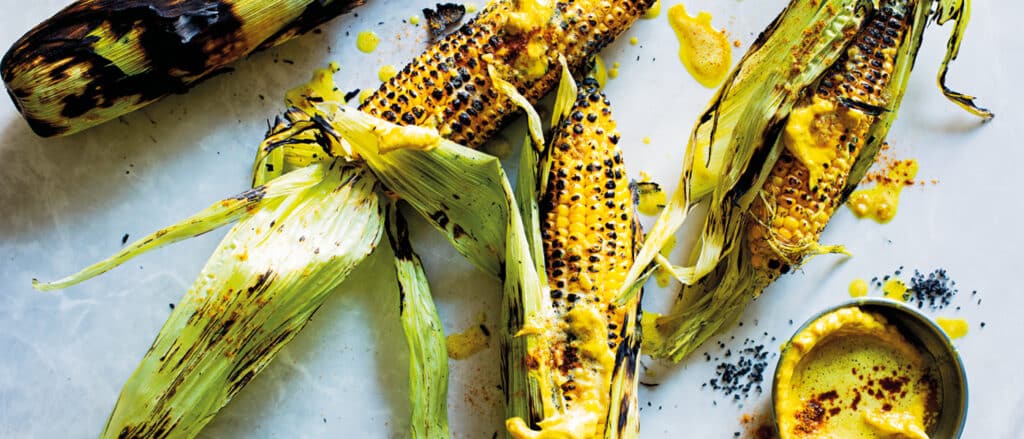 CHARGRILLED CURRY-BUTTERED MIELIES
A way of serving mielies that hits all the right flavour notes.
Serves 8
Preparation 10 minutes
Cooking 20 minutes
Ingredients
8 cobs sweetcorn
2T olive oil
Sea salt and freshly ground black pepper, to taste
160g butter, softened
2 cloves garlic, chopped
1t fresh ginger, minced
2t mild curry powder
Black salt, for sprinkling
Instructions
1. Drizzle each corn cob with a little olive oil and season lightly, then wrap each one in tinfoil. Braai for 20 minutes, turning often.
2. Fry the garlic, ginger and curry powder in 2T butter for 2 minutes over a low heat until fragrant and golden. Fold into the remaining butter and chill until ready to serve.
3. Remove the corn from the foil and briefly char over the flames. Serve with lashings of the curried butter and a sprinkle of black salt.
Cook's note: Serve with lime zest, chilli and coriander if you like.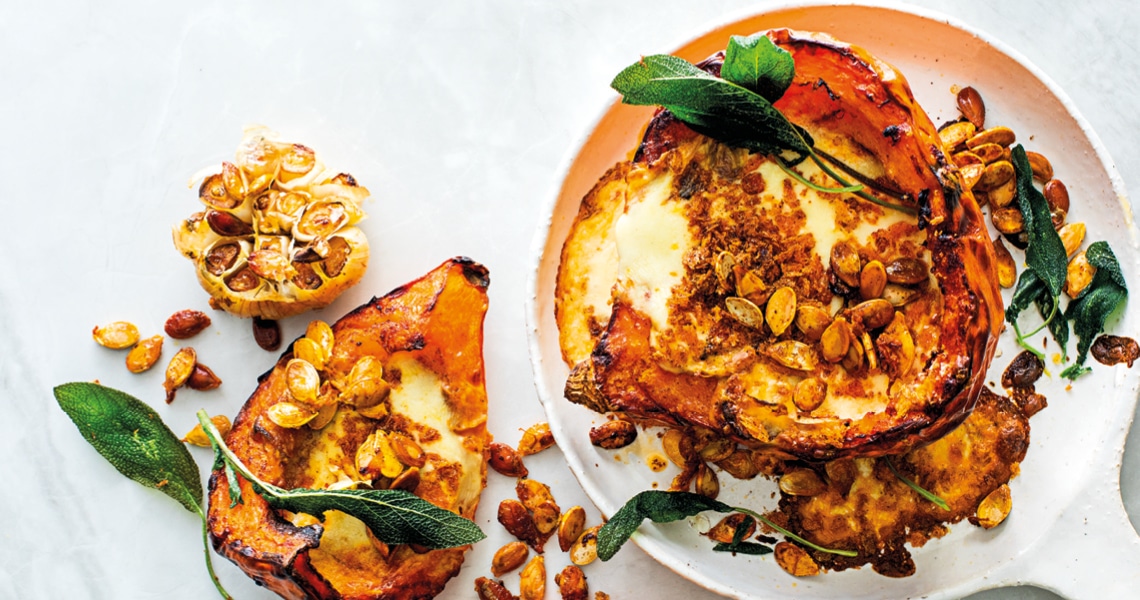 CHEESY FILLED BRAAIED PUMPKIN WITH PAPRIKA BREADCRUMBS
A much tastier alternative to simply wrapping it in foil and sticking it on the coals.
Serves 4
Preparation 20 minutes
Cooking 45 minutes
Ingredients
1 pumpkin, halved or quartered
2T olive oil
Sea salt and freshly ground black pepper, to taste
2T butter
100g Panko breadcrumbs
4 cloves garlic, chopped
2t Spanish smoked paprika
1 x 400ml sachet fresh cheese sauce
10g sage
Instructions
1. Rub the pumpkin in olive oil and season. Gently braai over smouldering coals, turning occasionally, until tender and lightly charred – about 20 to 30 minutes. A knife should pierce it easily, but the pumpkin should still maintain its shape. Allow to cool slightly before scooping out the seeds and fibrous strands.
2. Finish off the seeds in the oven at 200°C or in a sturdy grill pan.
3. Heat 1T olive oil and the butter in a pan over a medium heat. Add the breadcrumbs and garlic and toast. Shake in the smoked paprika and toss to coat.
4. Half-fill the pumpkin's cavity with the cheese sauce, sprinkle over the paprika breadcrumbs and sage, and grill until lightly golden and bubbling.
Cook's note: Keep the seeds intact for the initial braaiing. This prevents the pumpkin from burning and caramelises it, making it sweet and tender.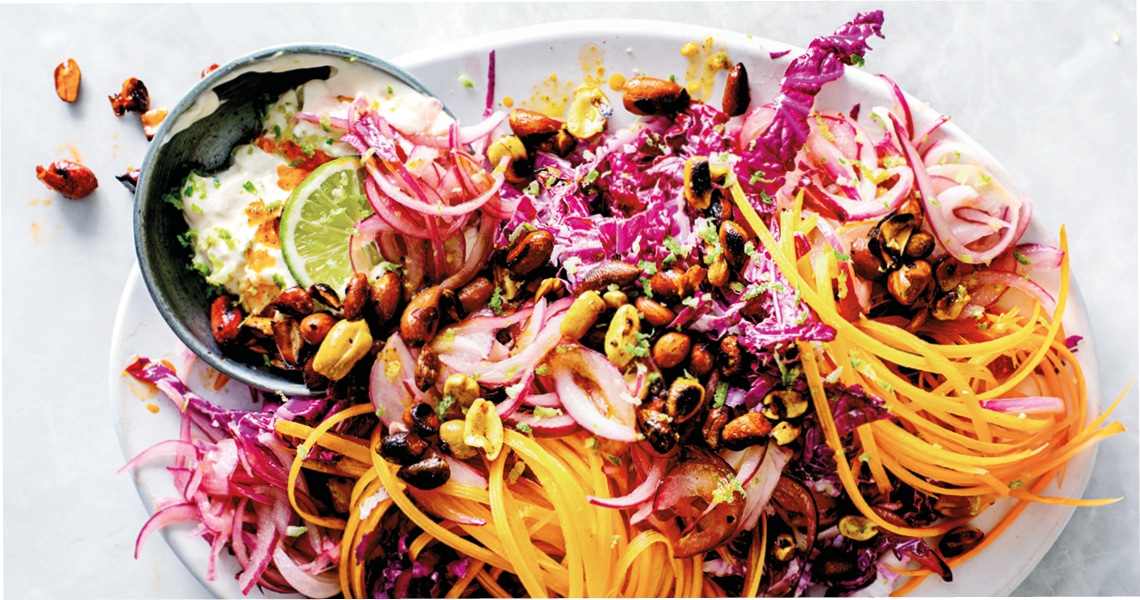 CHINESE RED CABBAGE SLAW WITH SPICY LIME MAYO AND Roasted PEANUTS
An Asian-inspired recipe that re-imagines the humble coleslaw.
Serves 4
Preparation 20 minutes
Ingredients
1 red onion, thinly sliced
1 lime, juiced
1 Chinese red cabbage, thinly shredded
3 carrots, sliced julienne or grated
30g peanuts, roasted, for serving
For the spicy lime mayo, combine:
2 limes, zested and juiced
4T good-quality mayonnaise
½ green chilli, chopped
Sea salt, to taste
½ garlic clove, chopped
Instructions
1. Marinate the red onion in the lime juice and a generous pinch of sea salt for 10 to 15 minutes.
2. Fold the lime mayo through the shredded veggies, including the marinated onions, and top with the peanuts to serve.